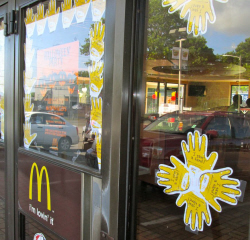 If you eat a Big Mac at any McDonalds in the U.S. Virgin Islands Nov. 15, all the proceeds will go to local children's charities, thanks to the regional franchisee Arcos Dorado's annual McHappy Day fundraiser, which kicked off this week.
This is the company's annual global fundraiser, done in 20 countries and Latin American territories, and McDonalds has been collaborating with V.I. charities for the past four years, said Miguel Padilla, St. Croix operations supervisor for McDonalds, at a press conference on St. Croix Monday.
"In St. Croix we have been able to give thousands of dollars towards specialized equipment for children with special needs to the Therapy Association and Disability Advocates and last year to Court Appointed Special Advocates in the Virgin Islands," Padilla said.
Last year, $2,444 was raised on St. Thomas for the Therapy Association and Disability Advocates, and $1,937 on St. Croix for Court Appointed Special Advocates for the Virgin Islands, he said.
This year on St. Thomas, proceeds will benefit My Brother's Workshop, a non-profit organization that provides services for at-risk young people by offering mentoring, counseling, paid job training, education and job placement. On St. Croix, proceeds will benefit Lutheran Social Services for the Virgin Islands, which runs the Queen Louise Home for Children, providing temporary placement in a family setting for children ages birth to 12 who have been the victims of abandonment, abuse or neglect. The children receive affection, support, therapy, counseling and tutoring services. LSS also supports or runs several living facilities for seniors and for those with disabilities, and Early Head Start.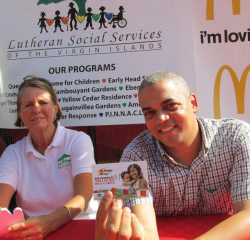 "This is very exciting for us," said Susan Kraeger, LSS public relations director, at the press conference. "We are delighted and grateful and we are hoping this is a very successful campaign this year."
The V.I. fundraiser is part of a regional effort put on by Arcos Dorados, franchisee for McDonald's in Latin America and the Caribbean, he said. Throughout the region for last year's benefit "millions of Big Macs were sold," benefiting children's health in Argentina, Brazil, Columbia, Chile, Ecuador, Venezuela, Peru, Uruguay, Panama, Costa Rica, Mexico, Puerto Rico, Trinidad and Tobago, the USVI, Guadeloupe, Aruba, Martinique, French Guyana and Curaçao, he said. They raised over $14 million, region-wide, he said.
"This year we would like for everyone to come out and be a part," said Rose Marie Charles, McDonalds V.I. marketing coordinator.
There are three ways to give, she said: You can buy a Big Mac, Nov. 15 or you can donate directly, "helping hand," for one dollar each, Charles said. Your name goes on the hand and it gets plastered on the wall or door at McDonalds, highlighting your generosity.
Thirdly, she said, companies can buy Big Mac vouchers anytime between now and Nov. 15, for $3 each. They can be redeemed for a Big Mac on Nov. 15, and all the money goes to charity too, she said. "They are great to give to employees or business customers," she said.
To find out more, visit the nearest McDonalds.