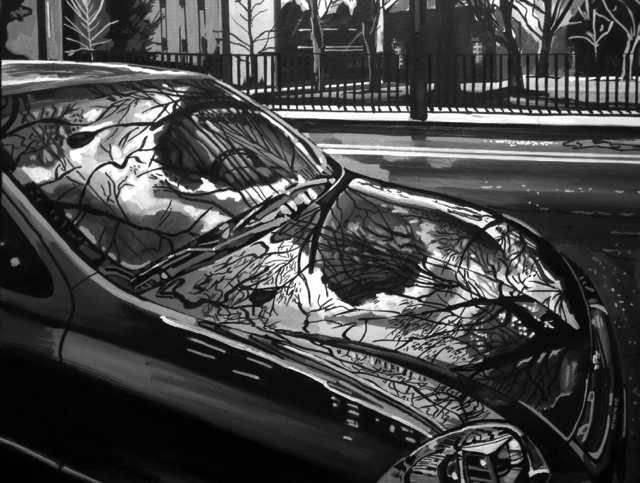 Freelance artist Jeffrey Rezende, a millennium graduate of St. Croix Central High School, is a shy guy, he said, but his art speaks for him.
"In a sense all of my painting is an expression of myself," Rezende said.
Rezende's detailed, expressive paintings are on display at two locations in Christiansted.
On Friday he had an opening at the Marjorie Robbins Gallery at Company Street, Gallery Courtyard. His works are also exhibited at the Fort Christiansvaern National Park Service Historical Site.
At the Marjorie Robbins Gallery 10 of his landscape oil paintings, each nine inches by 12 inches, are on display. What makes the paintings different is that they are vertical, not horizontal, as most landscapes are. He said he was pleased he sold one of the paintings Friday evening.
The show, titled ORIGINS, runs through Dec. 15.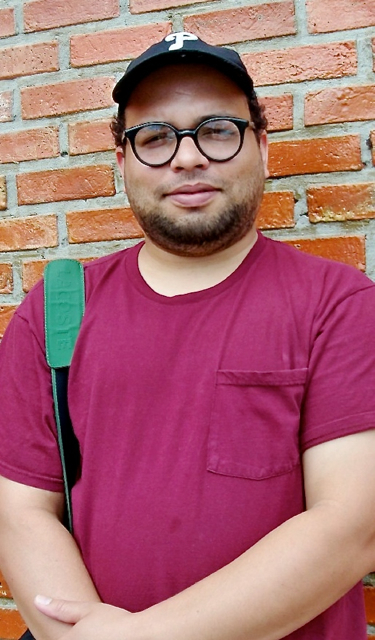 "Jeffrey is a wonderfully insightful painter. He doesn't just paint; he analyzes, processes, and creates from the subject. The result is art," said gallery owner Marjorie Robbins, who is also an artist.
The National Park Service commissioned him in September 2012 to paint watercolors. He painted nine realistic and abstracts of Free Gut and Gallows Bay neighborhoods in earlier centuries. The paintings are on display at the fort until September 2014.
"It felt great making realistic watercolors again. The works were personal and historical," Rezende said. "They are collaged paintings, in the sense that I used multiple photo references for one piece, combining multiple images to make one. Great opportunity to make work. I felt that I could do anything I wanted with the paintings and still maintain the required narrative."
The 32-year-old Rezende is the son of Hillary "Baga" Rezende and Elizabeth "Betsy" Rezende. He was born on St. Croix and grew up in Estate Carlton, where he enjoyed spending time outdoors alone, finding himself in nature with his thoughts.
Creativity runs in the family. His father makes steel pans from steel drums and his mother is a writer and teacher. He said his parents encouraged him to do creative things, focusing on detail. He said he was always drawing and remembers drawing unicorns at the age of five. People noticed he had talent early, he said.
"My dad's friend said I had a third eye," Rezende said. "The third eye means only you see something. It's like a keen perspective toward detail."
Local artist Betsy Campen, a photo-realism artist, taught Rezende watercolor painting in elementary school at Good Hope. His very detailed photo-realism paintings resemble Campen's work.
Rezende studied art at Central High with Anselm Richards, who had a strong influence on his incisive, detailed art style. When he was in the National Art Honor Society Richards took the students to New York City, Rezende recalled. They went to galleries, museums and the Pratt Institute admissions office. He said thanks to Richards, his senior portfolio contained a full body of work in all genres. His favorite medium is oil paint.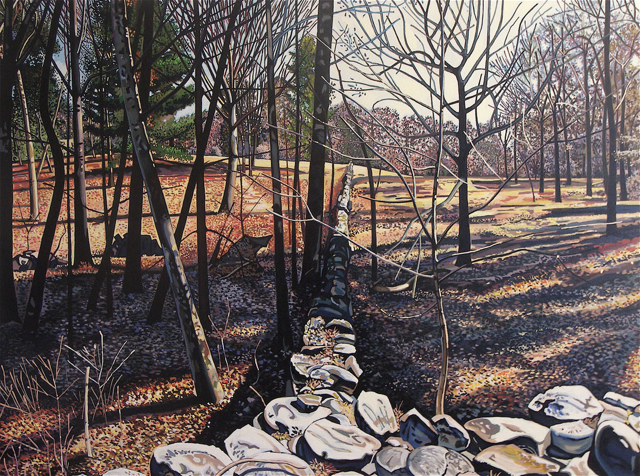 He ended up with a full scholarship to Columbus College of Art and Design and earned his bachelor's degree in 2005. He was an exchange student at Burren College in Ballyvaughn, Ireland, for part of his studies. In 2012 he earned a master's degree in fine arts from Massachusetts College of Arts and Design in Boston. While working on his master's, he recalled, he had the chance to make movies with a hand cranked movie camera.
Rezende's art has been exhibited in galleries in Ireland, Boston and Somerville, Mass. The beginning of November he opened a show of abstract oil paintings called "American Music" at the Arc Works Gallery in Peabody, Mass.
Rezende said he likes complex compositions and his favorite medium is oil paint. He enjoys painting cars in photo realism and tinkering with auto mechanics. His mom says he's a city boy, he added. He lives in Peabody, and would like to live in Brooklyn, N.Y.
Rezende said he is open to doing commissioned work. Those interested can see his art online at www.jeffreyrezende.com.
The Marjorie Robbins Gallery is open 10 a.m. to 1 p.m. Monday through Friday, and will be open 5 to 8 p.m. this Thursday for Jump Up.