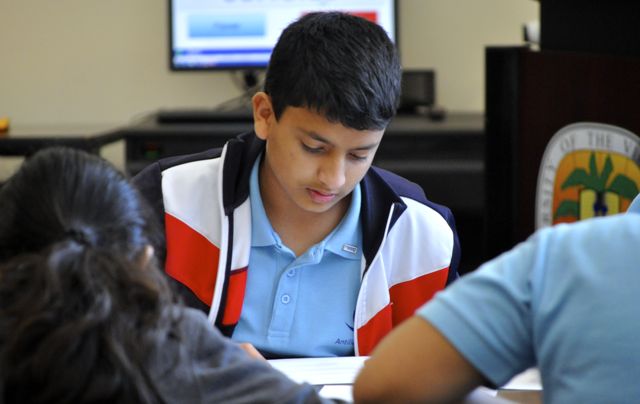 Four Antilles middle school students were the top scorers at the 2015 territorial MathCounts competition held Thursday on the University of the Virgin Islands' St. Thomas campus.
Students representing seven schools from around the territory participated in the competition, which was held to determine the four young mathletes who will represent the Virgin Islands in the MathCounts national finals in Boston on May 8.
MathCounts is a middle school competitive mathematics program with chapters across the country. Students compete individually and as teams, answering oral and written questions in the subjects of algebra, probability, statistics and geometry.
Divyesh Gurnani, a seventh-grader at Antilles School, emerged with the top individual score after four rounds of questions, including the "unofficial" countdown round, a fast-paced oral competition for top-scoring participants.
Following Gurnani were fellow Antilles students Harshitha Naidu, seventh grade, Azad Daswani, seventh grade, and Sharan Chawla, eighth grade.
While Gurnani, Naidu and Chawla were members of the Antilles winning MathCounts team in the St. Thomas-St. John district competition in February, Daswani was competing as an individual entry at the territorial level.
The Antilles team, which included seventh-grader Amisha Mirchandani, beat out the St. Croix district champions, Good Hope Country Day School, in the team competition round, ensuring that Antilles coach Michele Humphries will train the V.I. team for the national finals.
In addition to the Antilles and Good Hope Country Day teams, individual students from Bertha C. Boschulte Middle School, V.I. Montessori School, Elena L. Christian Junior High School, John H. Woodson Junior High School, and Church of God of Holiness Academy participated in the competition.
The event was moderated by Kalamis Maduro and coordinated by Ludence A. Romney and Juanita Boneque. It was sponsored by the V.I. Department of Education and Rotary Club of St. Thomas II.