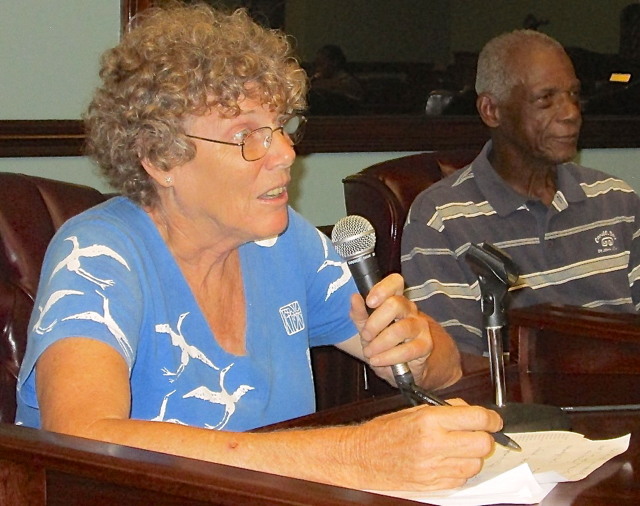 Lt. Gov. Osbert Potter said he came to listen at his Wednesday town meeting at the Legislature building on St. John, and he got an earful from some St. John residents about their property tax woes.
The stories were similar to those told many times, as St. John residents have spoken up for several years about what they view as inflated market values for their homes and improper tax assessments.
"You need a professional in here," St. John resident Patty Mahoney said, calling for skilled appraisers to put a value on St. John properties.
She said the land portion of her Bethany property is valued at $250,000, but similar properties in her neighborhood sold for $35,000 and $45,000.
The valuation problems cover many segments of St. John's properties.
"My T1-11 building is valued at more than big rental properties," St. John resident Pam Gaffin said, referring to her small, wooden home off Centerline Road.
She was comparing her house to the "mega mansions" as well as less elaborate but still luxurious properties that make up the bulk of St. John's vacation villa stock.
Gaffin, along with a few other St. John residents, have poured their heart and soul into trying to find help for residents who fear they will be taxed out of their homes.
"I don't want people to have to sell their homes on St. John because they can't pay their taxes," Potter said.
However, he acknowledged that St. John property values are high, and Tax Assessor Ira Mills pointed out that tax assessments are based on market value.
Later, St. John resident Robert O'Connor noted that the presence of V.I. National Park on St. John contributes to the high values because land outside of the park is scarce.
"As the product becomes scarce, it become more expensive," he said.
O'Connor had issues with land being donated to the park because it takes it off the tax rolls, and said there seems to be no limit to the amount of land that can be given to the park.
What will happen to prevent residents from having to sell their homes to pay their taxes remains to be seen but Potter asked those at the meeting to email him at osbert.potter@lgo.vi.gov with their suggestions and concerns.
He and Mills did provide some information for the almost 100 people who turned out for the meeting.
Mills said that about 1,700 people across the territory requested a review by the Tax Assessors office of their property assessments used for the 2013 tax bills. He said about 700 were resolved.
he also said that of the 1,700, about 500 came from St. John. However, Gaffin took issue with that number, indicating that she alone filed 524 informal appeals with the Tax Assessor's office for St. John residents. Mills later said that some of them were duplicates of what had already been informally appealed.
As for the appeals, Mills said his office is still working on responding to them. To speed up the process, he said two inspectors are assigned to St. John instead of the usual one.
While those 500 plus appeals were filed for the 2013 property tax bills, Gaffin said that when the 2014 bills came out in February, a lot of people saw the land portion of the assessment go down but not the assessment for the structures on the property. She said that taxpayers should get a credit for that decrease in land value on their 2013 tax payments, and Mills later said that once the tax system catches up, the values will be updated.
That didn't sit well with St. John resident Myrtle Barry, who has worked long hours on the tax issue. She said the government issued the 2014 tax bills in February, before the 2013 ones were resolved.
"We need to slow down the horse," she said.
Potter subsequently pointed out that the government depends on tax revenues to fund its budget.
St. John resident Melville Samuel asked Potter to supply information on how much tax revenue St. John generates. Potter asked him to email him with that question and he'd find the answer since he didn't have it at his fingertips.
Samuel said he believes there is a conspiracy to force St. John residents to sell their property.
And Wilma Marsh Monsanto summed up what many at the meeting were likely thinking after having attended numerous meetings over the past few years on St. John's property tax issue.
"We've been through this route so many times and have gotten no change," she said.