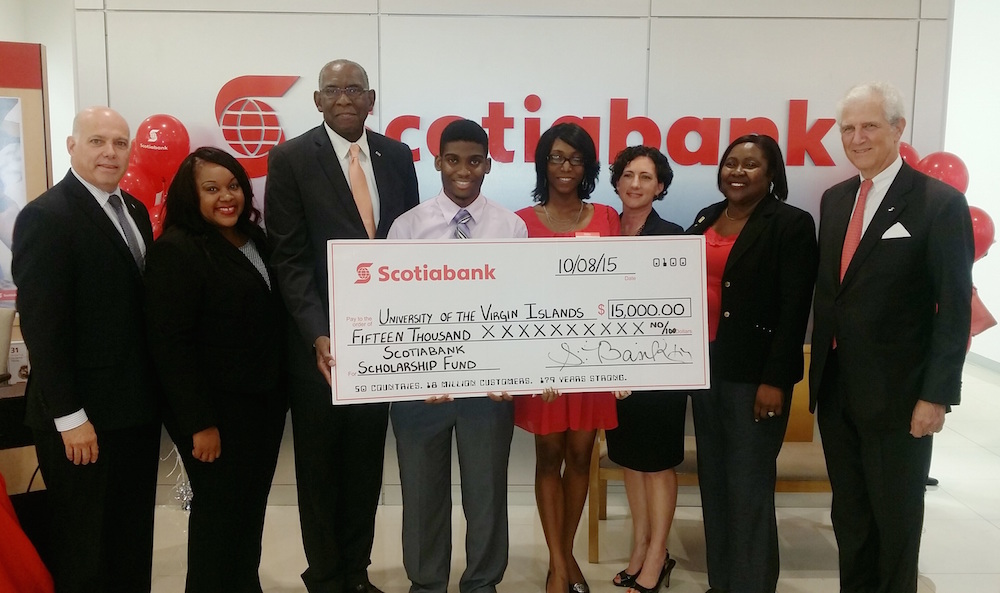 Scotiabank showed its commitment to education and the University of the Virgin Islands in October when it contributed $15,000 toward annual scholarships.
UVI President David Hall was on hand during the ceremony, at the newly renovated Scotiabank Altona Branch on Oct. 8, as were two of the four students who were awarded the scholarship. This year's recipients include Debbie Bermudez, Candace Mootoo, Jaelene Henderson and Devon Williams.
"At Scotiabank, we continue with our tradition of honoring the communities in which we do business. It is a privilege and honor to present young people in the Virgin Islands with the annual scholarship. We commend and acknowledge the excellence of the students who have been the recipients this year and in the past," Scotiabank Altona Branch Manager Sharon Kendall said at the ceremony.
All recipients of this year's scholarship recipients are majoring in business administration.
Scotiabank has served the U.S. Virgin Islands since 1963, with operations throughout the territory. Scotiabank is Canada's international bank and a financial services provider in North America, Latin America, the Caribbean and Central America, and parts of Asia, with 21 million customers.