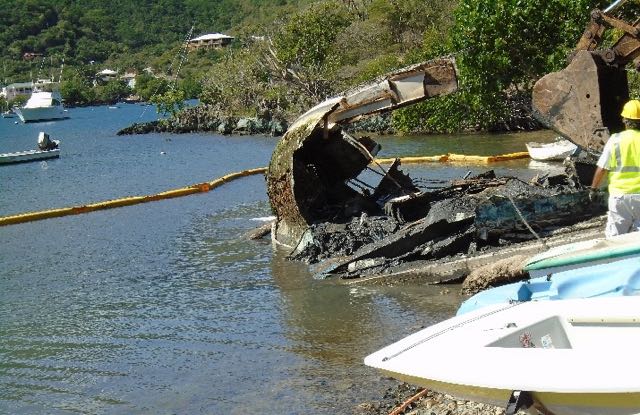 Nine boats, some sunk as long ago as 1989's Hurricane Hugo, are in the midst of being removed from Coral Bay Harbor.
"Two of them burned, a couple of others sank and some were abandoned," Coral Bay Community Council President Sharon Coldren said.
The job that began Jan. 11 by the St. Thomas-based contractor, SeaTow, will wrap up by the end of this week.
It is funded by a $90,000 grant from the National Oceanic and Atmospheric Administration's marine debris program. Coldren said the Community Council matched the grant with $38,000 worth of in-kind work that included cleanups on the land and in the water surrounding Coral Bay Harbor.
In addition to the grant paperwork and getting an Army Corps of Engineers permit for the project, the Community Council had to have the boats declared abandoned. Coldren said this involved advertising in newspapers to make sure the boats had no owners interested in keeping their vessels.
Coldren said removing the boats is a combined community and government endeavor since agencies like V.I. Waste Management Authority waived $15,000 in disposal fees.
The project addresses three concerns. Coldren said firstly, the sunken or partially-floating boats are hazards to navigation in the harbor. Additionally, the pose an environmental hazard since they're prone to landing in the mangroves during storms. Lastly, she said that the abandoned boats detract from the aesthetic value of the harbor.
"It's sad to see abandoned boats," she said.
While this project will get rid of nine boats, there are still at least three others that are too far in the mangroves and on the shore that can't yet be removed under the terms of the Army Corps permit or because funding isn't available, Coldren said.
And she said there are still five to 10 others still floating that appear to be abandoned because the owners have not registered them in many years.
"These boats need to be declared abandoned under the formal process," she said.
Coldren said that this problem is not unique to the Virgin Islands and that all over the country harbors have abandoned boats.