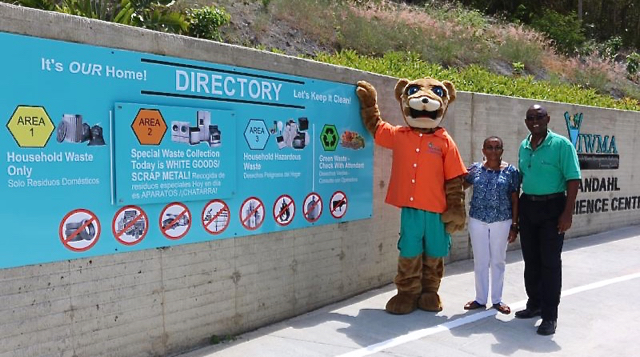 V.I. Waste Management Authority officials are encouraging residents to come out this week to the newly opened convenience center in Estate Mandahl, which serves as a transfer station for trash that will eventually be hauled to the landfill in Bovoni.
Unlike regular bin sites around the island, the convenience center is manned for most of the day and accepts everything from household waste to electronics waste, which usually must be taken straight to the dump or brought to a scheduled WMA pick-up.
"Let's say you just cleaned out your yard. We are not going to accept a whole truckload of green waste but we will take a few bags with trimmings," WMA solid waste director Mario Leonard said Saturday during the center's opening. Appliances, such as refrigerators and stoves, can also be brought into the facility's second bay on specific weeks, while bulk waste such as mattresses and other items will be accepted during others.
The first bay is for household trash – residents can throw their bags right into the compactor – while the third bay is for hazardous waste, such as bulbs and cleaning products. Leonard said bringing trash to the convenience center is free for residents, but eventually some items will have to be paid for once local tipping fees are approved by the Public Services Commission.
"Certain e-waste products cost a lot for us to get out of the territory," he said. "This includes monitors, for example, that contain lead. We have to pay for it to be packed, trucked to the dock, shipped, and trucked again stateside to a facility."
Having the facility manned daily gives the agency more control over what's being thrown away, and Leonard said that nearby residents are also excited about having a clean trash disposal area instead of an overflowing bin site.
"This is a major improvement over what was here before, so much so that one resident, a business owner in the area, has even adopted a spot and offered to keep clean the roadside leading from the (Yvonne Milliner-Bowsky Elementary) school to the Mahogany Run entrance," he said.
Meanwhile, the agency is looking for space to add more convenience centers around the island. While Leonard said a site in Smith Bay should be open within the next two years, WMA board member LaVerne Ragster added over that sites in Red Hook and Smith Bay are also being scouted.
"I've always thought that this is such a good idea," she said at the opening. "It's the best way for people to know exactly what's going to happen and where to go, instead of having to go all the way to the landfill."
The convenience center is open from 6 a.m. to 7 p.m during the week and from 6 a.m. to 5 p.m. on Saturdays and Sundays. Leonard said the facility is running on generator power – a 500-gallon generator is on site – but will be hooked up to the V.I. Water and Power Authority's system soon.
"We are working very closely with WAPA to resolve this issue," he said, referring to WMA's outstanding electric bill, which has prevented the facility from being hooked up to WAPA's grid.