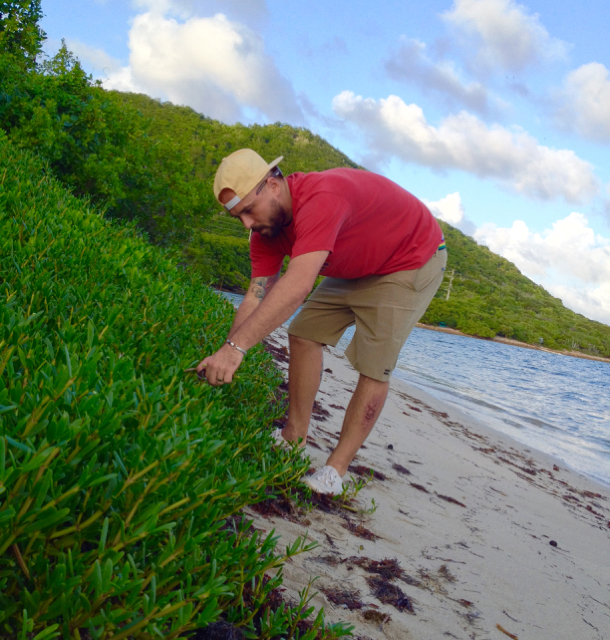 When Ocean 362 chef Shaun Brian Sells talks about his passion for the culinary arts, the art side of the equation is never from his mind.
"What I'm doing is painting something on a plate," said Sells. "I start with a set of ingredients which is my palette. I like to use large plates that have negative space to showcase my creations."
But the garnishes that accent Sells' modern Caribbean dishes, many of them foraged from the hills and coastlines of St. John, are more than just stylish trimming, he said.
"The idea is not just to put confetti on every plate. The flavor profiles have to work."
Since returning to his native St. John in 2014, Sells, 32, has been experimenting with flavors unique to the Virgin Islands and the Caribbean, creating his own takes on regional favorites from pepperpot to dove pork.
A favorite dish introduced by Sells to Cruz Bay's Sunday brunch selection last year was Eggs Benedict served on johnny cakes. One of his most recent dinner menus at Ocean 362 describes his locally-caught tuna dish as served in a lemongrass lobster sauce.
"Everything about this place has helped develop who I am," said Sells who attended the now-closed Guy Benjamin Elementary School, St. John's Earth School, and graduated from Antilles School in 2003.
Although the "island-to-table" concept Sells works within at Ocean 362 comes naturally to him as a child of St. John, he said he really began to hone his culinary philosophy while working at the Harborview Hotel restaurant on Martha's Vineyard, Massachusetts, from 2011 to 2013.
A graduate of Johnson and Wales University's culinary arts program, Sells picked up accolades for his creativity while learning his craft in the states. Sells is a James Beard member and was recognized as a stand-out contributor to the greater Boston food scene in 2012 with an induction into Zagat's "30 under 30" list.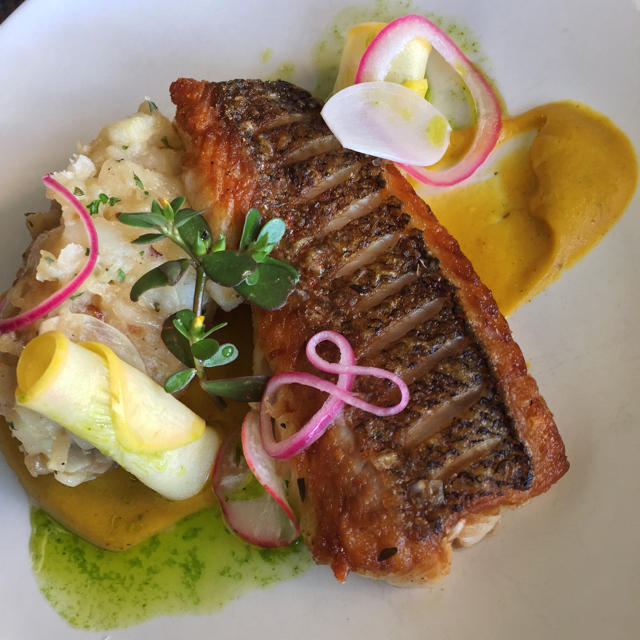 "I cook from the land. And not just the land, which is where the island-to-table philosophy comes in," said Sells.
The sea yields an equally important set of flavors to work with on any island menu, he explained. Sells said he's been working on a new technique for cooking whelks, for instance, and he's almost ready to introduce it after seven months spent mastering it.
When Sells can't find the right ingredients to flavor his dishes on St. John he works to ensure they are as fresh as possible and "thoughtfully-sourced," he said.
"You can't always rely on the land here. You have to rely on bigger places that farm, like even places as close as St. Croix. When I'm able to get a heart from a Senapol cow it's one of the best thing's you'll ever eat in your life," said Sells.
Sells describes Ocean 362, which is located at Gallows Point, as "the new guys on the block" who are "doing things a little different."
He said he feels that a lot of tourism-focused Caribbean islands, and particularly the V.I., have strayed away from using local ingredients and recipes in their hotels and restaurants.
"I felt like Cruz Bay was behind in offering that real touch of authentic fresh food you're seeing all over the country and all over the world," said Sells. "There are people working on bringing it, and then there are of course the grandmas who have always been doing food justice."
Sells said he sees his mission at Ocean 362 as to both educate and be educated.
"Caribbean cuisine today is what we in the Caribbean make it. It's an accumulation of a lot of things – our culture, our history, our education, and what we have around us. That's what anyone's cuisine is."
Sells has been reaching out beyond the Virgin Islands to collaborate with chefs around the Caribbean. Part of his impulse to look outwards towards other islands he credits to being raised by a stepfather from St. Kitts.
One way Sells keeps connected to the region is through the West Indian Chefs' Alliance, an organization he founded with the noted St. Croix chef Digby Stridiron of Balter. Stridiron currently serves as president of the alliance while Sells serves as vice-president.
"We want to be an incubator here in terms of what Caribbean cuisine is today. We're very particular and very protective with the alliance since we have some of the biggest chefs in the region supporting it," said Sells.
He said he views the Virgin Islands as the perfect place to develop a regional chefs' alliance due to the territory being a "hub of the Caribbean."
"We are, in the USVI, an epicenter of every island culture coming together as well as the American influence, the seven flags influence, the Indian influence, the African influence," he said. "We have every single island represented. You can get some of the food somewhere on one of these islands; it's amazing. And sometimes it's not at a restaurant, it may be out of someone's house."
Sells went to Miami in June as part of the 2016 USVI culinary team that participated in the annual
Taste of the Caribbean competition. The team practiced for more than four months at the Ritz Carlton Hotel on St. Thomas, Sells said, which is also where he did his internship more than a decade ago.
At the Taste of the Caribbean, which Sells describes as the "Pan-American games of food for the region," chefs take on such challenges as preparing three-course meals from a "mystery basket" of ingredients and making items within an allotted time period, all while taking into account presentation, creativity and culture.
The USVI team took away the silver medal at this year's Taste of the Caribbean, but Sells said what he really got out of the event was the sense of camaraderie among so many different island cultures.
"The love for each island was so strong. Some of the other teams impacted me as much as my own teammates," he said. "I've really got to give big-ups in particular to the Trinidad team. They were awesome to our team. The entire time during the expo they supported us. We were always cooking next to each other and we developed a connection."
Sells said his desire to be creative and collaborative while experimenting with contemporary Caribbean cuisine is one of the things that drew him back to the territory.
"That's why I'm back here and invested in St. John, St. Thomas and St. Croix," he said.