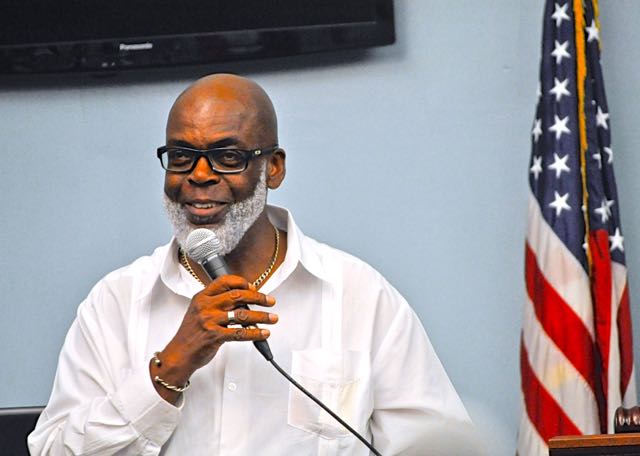 Members of the V.I. Transfer Centennial Commission told attendees of a public forum hosted on St. John on Thursday that the body is still accepting proposals for events to be included in its ongoing centennial commemoration, which will conclude at the end of 2017.
Thursday's townhall-style event at the Cruz Bay Legislature annex, with slightly more than half of the 17-member commission attending, is the first of three scheduled public forums on the centennial this month.
The commission will host community discussions at the St. Thomas Legislature building on Wednesday and at the St. Croix Legislature building on Oct. 20.
Act No 7157, which directed the formation of the commission, mandated that the V.I.'s transfer centennial observation begin on or before Aug. 4, 2016, and run through Dec. 31, 2017.
According to commission member Sonia Jacobs Dow, who sits on the body's events planning committee, the purpose of the extended schedule is to give individual organizations, churches and families the time to organize and host their own centennial-themed events.
"There are some events and activities being organized by the committee. And there are some that are being placed on the official calendar even though they are being organized by others within the community," Dow said.
The commission has stressed that its funding for events not organized by the body itself is minimal. The commission has requested a $1.6 million budget for Fiscal Year 2017, well above the governor's proposed $275,000. The body has also received $500,000 in grant monies from the U.S Department of the Interior.
Official centennial events the commission highlighted at Thursday's forum included government house receptions, Transfer Day ceremonies, parades and gala balls to be held on each island in the days surrounding March 31, 2017.
Commission members stated that a still-developing calendar of events is available on the official transfer centennial website, www.vitransfercentennial.org, which was launched last month.
But currently there is little information on the website regarding many of the events listed; some, such as three "centennial cultural expos," one per island to be held next March, are left unexplained.
Other listings on the calendar include annual cultural events such as St. Croix's St. Patrick's Day Parade and Agriculture Fair, but details on how these will relate to the centennial are not provided.
Centennial-branded events on the calendar with more clear information include:
– a performance by the Copenhagen Brass Ensemble on March 30 at St. Croix's Island Center for the Performing Arts;
– an April 30 choral performance by the Copenhagen Royal Chapel Choir at St. Croix's Lord God of Sabbath Lutheran Church;
– and the St. Croix Archaeology Society's 27th International Assoc. for Caribbean Archaeology Congress to be held at Divi Carina Bay Resort from July 24 to July 29.
Commission Vice Chairman Gerville Larsen directed individuals and organizations who want to apply for centennial event branding, and small amounts of funding in some cases, to the centennial website where a proposal request form can be downloaded.
Larsen said events with centennial branding will be marketed aggressively nationally and internationally. He said a proposal review committee is in place to determine if an event qualifies for branding based on the following criteria:
– It will encourage community engagement and create excitement about V.I. heritage and culture.
– stimulate economic development or revitalization of our built environment, foster proper facilities for the return of our historic records and artefacts, and promote a sustainable environment.
– Promote education of our rich V.I. culture and heritage on multiple levels.
– Increase youth engagement.
– Foster dialogue about our vision for our future allowing varying voice to be heard. How do we see ourselves and our status for our future as Virgin Islanders?
– Promote the centennial message and/or reflect the last 100 years under U.S. rule.
"We will also be soliciting professionals to execute some of the events and programs we've conceived," Larsen said.
He added that the commission has completed "a round of request for qualifications from event planners that will assist with some of the major events" and that future announcements inviting vendors and individuals to get involved are forthcoming.
Commission members also spoke briefly Thursday about plans for publications and collectible merchandizing related to the centennial.
"We are planning a coffee table book," said, Pam Richards, commission chairwoman. "Several committee members have their own publication plans and several people have approached us regarding publishing."
Publication and merchandise committee member Lois Hassell-Habtes said the commission is particularly interested in collecting stories and interviews from community members for its publications, and anyone who would like to share should reach out.
"There is a new section on the website called V.I. History/Your History," Centennial Commission Executive Director Kevin Jackson added. "Under the tab 'Your History,' there is a section where you can upload a photo of a relative or something that's been in your family for years. Something with significance in your own life. You provide a little summary on it and post it directly onto the website," he said.
Since its inception in 2014, the V.I. Transfer Centennial Commission has occasionally faced media and community criticism for a perceived lack of clarity over whether the centennial will be treated as a purely celebratory event, anathema to some Virgin Islanders who would prefer more critical public dialogues about the past and future.
Richards opened Thursday's forum with an attempt to clarify the commission's perspective regarding some of the language surrounding the centennial.
"We have decided as a body to refer to this as an observation or commemoration, but we are very cognizant of the fact that to many it is a celebration," she said.
Meanwhile commission member Shelley Moorhead said it was "to his disappointment" that the centennial observation was not turning out to be a forum during which more controversial issues, such as reparations and the territory's political status, would be front and center.
Other commission members present at Thursday's event were Marlene Petersen-Boschulte, Patrice Harley, Sen. Myron D. Jackson, Colette Conroy Monroe and Robert O'Connor. Also present was the commission's assistant executive director, James O'Bryan Jr.