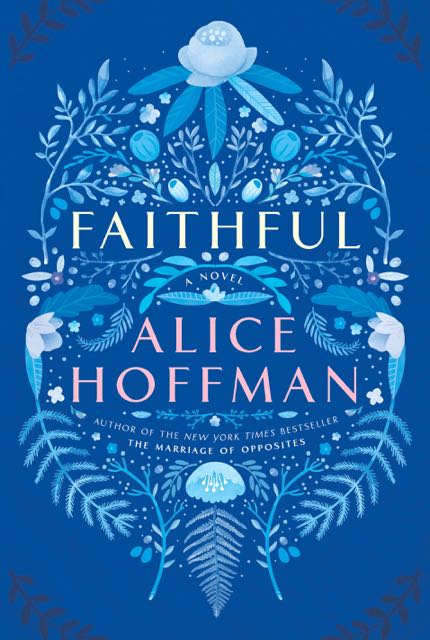 "Faithful: A Novel" by Alice Hoffman
c.2016, Simon & Schuster $26 272 pages
The best years of your life. That's what people tell you about high school.
Remember those days, they say. They'll be the best of your life. But zits, mean girls, broken dreams, and broken friends aren't exactly best.
Sometimes in high school, as in the new book "Faithful" by Alice Hoffman, the very worst things can happen.
Nobody thought it was anything but an accident.
The road was icy that night. Shelby Richmond was driving and she wasn't speeding. She never was sure why her best friend, Helene, sitting in the passenger's seat, didn't buckle up like she usually did. Parts of the night remained sketchy, but the thing Shelby knew was that the car spun out of control and Helene was left in a coma.
Seventeen years old. Helene had a lifetime left, but she'd never live it. Instead, she lay in her childhood bedroom, tended by volunteers, visited by people who believed her capable of bestowing miracles.
Seventeen years old. Shelby believed that she, not Helene, should be in the coma.
She cut her hair completely off. Buzz-cut, in fact, and she stopped eating. All Shelby wanted was to smoke weed and sleep while her mother flitted upstairs in their home and her father disappeared as often as he could. Her only friend, if you could call him that, was Ben, her dealer. And it was Ben she moved to New York with, after they graduated – a graduation Helene would never have.
In New York, Shelby got a job and discovered that she liked animals. She worked her way up to manager of a pet store. Someone said she was pretty, so she grew her hair again, and she made a best friend. And Ben loved her, but she couldn't love him back. Shelby didn't deserve Ben. She wasn't lovable.
But was that true? Her dogs certainly adored her. Her mother never stopped loving her, fiercely. Her father tried (or so he said). And then there was the stranger who'd been sending postcards to Shelby ever since the accident… Weren't inspirational, anonymous notes some form of caring?
In a small way, "Faithful" defies categorizing.
Its plot is minimal: it's a story arc roughly set in a 10-year period of one woman's rather unremarkable life. Granted, not everybody does what Hoffman lets her character do, but what happened to Shelby, happens to others.
And yet, this story is singular. And it's impossible to stop reading.
There's a crispness in this novel that doesn't become too harsh; instead, it's comfortable, like an old yearbook. After a few pages, in fact, it's almost as if we went to school with Shelby, or avoided her on the playground. We know her – and when Hoffman puts her in unique (yet not outlandish) situations, Shelby's actions are satisfyingly right.
Come to think of it, so is this whole book.
Mark it down; it should be your next Book Group pick. It should be on your bedside table. If you love novels, "Faithful" may be your best book this year.
__
The Bookworm is Terri Schlichenmeyer. Terri has been reading since she was 3 years old and never goes anywhere without a book. Her self-syndicated book reviews appear in more than 260 newspapers.