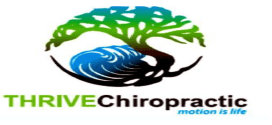 Thrive Chiropractic will host the next St. Thomas-St. John Chamber of Commerce Business After Hours from 5:30-7:30 p.m., Thursday, July 27. Thrive is located at The Royal Palms Professional Building, 105-9053 Estate Thomas (behind Schneider Regional Medical Center, West Foothills).
Thrive Chiropractic is the premiere chiropractor on St. Thomas and it believes the center of health and wellness begins with a person's nervous system. Chiropractic is a natural form of health care that uses spinal adjustments to correct misalignments and restore proper function to the nervous system, helping a body to heal naturally. Chiropractic doesn't use drugs or surgery.
Thrive offers a multitude of services to the community including upper cervical care, network chiropractic, manual therapy, exercise therapy, nutritional classes and more.
Visit Thrive Chiropractic on Facebook to find out what's happening. For more information or to make an appointment, call 774-3020 or go to www.ThriveChiropractic.com
There will be complimentary hors d'oeuvres, door prizes, The Famous Chamber $3 Bar, and a 50/50 raffle. Business After Hours encourages members and potential members to attend.