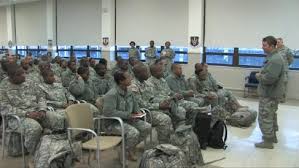 Brig. Gen. Deborah Y. Howell, adjutant general of the Virgin Islands National Guard (VING), will host a Day of Service and Celebration of VING's 44th birthday throughout the territory. On Thursday, Oct. 19, V.I. guardsmen will lend-a-hand in the morning at schools and public facilities used throughout the year as training sites.
Although recovery operations support continues at VING, at 3 p.m., Thursday, at the Joint Force Headquarters in Estate Bethlehem on St. Croix, the adjutant general will lead the force in a Happy Birthday song and cake-cutting ceremony. Brig. Gen. Howell is the first female and the 14th VING adjutant general to serve in the territorial position. Retirees are invited to attend.
History: VING received federal recognition Oct. 19, 1973, during an inauguration ceremony on the Christiansted Waterfront on St. Croix. In October 1973, Maj. Leayle Galiber was appointed acting adjutant general and took command of the first two units to be activated. They were a Headquarters and Headquarters Detachment as well as the 661st Military Police Company, both located on St. Croix.
In 44 years, VING has proven itself to be "Always Ready, Always There!" On the heels of two Category 5 hurricanes in September 2017, it is applicable to share an excerpt of the VING's history of response to natural disasters at home and abroad.
It was impacted by and provided response to several hurricanes and flooding due to torrential rainfall in the territory including two major storms: Hurricane Hugo (1989) and Hurricane Marilyn (1995). In 2005, over 30 members formed Task Force Virgin Islands to respond and support relief efforts after Hurricane Katrina overwhelmed Louisiana. That was a significant domestic operation in U.S. military history that developed many of the response capabilities displayed in the territory after Hurricane Irma and Hurricane Maria in September 2017.
The National Guard is the nation's first and most accessible military force for domestic response operations, prepared to respond to any crisis. There are over 450,000 National Guard soldiers and airmen poised in over 3,000 communities throughout the 54 U.S. states and territories.
The Guard is already integrated into state emergency disaster response plans and regularly exercises how best to work with state, territory and federal emergency responders. For the current natural disaster, the Department of Defense, National Guard, V.I. National Guard, along with federal and local partners contributed to the Virgin Islands' response and recovery efforts.