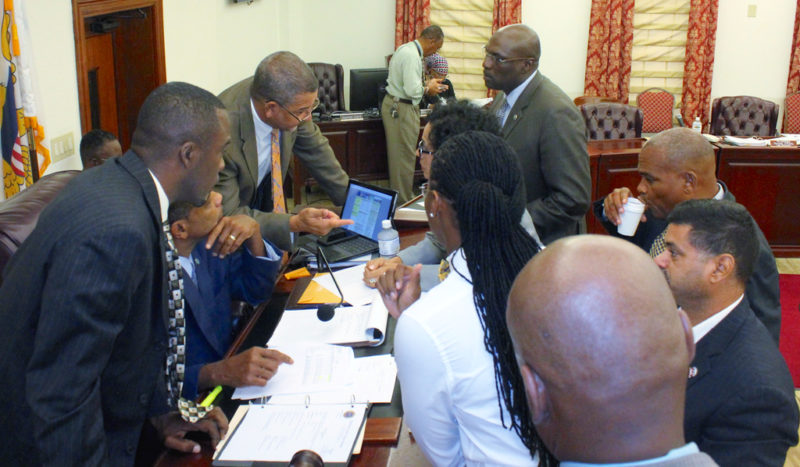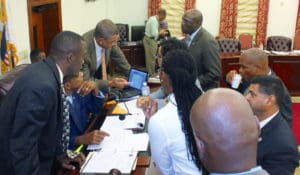 This year's hurricanes have gutted the territory's revenues, so even with $250 million from federal disaster loans the V.I. government will still be short more than $200 million, administration officials told senators during a brief Finance Committee Tuesday.
Budget Director Nellon Bowry told senators that initial projections show an estimated revenue loss of $423.6 million, combined with storm-related spending increases of $29.5 million, opening up a $453.6 million shortfall. That's more than a third of all V.I.government revenues from all sources, including federal funding. It is more than half of local funds in the V.I. government's General Fund, used to pay nearly all government employee salaries and most agency expenses.
Bowry said the gap is only partially offset by an expected $250 million in new borrowing through a federal Community Disaster Loan. There will be another $203 million deficit in the budget to make up.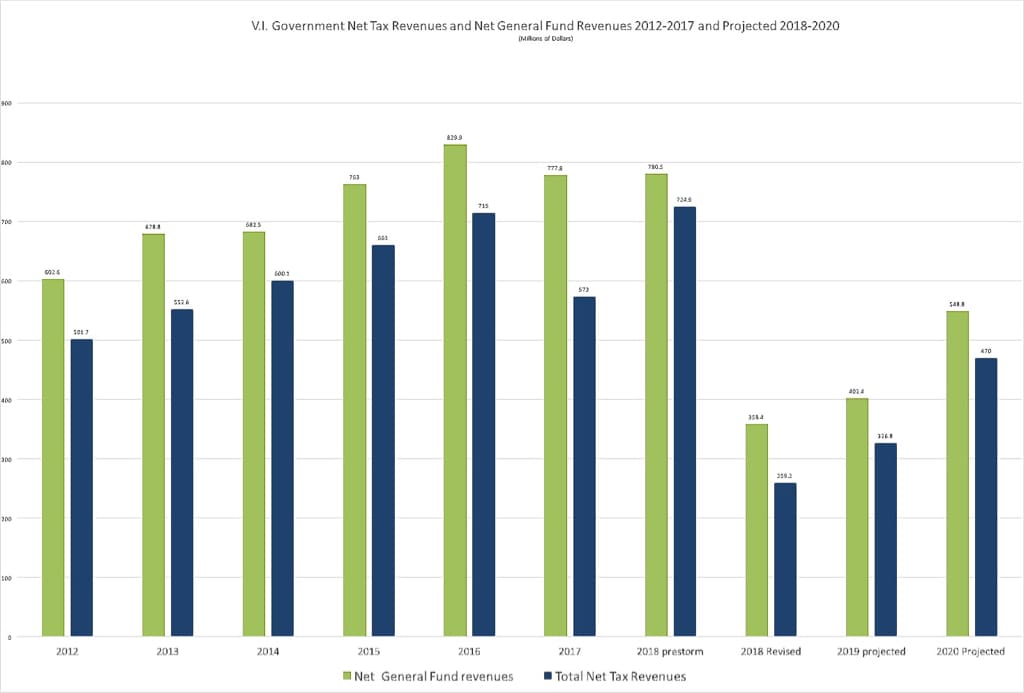 "For some further perspective, consider that the FY 2018 baseline budget is already $81.1 million less than the FY 2017 roll over appropriations," Bowry said. That means the current FY 2018 will have to be set at $284.1 million less than the FY 2017 levels to balance.
The Senate was considering the FY 2018 budget when the storms hit, causing chaos that both prevented hearings and made old budget estimates useless. Under V.I. law, if a new budget is not approved, the government has authority to spend at the levels of the previous year's authorization. But the FY 2018 General Fund budget will have to be set at 36 percent below that level, according to the estimates Bowry provided.
"Appropriation reductions of this magnitude clearly imply substantial reduction in the level of government services," Bowry said.
From FY 2018 through FY 2020, the estimated loss of revenues is about $1.15 billion, he said.
Bowry emphasized these are preliminary estimates and may be affected by spending to rebuild and many other factors.
"Please also note that impact of these may will be further exacerbated by tax law changes currently being contemplated by the U.S. Congress," he said.
"Did we receive any type of information or feedback from the EDA director in reference to which EDC companies are coming back, which EDC companies have stayed, what type of revenues we are expecting from the EDC program?" Sen. Sammuel Sanes (D-STX) asked.
"Those discussions are ongoing but they are not factored in," Bowry said.
Looking deeper into the numbers, the individual income tax, which comprises about 50 percent of local government revenues, is estimated to be reduced by around $265.3 million this current fiscal year; down 70 percent from pre-storm projections of $379 million.
Corporate income tax revenues are projected to nearly zero out, with a 94.8 percent reduction from the pre-storm projection of $55.7 million.
After Bowry's testimony, Sen. Kurt Vialet (D-STT), the Finance Committee chair, called a recess. Upon returning from recess, Vialet said they would need some more detailed information, after which the Legislature would be able to act on budget appropriation bills.
"Looking at the numbers we realized that we needed more updated information," Vialet said.
He said the members discussed a strategy to get that updated information and for the government to actually get the proceeds of the community disaster loan, so that the budget figures are accurate.
"We need to make sure we are able to close on that particular vehicle and as soon as we have all of that information we believe we will be able to move forward in projecting a fiscal year 2018 budget and making sure that the government of the Virgin Islands will be able to meet its obligations," Vialet said.
Sens. Marvin Blender, Kurt Vialet, Jean Forde, Novelle Francis, Nereida Rivera-O'Reilly, Kevin Smith, Janelle Sarauw, Sammuel Sanes and Dwayne Degraff were present. Sen. Neville James was absent.