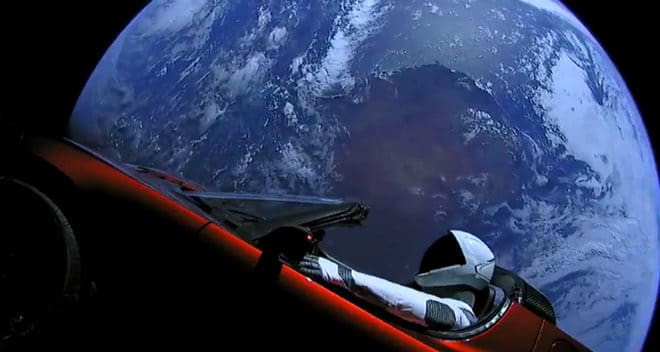 Amid all the trials and tribulations on Earth, I hope everyone got a chance to revel in last week's test launch of the SpaceX Falcon Heavy rocket.
It was an awe-inspiring moment. And a silly one. Elon Musk, owner of both SpaceX and the electric-car manufacturer Tesla, launched his red Tesla roadster convertible into space, with a mannequin in a spacesuit at the wheel. More than 13 million people have watched the live stream from the Tesla on Youtube.
On the dashboard was a screen saying "Don't Panic" – a reference to the cult classic four-part "trilogy." "The Hitchhiker's Guide to the Galaxy." The Tesla's sound system was blasting David Bowie's "Starman." The car itself is even a call out to the 1981 cult classic movie "Heavy Metal."
At first, putting a sports car into space seemed like a silly waste of a whole lot of money on a stunt.
Then I got it. It's brilliant.
First, what amazing PR to help sell Musk's cars and make money – which also will help SpaceX. You can't get a better TV ad than footage of the car with Earth in the rear-view mirror – and it's real, not special effects. Heck, I want one.
A lot of people have commented along the lines of "shouldn't they have put up a high-tech probe" or something. And my first thought was the same. But what if the rocket blew up? This was a test run. Typically on a test launch the payload will be rocks or a chunck of cement, or junk steel. A sports car serves the same function, but with style!
If anything had gone wrong, all he would have lost is a car – which he gets at cost. And it was a used car.
I've felt for a long time that part of the problem with NASA is they're stuck in this 1960s reverential mode, where commercialism is BAD and everything must be serious and noble – and boring. But space travel needs to be commercial to expand. Holy reverence for science doesn't raise money. And this sends the message that it's EASY to go to space – so easy that someone can do something totally frivolous as a goof – sending a convertible with a "don't panic" button and a mannequin – a literal toy. It sends the message: We are open for business. Come one, come all. Let's go to space.
How long before Coca Cola pays to send a giant cola bottle to Mars as a PR stunt?
And this sparked our imagination. It is iconic. Memorable. Funny. It creates a sort of brand for SpaceX – serious space travel but with imagination and a sense of humor. This will be remembered. And if SpaceX keeps on – I bet some future craft will do a flyby of the car and take another picture of it.
In conclusion: Awesome.
The flight itself is a major step forward in space exploration. The Falcon Heavy is the most powerful rocket since the Saturn V that took astronauts to the moon. More important, Elon Musk has been pursuing a vision of renewable rockets that fly back and land on earth, to be refurbished and refueled. It's such a difficult task that few even contemplated it until fairly recently. The U.S. Space Shuttle was sort of an attempt at this, with a reusable reentry vehicle. But the booster rockets, costing hundreds of millions of dollars each, were discarded with each flight. Musk and SpaceX have succeeded multiple times now with landing Falcon 9 rockets and refitting and refueling them. If Musk is successful in making this safe and routine, he can cut the costs to go to space an order of magnitude, from many hundreds of millions per launch down to many hundreds of thousands. It brings space into reach for many more commercial and scientific applications.
Check out the launch and the two booster rockets landing side by side. Pretty amazing.TV and movies and CGI effects have inured us to rocket ships. But this is REAL! not a movie.
The Falcon Heavy can launch into deep space too. Which is big. Think missions to comets, to other planets, and so on. The roadster and its driver are heading to an orbit around the sun a little past Mars. And they are replacing it with an even more powerful rocket, the BFR, which is also to be reusable.
Other companies have made rockets that re-land. But they are tiny and weak compared to what SpaceX was doing before this – and this is a big leap forward.
What does this have to do with the U.S. Virgin Islands? This is big for everyone. The Virgin Islands are part of this world. More than that, the USVI has a role to play in space science and technology of all kinds. The UVI RTPark was intended to be a hub of high-tech research, linked to the world via St. Croix's hub of high speed fiber optic cables. Just last fall, University of the Virgin Island's Etelman Observatory played a role in the first ever detection of neutron stars colliding, making independent visual observations. UVI students are a part of that. And UVI students may be among the next generation of explorers. We are a part of the same world.