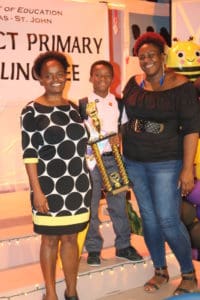 Gladys Abraham Elementary School third-grader Hezekiah Brown correctly spelled "hinge" to win the 2018 St. Thomas-St. John District Primary Spelling Bee on Thursday, April 5, in the Charlotte Amalie High School auditorium. Brown went on to the championship round after Micah Dominique of the New Testament Academy misspelled "dessert" in the 18th round.
The win is Gladys Abraham School's second straight victory in the District Primary Spelling Bee. Last year, Nyeema Henderson took home the championship after an eleven-round competition.
The program opened with the singing of the "Star-Spangled Banner," "Virgin Islands March" and "Lift Every Voice and Sing" by the Lockhart Elementary School Choir. St. Thomas – St. John District Deputy Superintendent Racquel Berry-Benjamin made remarks on behalf of the Office of the Insular Superintendent. She congratulated the district's youngest spellers for their achievements even through the challenges they faced from the hurricanes in September.
Kalamis Maduro, programs coordinator and Spelling Bee coordinator, then introduced spelling officials, followed by self-introductions by the primary-level champion spellers. Board of Education member Kyza A. Callwood and District Director of Curriculum and Instruction Kifani Hendricks-Carey served as pronouncers. Retired educator and avid Spelling Bee supporter Mary Harley read the official rules of the competition and the Bee began with the practice round.
Seventeen first, second and third graders representing public, private and parochial schools on St. Thomas and St. John took center stage and demonstrated their literacy proficiencies. The young spellers confidently asked pronouncers for parts of speech, usage of words in sentences and definitions, further proving their aptitude in language arts.
Words such as, "quartz," "ethnic," "parallel," and "vacuum" were no challenge to the champion spellers. After Wesleyan Academy's Samara Warner misspelled "census," the boys, Brown and Dominique were left to battle. In that same round, Dominique misspelled his word, giving Brown the opportunity to spell the championship word.
All participants received participant trophies, personalized dictionaries, books from Scholastic and Spelling Bee pencils with erasers from the district. They also each received a gift card from SnoMoon Shaved, book bags and school supplies compliments of United Way of the Virgin Islands. In addition, the top six spellers received a spelling game, and the winner also received a Kindle Fire.
The top six finalists from the St. Thomas-St. John District in order of placement are Hezekiah Brown, Gladys Abraham Elementary; Micah Dominique, New Testament Academy; Samara Warner, Wesleyan Academy; Bryce Richardson, Antilles School; M'Khai Burgan, Ulla F. Muller Elementary; Samiya Durand, St. Thomas Calvary Christian Academy.