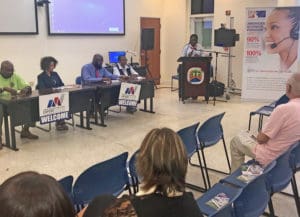 Entrepreneurs on St. Thomas learned Thursday about the many ways the federal and local governments can help businesses grow in the territory.
They gathered at the University of the Virgin Islands campus on St. Thomas for a program sponsored by the V.I. Economic Development Authority. The program had been held the previous day on St. Croix.
The speakers came from as far as Miami and as near as Nisky Center, armed with information and what one speaker said was a sincere desire to move on their mission.
"I am very passionate about what I do," said Marie Gill, executive director of the Minority Business Development agency. She and her staff came from their Miami headquarters to demystify the often-circuitous path of obtaining technical and financial assistance from government programs. Her company is long-time contractor to the federal government and has, over decades, streamlined the processes of reaching eligibility, obtaining technical support and sourcing funds to begin or grow a business.
Cusa Holloway, who manages the Incubator Program from her office in Fredricksted, said the program is geared towards busy people.
"Our presentations by our speakers are purposely kept to less than five minutes, giving our attendees an overview of the many programs we have available. After that it's one-on-one time to give personalized information and guidance," she said.
Long-time banker Denise Donadelle is the loan officer at the Economic Development Bank. Although she operates out of Nisky Center, her knowledge of and connections for obtaining funds for small and minority business growth are far-flung, she said.
"We advise and give technical assistance on a variety of loans," she said. "Among the specialized programs are those for farmers and fisherman, those who will benefit from the micro-credit loan program and a small business loan program with interest rates as low as 1.5 percent and loan amounts as high as $100,000. The development loan program offers as much as $500,000 at a maximum loan term of 10 years."
More information is available by contacting the USVI Economic Development Authority at 340-714-1700 on St. Thomas and St John or 340-773-6499 on St. Croix.