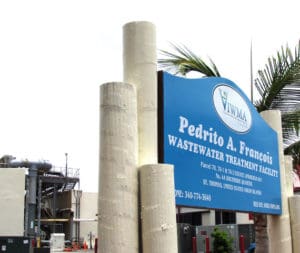 The head of Waste Management detailed a plan Monday to have agency staffers take over operations at the wastewater treatment plants on St. Thomas and St. Croix.
Whether the plan, discussed during a District Court hearing, will be adopted or rejected depends on a decision pending in the breech of contract dispute between WMA and VWNA Caribbean, Inc., operators of wastewater plants on St. Thomas and St. Croix.
Plant operators allege the authority owes them $5 million for services provided.
WMA Interim Director Tamara Albany-Nicholas acknowledged the debt in court Monday before District Court Judge Curtis Gomez.
It's the latest development in a federal case charging the V.I. government with violating the Clean Water Act that's been litigated since 1984.
Under the terms of an amended 2002 Consent Decree, the government and WMA agreed to build wastewater treatment plants at Mangrove Lagoon on St. Thomas and Anguila on St. Croix, and to hire a contractor to operate and maintain the plants for 20 years.
Defaulting on the contract would violate the terms of the decree, Gomez said.
He asked Nicholas as she testified Monday if she realized that.
"Is it your understanding that the Waste Management Authority is in violation of the consent decree by having an arrearage of $2 million and recently, that balance has ballooned to $5 million?" the judge asked.
The director said yes, but added that WMA was trying to meet its obligations.
"We have been making payments but unfortunately they are untimely and sporadic," she said.
A payment of $461,000 was made in March, Nicholas said. But the judge pointed out the amount to be paid monthly should have been $500,000 a month.
When asked why a large debt had accumulated for operation of the wastewater plants, Nicholas said the disruption of the property tax collection system played a role. A percentage of the revenues collected through property tax, by law, goes towards wastewater treatment services.
With a new monthly bill coming soon, Gomez asked how much the agency expected to pay.
"We're looking at making a $151,000 payment," the director said.
VWNA's asked the agency to adopt a payment plan. The plan calls for WMA to pay double each month until the arrearage is cleared up.
VWNA submitted letters on March 12 and June 6, warning the agency it would seek to have WMA declared in default. A few days later the company announced its intent to cease operating the two V.I. plants.
If that were to happen, the judge asked, what would WMA do?
"Our current intention is to operate in compliance and within budget, whether it is through our own resources of with help from a contractor," Nicholas said.
She then described a transition plan where VWNA would remain on the job long enough to train WMA staffers to operate and maintain the plants. In order to do so, agency workers would have to be certified.
Four names were proposed to take on the task. But when environmental attorney Don Frankel asked Nicholas how many of the four were certified, she answered – one.
Because of the contractor's letters stating their intent to leave, the WMA chief said training staff to take over began June 22.