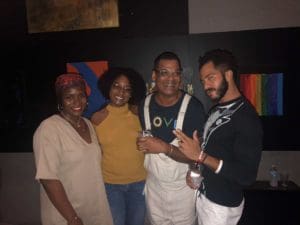 On Saturday, June 23, members of the St. Thomas LGBTQ community and allies celebrated and recognized the diversity of the island community with a Gay Pride celebration at arts space sevenminusseven that drew dozens of supporters.
True to the mission of sevenminusseven, the event aimed to represent cultural diversity and  recognize the island's participation in the National Gay Pride Movement. The rainbow lights shone bright as all were welcome free of charge.
The non-profit gallery opened its doors for a night of jubilant achievement as the community embraced people of different races, creeds, colors and sexual orientations to dance the night away united as one.
On the walls, the gallery featured the work of artists ranging from the representational to the abstract, from the whimsical to the poignantly urgent, exemplifying the recognition of artistic diversity and beauty.
Many attendees who were new to sevenminusseven were introduced to a space that aims to be a haven dedicated to freedom of expression.
"After attending the Gay Pride parade in St. Croix, I felt inspired by the expression of solidarity and love," said Augustine Holder, co-organizer of the event at sevenminusseven.
Holder continued, "There were protestors making disparaging remarks at participants in the parade and at that point I said to myself, 'I want to do something in St. Thomas to celebrate Gay Pride – let's join the movement now.'"
He said the event made a statement about diversity, inclusion, tolerance and humans rights in the territory.