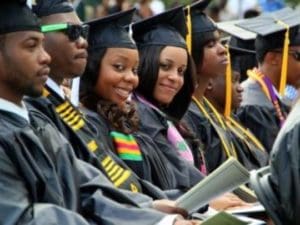 Dear Source:
It is truly an honor and pleasure for me to join the many in our community in extending sincere congratulations to the many graduates and promoted of the Class of 2018 on a job well done. To all the students, I say please know that in your own right you each have made us, your families, friends and well-wishers immensely proud of you on your overwhelming accomplishments. A task due to circumstances, which in more ways than one, was truly beyond your control, and was indeed not a simple one. To which, you each [dug] deep within yourselves and found the "Gem" that we all know you to be.
On top of that you each showed your individual strength. You found yourselves within yourselves, and without complaining you each stepped to the plate and took on the challenge of returning to school late, with double sessions, adhered studying conditions in school and at home, as your normal world as you knew it was now turned upside down and inside out. But in spite of [that], you persevered, and today I too join the many in our community in saluting each of you.
You are the young heroines and heroes of this community, who have taught us adults that our rebuilding must start and end with you as the future of tomorrow. As such, "education" must be our major focus. We must as a community now stand up to the challenges as you did and provide the best education system we can for 2019 and beyond. By your example to excel during such difficulties, I for one am convinced that the children of the U.S. Virgin Islands will always rise to the challenge once given an opportunity to excel.
Today, as a community we are all reminded of our trials and tribulations from, September 7, 2017, till now. Whereas, our road to recovery should always be the reminder of the reality of two major category 5 hurricanes, as the destructions caused by Irma and Maria have ensured that our lives will never be the same again. As many of us, were forced to watch up close or even from a distance the overnight destruction of our beloved Virgin Islands. Knowing, the full effect it now has on our children and the elderly. Unfortunately, it is indeed "you" the youths and the elderly that has suffered the most.
Currently, you, our youths, are forced to grow up in more ways than one overnight as our community struggle to rebuild, with fears of the unknown. Unfortunately, each of your fears and pains have become your own as the road to recovery is unclear to all of us. But in spite of, you, the youths [dug] in and made it work for you individually and collectively. So, much so, that a good many of you were promoted and a large number of you graduated and made your family and your community proud. You each proved to the world and your selves that nothing is impossible. To which, I now join the many in our community in saluting each of you. I also take this time to extend congratulations to your parents, teachers, families and friends, but above all to the community as a whole.
In closing, I would like to "big up" the many parents and teachers in our community, who unselfishly put the youths of this community before self in making a difference in tomorrow's future. Thanking you also on a job well done, as our children couldn't have done it without you.
It is indeed with sincere thanks and congratulations that I join in saluting all of you.
Blessings,
Shirley M. Sadler
A resident of St. Thomas, USVI