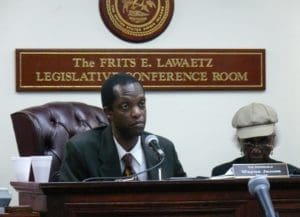 A federal jury in V.I. District Court found former Sen. Wayne James guilty of wire fraud and embezzlement Thursday.
James' sentencing has been scheduled by Judge Curtis Gomez for Dec. 20.
James served one term in the V.I. Legislature as a senator from St. Croix from January 2009 to January 2011. A joint federal and local audit of the Legislature in 2011 highlighted several examples of public funds that James received to conduct research seemingly going unaccounted for. A federal warrant for James' arrest was issued in October 2015, and in 2016 he was arrested in Italy on federal corruption charges and extradited to the Virgin Islands.
Over the course of a two-day trial Monday and Tuesday, U.S. attorneys argued that James fabricated invoices and made fraudulent funding requests to the Legislature in an attempt to bail himself out of debt and help his own re-election campaign. Witnesses called by the prosecution included employees of banks and money wiring services, researchers from Denmark, and FBI investigators. The defense opted to rest its case without calling any witnesses of its own.
Evidence presented during the trial showed that in 2009, James began submitting requests to the Legislature for funding to research the 1878 Fireburn, St. Croix's famous labor uprising. According to the requests, Fireburn-related documents in the Danish National Archives would be shared with local schools and libraries, and James' research was being done in advance of legislation to further that aim. Over the course of his term in office, James made 11 requests for funding for the Fireburn project, and received more than $90,000.
According to witness testimony, the Legislature's business office made no follow-up attempts to track where any of the money James was given ended up, and only about half of the requests resulted in any kind of receipts. One allocation awarded to James for Fireburn research was almost $28,000.
Investigators found that James did use some of the tens of thousands of dollars he received for research and translation purposes related to the Fireburn. But the vast majority of those public funds, approximately $70,000, was put to personal use by James according to the prosecution.
Invoices that James submitted along with funding requests did not match records or witness testimony. James submitted two invoices under the name of a friend in Denmark, Brian Kalhøj, but Kalhøj testified in court the invoices did not correspond with work he did for James and, in the case of the larger one, was submitted entirely without his knowledge. Investigators found no evidence of transactions made for invoices submitted under the names Peter von Troil and Lise M. Johansen after going through 38,000 of James' emails, statements for all his known bank accounts, and Western Union and Moneygram records.
The prosecution argued that James used the larger allocations he received for Fireburn research to augment his salary when it was greatly reduced by a tax levy in 2010. Because James owed $197,000 in back taxes, the V.I. Internal Revenue Bureau began garnishing his wages, reducing his bi-weekly $2,057 take-home pay to $509. The prosecution also argued there is circumstantial evidence that James diverted the Fireburn funds to contribute $20,000 to his own re-election campaign expenses, and pay down half of a $10,000 debt that had accrued for a storage facility.
Omodare Jupiter, the federal public defender representing James, unsuccessfully tried to convince the jury that bad record keeping and irresponsible management in the Legislature's business office made James' legitimate research look criminal. He argued that had Tropical Storm Tomas not destroyed some records in 2010, investigators would have found many more of the translated and photocopied Fireburn documents that James had shipped to the V.I.
Jupiter also said the names on invoices submitted by James were inconsequential because the funding requests were for cash advances, and therefore the people James hired to do the work could have changed.
James' case was investigated the Federal Bureau of Investigation and the V.I. Office of the Inspector General, and was prosecuted by Assistant United States Attorney Delia Smith, and Trial Attorneys Amanda Vaughn and Luke Cass of the Criminal Division's Public Integrity Section.