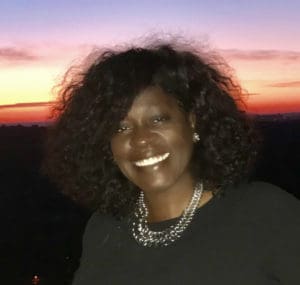 St. Croix native Claudia Schrader has been named president of Kingsborough Community College in the New York borough of Brooklyn, and credits her Crucian upbringing for her success.
"I am overjoyed about this opportunity and I owe it to my parents, my teachers and my St. Croix community," she said.
Schrader is the first black person
to head Kingsborough, which was named one of the top four community colleges in the nation by the Aspen Institute College Excellence Program in 2013. It is part of the City University of New York System.
Currently, Schrader is the provost and senior vice president for academic and student success at Bronx Community College, another of the 24 colleges of the City University. She maintains executive oversight of 15 academic departments and a host of programs and affiliated centers.
Schrader has spent much of her career teaching – primarily in subjects related to special education and preparing pre-service teachers – at Medgar Evers College, Teachers College, Columbia University, Bank Street College and the College of New Rochelle.
"I always wanted to be a teacher," Schrader said. "Each time I accompanied my mother to ready her classroom for the new school year at Charles H. Emmanuel Elementary School, I thought that this is what I want to do."
Schrader was born and raised on St. Croix and graduated from St. Joseph High School in 1986.
Schrader is the youngest of four children, who all grew up in Estate Calquphoun with their parents, Richard and Claudette Schrader. Her mother retired from her position as assistant principal at Charles H. Emmanuel Elementary School.
Her father was stationed in Germany during the Korean War and is a retired National Guardsman. He is also a retired prison warden from the Golden Grove Correctional Facility. He is the author of 29 books and earned his second masters degree, in public administration from UVI, which was then the College of the Virgin Islands.
" I always had a gift for writing and I won a writing competition in 11th grade," she said. "I went to college to pursue as my major my first love – journalism – at Rutgers University in New Jersey" she said. "I switched to Africana studies, and found I could read and write creatively in my new course of study and earned a bachelor of arts in Africana studies.
Upon graduation, Schrader said, she discovered there was no work available in her field of study, so she found employment teaching special education to boys in the penal system She earned a master of arts in special education and a master of education in instructional practice in special education from Teachers College, Columbia University, and continued working in programs with special needs children from birth to three years old and early intervention programs.
She received her doctor of education degree in international and transcultural studies.
Schrader said she left St. Croix in part for opportunities but did make one effort to come home.
"I did apply for a provost position at the University of the Virgin Islands, but I didn't make the cut," she said. "I was offered the position as vice provost, but I did not accept. It was not what I wanted to do."
Schrader sees her new position at Kingsborough as president as making a difference for the community and for the students.
The college's enrollment is down, she said, and "We must find ways to attract students."
Kingsborough's foundation is strong, she said, which gives it a solid footing and gives its students a good jumping-off point for a seamless transition to college. It also is a major presence in the bustling borough of Brooklyn and has partnered with dozens of schools borough-wide.
"I come from the Virgin Islands where community is important, so I know how important it is for people to work together. I have no doubts about this new position. I am overjoyed about this opportunity, not overwhelmed by it," Schrader said. "The work I've done so far was quiet. I will be in the public eye. I will be the brand, the face of Kingsborough. I'll be one of the biggest cheerleaders for the faculty, the staff and the students," she said.
But Schrader said she will never forget her roots.
"St. Croix will always be home to me. There is no place in the world like St Croix. We have a very nurturing island community and I carry that wherever I go," she said. "I recently read a press release about my position as president and I could see whoever wrote it 'got it' and focused on the power of me coming from a small place. I am so proud," she said.
Schrader also supports and volunteers with the Habitat for Humanity Global Village Program. Her summer vacations are spent building houses in Brazil, El Salvador, Vietnam, South Africa, Ghana, Kenya, Ethiopia, Bali, Malawi, Zambia and Thailand.