To try to inform the community on where the candidates stand, the Source sent each senatorial candidate a questionnaire with questions on pressing issues for the territory. We are running the answers in the order in which the candidates responded. (See Related Links, below.) This story covers the views and planned initiatives of Sen. Dwayne M. DeGraff. who is running for reelection as an independent candidate in the St. Thomas/St.John District.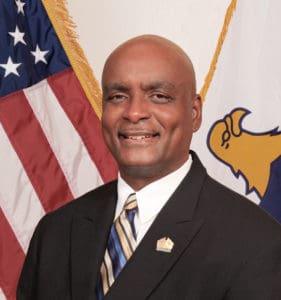 Sen. Dwayne M. DeGraff is serving his first term in the 32nd Legislature. Previously, he spent 26 years working with the V.I.Police Department serving in such positions as police Officer, police sergeant, zone commander, and deputy chief of police for the St. Thomas and Water Island District.
Source: The V.I. government has a $100 million-plus annual deficit, currently cannot borrow on the private market and is not paying many of its obligations, to GERS, to WAPA, territorial nonprofits, sewage treatment contractors, trash haulers, health care contractors and more. But the territory has never missed a debt payment on its $2 billion in debt. Half of that is secured by federal rum taxes which pay creditors before the territory gets control of the funds and half is secured by V.I. Gross Receipts taxes which, by statute, IRB is supposed to give to a third party to pay creditors first. How can the territory avoid a fiscal shortfall that could force cuts to services and government layoffs in order to pay creditors first?
DeGraff: I believe our government can avoid a fiscal shortfall by better prioritizing our obligations. If we utilize line-item budgets effectively we can ensure that obligations such as GERS, WAPA, etc. are accounted for and paid. We can also impose penalties for failure to use the money as budgeted. The use of lump sum budgets have lent itself to the practice of not paying vendors and other obligations as a priority. We need to ensure that all money owed to the government is collected and see to it that there is stricter enforcement and monitoring of our revenue-generating laws. Our government also need to be more effective in managing federal dollars to ensure that none is returned.
Source: What is your fiscal and economic plan?
DeGraff: My fiscal and economic plan entails developing the agriculture industry, developing our infrastructure to support sports tourism from Little League to professional sports; and continuing to grow and develop the technology and marine industries in our territory.
Source: Many young Virgin Islanders are seeking educational and financial opportunity outside of the territory. What plans will you execute to encourage those that remain to stay, and to get those that have left to return?
DeGraff: We need to provide opportunities and incentives for our young people. I have begun talks with the University of the Virgin Islands to become an agriculture and technological university, and to focus on providing areas of study that trends have shown are of peak interest. We should also through the Board of Education stipulate scholarship requirements that students receiving these scholarships must return to the territory and work for a time certain.
Source: What would you propose to address the collapse of GERS in light of the $3 billion-plus shortfall and projected exhaustion of all funds between 2020 and 2023?
DeGraff: I have several proposals currently before the Legislature regarding GERS to include requiring that all decisions made by the board that would impact members benefits must be approved by the V.I. Legislature. I have a measure that would dedicate a portion of the savings realized by the Federal government's decision to fund the Medical Assistance Program (MAP) at 100 percent be put towards the GERS for two years. I also have legislation that seeks to dedicate an additional $2 million from the rum-cover over revenues to GERS.
Source: How will you help make government more transparent?
DeGraff: I believe the territory's sunshine laws are adequate; they just need to be adhered to and enforced. As the first branch of government the Legislature should set the example of transparency. As for my office, I am committed to being transparent as to my legislation and other functions relating to the office.
Source: How do you feel about legalization of marijuana and why?
DeGraff: I will support medicinal marijuana. However, with a law enforcement background, I am still skeptical of legalization of marijuana for recreational use at this time though I remain open-minded to legislation.
Source: What can you as an elected official do to help alleviate violent crime in the territory?
DeGraff: It has been proven that one of the effective ways to combat crime is by providing economic opportunities for our people. We must reach out to our young people and provided them with the skills to sustain themselves through vocational education, JROTC, sports tourism, internships and apprenticeships programs. This summer my office hired 25 students as part of our summer internship program, providing them with jobs in their fields of interest. I will continue to support measures that ensure a business-friendly environment that would spur activity thereby creating job opportunities for our people.
Source: How do you see your role in overseeing government agencies?
DeGraff: I take my oversight responsibility as a senator very seriously. In my first term, I have conducted several walk-throughs of agencies and have reported to them my concerns. It is critical that we as legislators keep these agencies accountable. As an active member of the Finance Committee, I also had the privilege of participating in the budget process. I also submitted legislation regulating the use of government credit cards for greater accountability.
Source: Why are you running and why should voters choose you instead of another candidate?
DeGraff: As a senator, I believe I have made a difference in my community through legislation. I am currently serving my first term, and I have shown my dedication to represent and advocate for the needs of the people. I have offered legislation that I felt will improve the lives of residents, such as the registry bills to ensure that seniors and individuals with disabilities living alone can receive the assistance in times of disasters. I have also stood by the people in voting against measures they felt were not in their best interest, such as the sin tax. For these reasons, I believe I am a worthy candidate and hope to be afforded another opportunity to serve the people.
Source: What will you do to mitigate the effects of climate change on the territory?
DeGraff: I will support alternative energy through transportation, housing and energy generation processes.
Source: What is your plan to improve the schools and the quality of public education in the territory?
DeGraff: I am a product of vocational education. I have offered legislation to allow the Department of Education to hire career and technical education teachers on a contractual basis. That way they can keep their full-time businesses while still offering their services. We must also foster greater collaboration between the Board of Education and the Department of Education to improve on the quality of public education offered in the territory.
Source: How will you ensure that adequate funding is put toward healthcare services in the territory?
DeGraff: Through the use of line-item budgets we can allocate funds specific to healthcare services. I have and will continue to support legislation that would enhance healthcare in the territory.
Source: A significant amount of post-hurricane recovery on St. John, St. Croix and St. Thomas was made possible by non-profit organizations and volunteer groups. But private donations are down and budget deficits make more funding difficult. What would you, as a legislator, suggest to help support these community groups?
DeGraff: The Legislature in the past supported non-profit entities through the miscellaneous budget. I believe it is important that the government assist these entities as they provide needed services that the government cannot provide. As such I will offer and support funding measures for these entities providing the availability of funds.
Source: What do you as a senator believe should be priorities for infrastructure, parking and walkability on St. John? On St. Croix? On St. Thomas?
DeGraff: I believe we should ensure that our towns in particular are ADA compliant in terms of sidewalk and parking. I was instrumental in getting the Department of Public Works to provide one-hour parking for residents and guests in the Vendor's Plaza parking area. We need to look into the possibility of a multi-level parking facility for the downtown area, possibly in Fort Christian.
Source: The Revised Organic Act of 1954 gives the V.I. Legislature the power to establish a USVI constitution by any means it chooses. Currently, the territory cannot charge different property tax rates to different parts of the territory. The territory could set up property tax districts if it enacted a constitution. What should the Legislature do in regards to a USVI constitution?
DeGraff: I believe we should adopt the Revised Organic Act of 1954 as our constitution and amend it as needed.
Disclosure: The reporter assigned to this series recently began working in the office of Senator Marvin Blyden and the questions were developed before she started the position. All candidates have an opportunity to participate and the candidates control their responses.