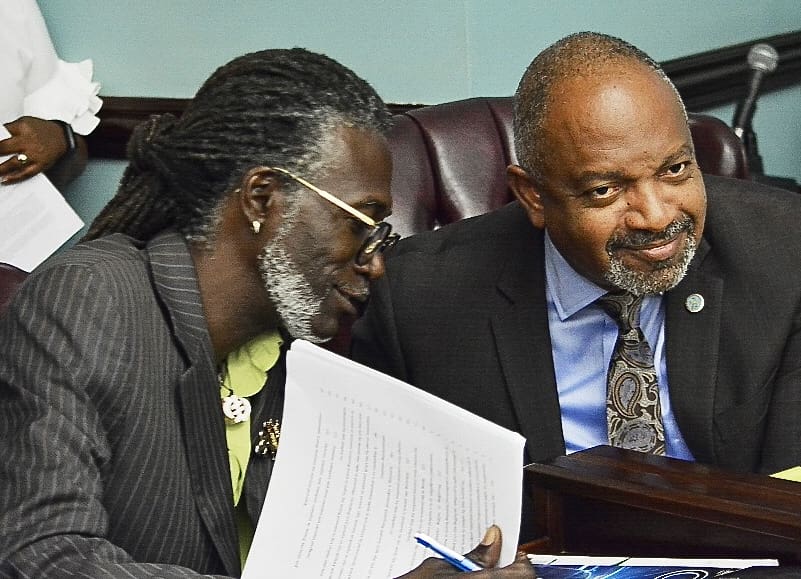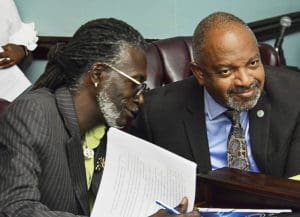 Lawmakers on Monday approved Sen. Positive T.A. Nelson's measure to legalize and regulate medicinal cannabis for adult use in the territory, taking another step toward a territory that allows cultivation, processing and dispensing of medicinal marijuana products.
"I'm very happy that most of my colleagues gave this thing a reasonable and mature discussion," Nelson told the Source after the hearing. "I can tell that the time that has passed have allowed for people's perspectives to be clear and understanding what it is we're attempting to do. I look forward to us continuing moving toward this legalization matter, particularly for medicinal, for now."
On Monday, the Senate Committee on Economic Development and Agriculture, chaired by Sen. Neville James (D-STX), voted to forward the bill to Rules and Judiciary. Voting in favor of the bill were Sens. Marvin Blyden (D-STT), Dwayne Degraff (D-STT), Tregenza Roach (I-STT), Senator-At-Large Brian Smith, James and Nelson (ICM-STX).
The Medical Cannabis Patient Care Act will go under review by the Rules and Judiciary Committee on Thursday. If approved, the Senate would vote the bill up or down during Friday's session.
The bill, also sponsored by Roach and Degraff, would make key changes to local laws governing marijuana use. It would protect patients with medical conditions specified in the legislation, along with the the physicians and primary caregivers, from local arrest and criminal prosecution. It would also regulate and protect ancillary industries surrounding the medical marijuana industry, including processing, packaging, labeling and distribution.
Nelson reintroduced the bill to the Senate in 2017 after six years of struggle to get the Virgin Islands ahead of an $8 billion industry. On the mainland, 33 states have legalized medicinal marijuana while 10 have legalized recreational use.
In 2017, Nelson successfully requested that the bill be moved out of the Health Committee, a strategy he employed due to perceived bias on the part of the committee chair, Sen. Nereida O'Reilly (D-STX), who has "exhibited an obvious bias against cannabis legalization in any form," Nelson told the Source.
The fiery debate over the medicinal marijuana bill continued during Monday's hearing. Dexter Skepple, pastor of Speak the Word Ministries, appealed to lawmakers to stop the bill in its tracks, citing his experience working with young men who, according to Skepple, resorted to violent crime under the influence of "drugs," referring to marijuana. Skepple also said marijuana is highly addictive and exposure to the substance makes users crave more intense highs.
Barbara LaRonde of USVI NORML, a group fighting to legalize cannabis in the Virgin Islands, fought against the notion of addiction to marijuana, distinguishing between addiction and choice of use. Laronde also explained the different effects of the two types of marijuana: indica, which relaxes the body, and sativa, which "aids in the opening of the creative mind, deep-thinking and more meditative state."
In any case, Laronde said marijuana users do not resort to random acts of violence or violent crime of any type.
Under the bill, residents suffering from illnesses covered by the legislation would qualify as cardholders who can access medical marijuana dispensaries. The list of qualifying debilitating conditions includes a wide range of illnesses, from cancer to hepatitis C to HIV-positive status to Acquired Immunodeficiency Syndrome. Crohn's disease, Alzheimer's, Parkinson's and Huntington's also figure on the list, along with some 15 other illnesses and conditions. An amendment also added autism and opiate addiction.
Any condition not included in the original list can be petitioned for inclusion through the Office of Cannabis Regulation, the regulatory arm of the Cannabis Advisory Board to be appointed by the governor. The nine-member board, scheduled to meet at least six times a year per an amendment, would consist of one representative each from the Health Department, the Department of Licensing and Consumer Affairs and the Department of Agriculture. It would also include a farmer, two health practitioners, a disability advocate and an economist.
In order to apply for a license in any of the three categories of industry – cultivation, processing and dispensary – the applicant must have been a Virgin Islands resident for at least five years at the time of application. Most criminal records will not have an impact on an applicant's eligibility to apply for a license.
To prevent monopolies, applicants cannot gain a license to form companies involved in both cultivation and dispensaries.
Companies interested in cultivation will have to pay license fees depending on the license level. Level one, which allows up to 100 plants, requires a $1,500 license fee, while level two, which allows up to 500 plants, requires $2,500. The maximum number of plants allowed for cultivation is capped at 1,000, a level three license that costs $5,000.
Local Virgin Islands farmers are eligible for a $500 discount in each of those categories, per an amendment.
As for the possibility that medicinal marijuana products could leak out to non-cardholders, Nelson said nothing is foolproof.
"Just like right now, you have prescription medicine, I will admit, some does get out and it's up to us to regulate it as such," said Nelson.
With an illegal cannabis market in the Virgin Islands, Nelson said nothing currently guarantees safe or quality products for medicinal cannabis users, something that the bill hopes to turn around.
"At least, with the legalization, even if legal product is being diverted into the illegal market, which we hope to minimize that, at least it's product that's already tested and quality controlled and grown by certain standards, compared to right now, people don't know what they're getting."
Even the illegal market can potentially undergo transformation under the bill, according to Nelson, allowing individuals selling on the streets the option of starting businesses or gaining employment instead of simply taking cuts from every dime bag sold.
"It allows people the opportunity to be business owners instead of being drug-dealers as they're called," said Nelson. "They would be legitimate tax-paying business owners living with dignity instead of living under this shade of being a criminal."