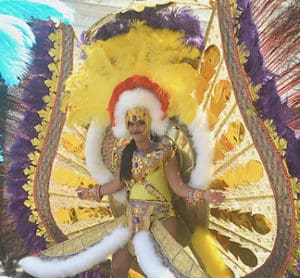 The Carnival Queen show starts at 8 p.m. April 20 at the UVI Sports and Fitness Center, the first time in recent years that both major pageants have been moved from Lionel Roberts Stadium. Advance tickets are $35 for VIP, $25 for the blue seats, $20 for the bleachers and $15 for students. At the door, tickets are $40 for VIP, $30 for the blue seats and $25 for the bleachers.
Sunday, April 21, a new Easter Sunday Fun Day event will debut, featuring traditional games, Toddler's Derby and Best Dressed as a Doll contest, for which the deadline to enter is Wednesday, April 10.
Applications are available at the V.I. Carnival Committee office, and anyone interested in entering a contestant can call 340-776-3112.
The Mini-Carnival will kick off at 10 a.m. Monday, April 22, at Schneider Regional Medical Center, followed by Cultural Day at 10 a.m. Wednesday, April 24, in Emancipation Garden and running through the evening. There will be performances by school and community groups for the entire day. V.I. Carnival Royalty will also be on stage.
The annual Junior Calypso Competition is scheduled for 8 p.m. Thursday, April 25, in the Fort Christian parking lot and, according to organizers, the deadline to enter is April 20. There are three levels of competition: primary (ages 5-10) intermediate (ages 11-13) and secondary, (ages 14-17). More information is available by contacting Kalamis Maduro at vicc.juniorcalypso@gmail.com or calling Daril Scott at 340-771-3821.
On Friday, April 26, the Carnival Village opens at 6 p.m. with the traditional booths, rides and vendors, along with a special presentation honoring Trinidad native Michael A. Coggins, an accomplished trombone player who was first inspired to pick up the instrument after attending the first St. Thomas Carnival in 1952.
A decade later, Coggins signed on to work for the V.I. Daily News, where he remained for 20 years.
"It was at this point the art of trombone performance in dance bands in the U.S. Virgin Islands began to take its rightful place … with Michael A. Coggins as the pioneer," Carnival Committee organizers said. "Michael Coggins unleashed his inner-most musical passion to thousands of Virgin Islanders, dance goers and students. He set the standard in trombone dance band music performance. He became the model, the standard, a true ambassador, bringing from Trinidad the flavor, customs, and traditions of dance band trombone performance to the territory."
From there, the event lineup is:
– Saturday, April 27: Calypso Finals, starting at 8 p.m. at there West Indian Company Dock Bandstand. Calypsonians – Queen Jackie, Nikki Smith, Ninja Kev, General Val Broc Lee, Prince Khamoi, Spade, De Arc, and Mighty Pat are ready to rumble with their best "Caiso" Lyrics to take the crown from Monarch John Gotti. Hosts are Boggle and "Da Man from Trinidad" Tommy Joseph, for a night of comedy & music.
– Sunday, April 28: Motor Sports Sunday, starting at 10 a.m. in the Charlotte Amalie Harbor, with a Steel Pan Jamboree to follow at 5 p.m. in Emancipation Garden,
– Monday, April 29: V.I. Lottery Soca Monarch Competition, starting at 8 p.m. in the Fort Christian Parking Lot, and
– Tuesday, April 30: Senior Citizens' Quelbe Tramp, starting at 8 p.m. at the Rothschild Francis Market Square.
Carnival wraps up with a slate of popular events:
– Wednesday, May 1, with the Cultural Fair starting at 8 a.m. and running through the day in Emancipation Garden. This year's theme is "Bathe in Waters Blue," while the fair itself pays homage to the Charlotte Amalie High School Class of 1972.
– On Thursday, May 2, J'ouvert Warm-up kicks off in the Village at 12:30 a.m., then J'ouvert officially kicks off at 4 a.m. on Veteran's Drive.
– Friday's Children's Parade begins at 10 a.m., headed by Grand Marshal Sebastien Majorettes – in honor of the group's late founder Helen Sebastien Gabriel – while
– Saturday's Adults' Parade also starts at 10 a.m. There has been speculation that the parade route has been changed, and the venue still says "to be announced" on all official flyers. The Source will keep readers updated on any final announcements.
Carnival officially finishes that Saturday night, May 4, with fireworks over the harbor at 8 p.m. and the traditional Last Lap in the Village until 3 a.m.
The official schedule is here.