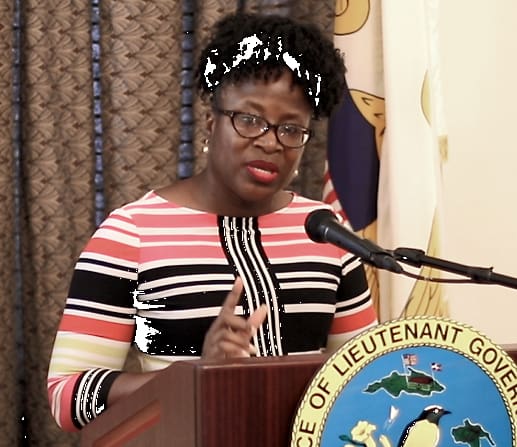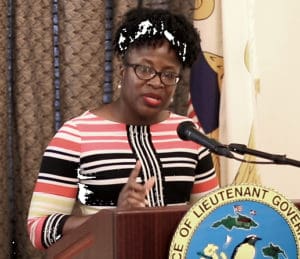 The launch of a new online module puts the V.I. Division of Corporations and Trademarks on par with services offered by states and other territories and makes submitting documents and payments easier for the local business community, officials announced at a news conference Wednesday on St. Thomas.
"This is an exciting moment for businesses here and on a larger scale, for our whole economy, because it makes doing business with the territory that much easier," Lt. Gov. Tregenza Roach announced. The Division of Corporations and Trademarks falls under the purview of the Lieutenant Governor's office.
The system was developed by Foster Moore LLC, a company that creates "off the shelf" software applications. The addition of the Uniform Commercial Code module – the third to launch within the company's online Catalyst System – will allow registered users to: file UCC financing statements, information statements and amendments, request copies of filings (plain or certified), perform UCC information requests and pay all fees electronically.
Division Director Denise Johannes was on hand Wednesday to do a quick demonstration and share her frustration at the online systems employed at other state offices across the nation.
"I used to be very jealous when visiting other states and looking at their websites and the technological access they grant their customers," she said. "I dreamt one day the Virgin Islands would join them, and today is that day."
There are still a few restrictions. Johannes explained that there are new fees associated with the software that users must pay attention to, and that exempt limited liability companies and trademarks should still continue to physically file their documents with the office. Access to the online system is upcoming, she said.
Upcoming franchise tax and annual reporting documents are due to the office on or before June 30 for all registered corporations – profit or non-profit – along with limited liability partnerships, in order for those businesses to maintain an active "in good standing" status that would allow them to conduct business within the territory.
For owners of registered trade names there is a $50 fee with each renewal application, which can be paid online every two years within a six-month window prior to the lapse date, Johannes added.
"We encourage all business owners to come into compliance with our regulations," she said.
In both district offices, the Division of Corporations and Trademarks will have kiosks available for customer use. There is also a revised UCC fee listing that is available on the Office of the Lieutenant Governor's website.
Additional information from the Office of the Lieutenant Governor's Division of Corporations and Trademarks can be reached by phone at 340-774-2991 on St. Thomas and 340-773-6449 on St. Croix.