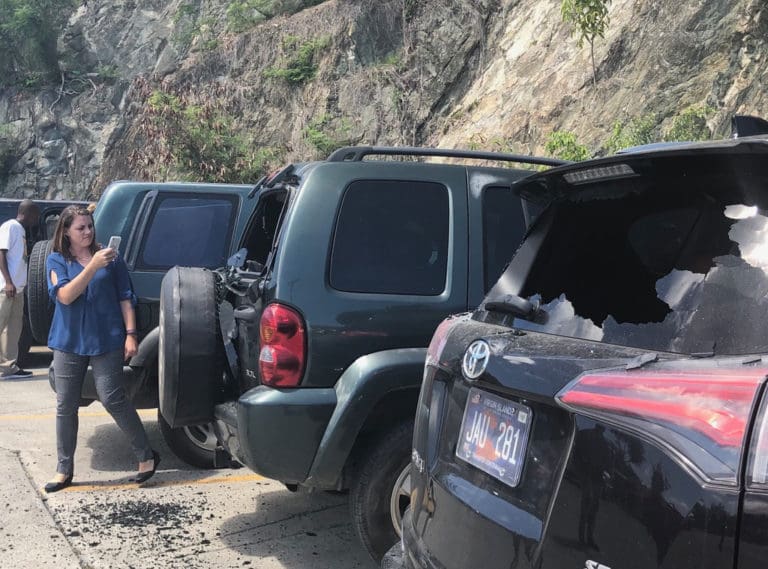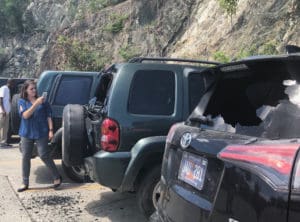 A St. John man was taken into police custody Wednesday afternoon after smashing the windows of at least 20 vehicles parked at the Marketplace on St. John.
The suspect, Jahkoy Bolques, "has some mental challenges" and was taken to Myrah Keating Smith Community Health Clinic for evaluation, according to David Cannonier, assistant police chief for St. John. Cannonier said Bolques would be transported to St. Thomas Wednesday night and remanded to the Bureau of Corrections. He is scheduled to be in court Thursday morning.
Witnesses said Bolques used a metal pipe to smash the glass of vehicles parked at both the upper and lower parking lots starting at around 2 p.m. Officers from Zone D rushed to the scene and apprehended the suspect, who reportedly put up little resistance.
Meanwhile, employees from Starfish Market and First Bank, two of the many businesses and services at the Marketplace, arrived at the St. John police station and began filing reports of damage.
Shoppers and workers at the Marketplace stepped into the afternoon glare to find glass covering the ground and the interiors of their vehicles.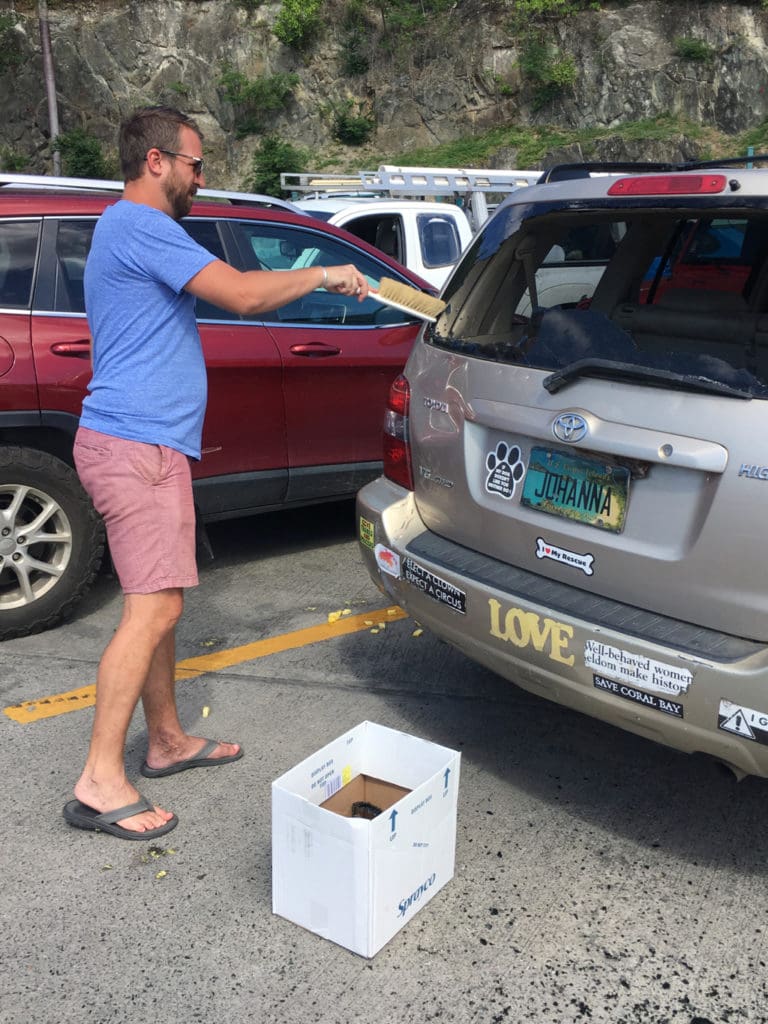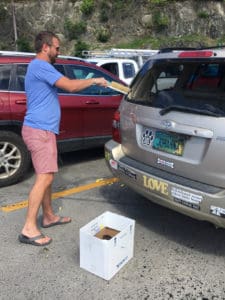 "Mine was the worst. It was a brand-new car," said one business owner, who came outside when she heard the commotion. "I thought, thank God he isn't hurting people."
That woman was lucky in that the damage would be covered by insurance. Others were not so fortunate.
"I don't have full insurance. Who does on an older car? This is all coming out of my pocket," said one customer angrily as she surveyed two broken windows on her SUV.
Debbie Marsh, the general manager of the Marketplace, had no comment as she continued to sweep broken glass into piles.
Following the incident, tow trucks arrived on the scene while owners exchanged information about an offer from Mr. Piper's Jeeps to pool the orders to replace the damaged windows and windshields.
Stephen Libbey, who works at Love City Strong, was busy cleaning up the glass inside and out of a car belonging to a colleague.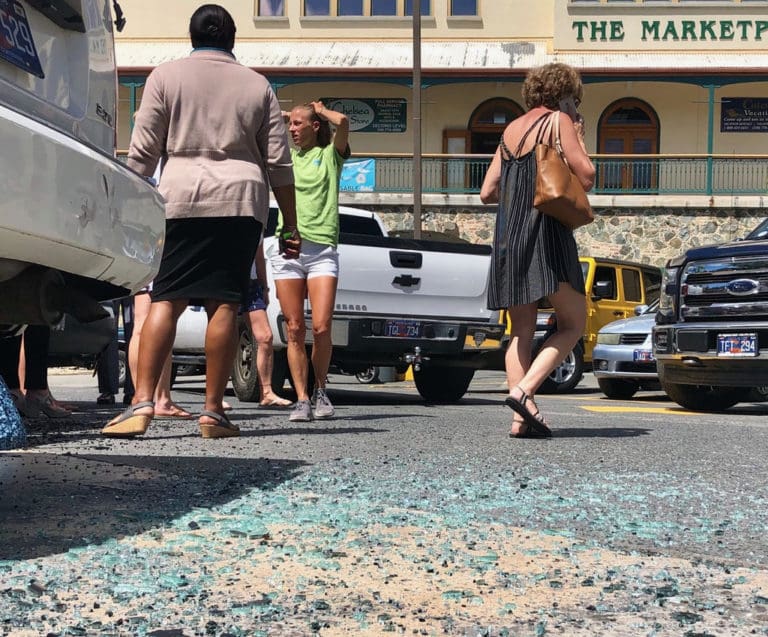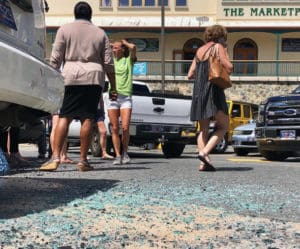 "I didn't want her to get back and find her car like this," he said. That colleague was in the field informing residents about services available in case of a disaster.
Bolques, thought to be in his early 20s, had recently been rehired at Starfish Market following an incident in February when he "struck a shelf out of aggravation, which resulted in a patron being struck with an item," according to the police blotter.
"We need to pray for one another, and for the families," said one Marketplace employee. "When I see young men, I just try to give them a hug and encourage them. I have sons of my own."
Others were less sympathetic.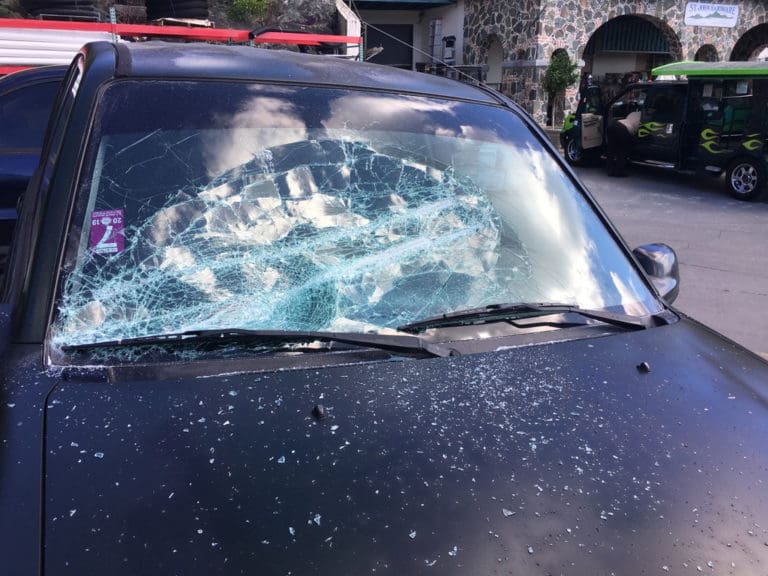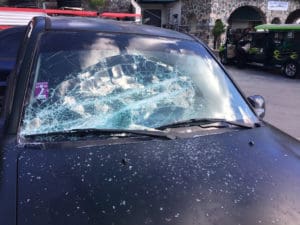 "It's a good thing I wasn't around when this happened," said a construction worker after finding every window destroyed in his brand-new Jeep.
"The suspect is better off in jail," observed one business owner. "There are a lot of guys who are really pissed off right now."
One business owner was going over his paperwork with a police officer when he discovered that he hadn't put his annual inspection sticker on his windshield which had just been smashed.
"There's not a lot of point in doing it now," he said.