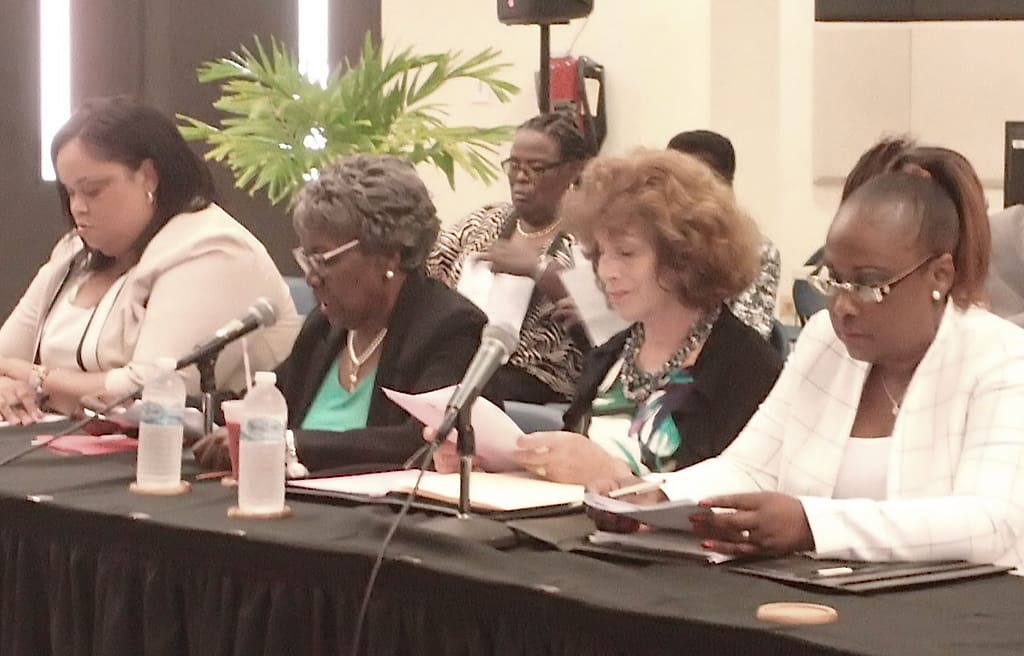 Controlling her department's budget and the homeless problem in the territory are what keep Health Commissioner Justa Encarnacion awake at night, she said Friday as she and her staff defended a proposed 2020 budget of $51.6 million before the Senate Finance committee.
The Department of Health requested almost $28 million from the General Fund, $20.3 million from the federal government, $2.5 million from the health revolving fund and $752,000 non-appropriated funds.
The General Fund moneys are designated for personnel services, $12.1 million; fringe benefits, $4.7 million; other services and charges, $9.3 million; utilities, $1.1 million; supplies, $662,838; and capital projects, $81,000. There are 401 funded positions with 47 vacancies.
Federal funds will cover personnel services, fringe benefits, supplies, other services, indirect costs, utilities and capital outlay for federal programs. There are more than 165 federal positions and over 52 vacancies.
Other supplies, services, utilities and other capital outlays will be covered by the Health Revolving Fund.
Senators were interested in finding out about the progress of merging the Fire Service EMT program with the Department of Health. Sen. Kurt Vialet and Sen. Kenneth Gittens said they would not approve a budget until an operational plan was in place. Health will take over the finances for the emergency techs working out of the fire stations. Encarnacion said the transfer will take time, depending on training and need.
On another subject, Sen. Alicia Barnes expressed frustration at the lack of behavioral health procedures and the delay in opening a behavioral health facility on St. Croix. The Health personnel responded that the St. Thomas facility will open soon and St. Croix has some staff at the Gov. Juan Luis Hospital in preparation of opening a mental health unit.
"St. Croix needs to see something happen for the mental health population … something," Vialet said, adding $3 million is available until it's time to build a facility and then the senate will appropriate more. He suggested an end-of-the-year deadline for some sort of mental health care on St. Croix.
Also presenting its budget Friday was the V.I. Board of Nurse Licensure. Three of the five-member board and one staff member joined Ann Doute, the chairwoman, to request funding in the amount of $500,000 to carry the organization through 2020.
In 2017, the group spent a little more than $71,000 and this year to date has expended a little less than $166,000.
The board has not been working full time and has had few meetings, according to Doute. Their office on St. Thomas was destroyed by the 2017 hurricanes and the contents were condemned by OSHA, including most files and office equipment. They have temporarily relocated to the Schneider Regional Medical Center.
The increase in funding will allow the board to find a new office, fill a data-entry position, complete construction of the website with automated renewal process for nurses and purchase a vehicle. They also plan to increase membership and conduct meetings with nursing staff and management at healthcare institutions.
During the tedious process of recreating documents, the board plans to contract a cloud-based system. They want to revise the Nurse Practice Act to reflect current trends and revise rules and regulations last revised in 2007. Instituting criminal background checks, increasing education and increasing the workforce are other goals, Doute said.
Senators asked questions regarding the length of time for nurses to apply for licenses, increasing fees and consolidating or partnering with another board with similar interests to save the government money.
The Nurse Licensure board regulates the education, credentialing and practice of registered professional nurses, licensed practical nurses, certified nursing assistants and advanced practice registered nurses. Advanced practice registered nurses include certified nurse midwife, nurse midwife, certified nurse anesthetist, clinical nurse specialist and nurse practitioner. Licenses are renewed every two years.
Senator's present during the hearing were: Sen. Novelle Frances, Senate President, Marvin Blyden, Kenneth Gittens, Donna Frett-Gregory, Oakland Benta, Dwayne DeGraff, Janelle Sarauw, Vialet, and Barnes.