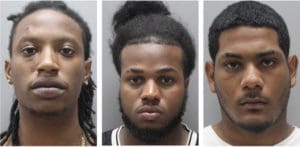 The V.I. Police Department on Friday afternoon arrested three suspects in a shooting that had taken place in Estate Thomas.
At 1:06 p.m. Friday VIPD officers crime scene technicians, and detectives from the Criminal Investigation Bureau responded to a 911 call of shots fired in the Estate Thomas area on St. Thomas.
Accordng to police, three suspects were arrested – Javier Anderson DeJesus, Rory Tati-Liz and Angel Alejandro Guerrero-Belel – in connection with the incident. Each was charged with first-degree assault.
At the scene officers found a woman laying on the ground being attended to by emergency medical technicians. Preliminary investigation revealed that during an attempted burglary of an apartment in the area, gun shots were discharged. The injured female, whose name was not released by the police, fell while trying to flee from the gunfire, resulting in injuries that required transport by ambulance to the Schneider Medical Center.
The investigating officers searching in Estate Thomas and the surrounding areas intercepted a vehicle at the bus stop area of Yacht Haven Grande and arrested the three male suspects, who police said were positively identified by one of the victims involved in the incident.
The three suspects were turned over to the Bureau of Corrections pending their advice of rights hearing. This incident is under investigation by the Criminal Investigation Bureau.
Police urged anyone with information about the incident to contact the VIPD at 340-774-2211 ext. 5617, the Major Crime Unit at 340-714-9830, or the anonymous tip service, Crime Stoppers USVI at 1-800-222-8477.