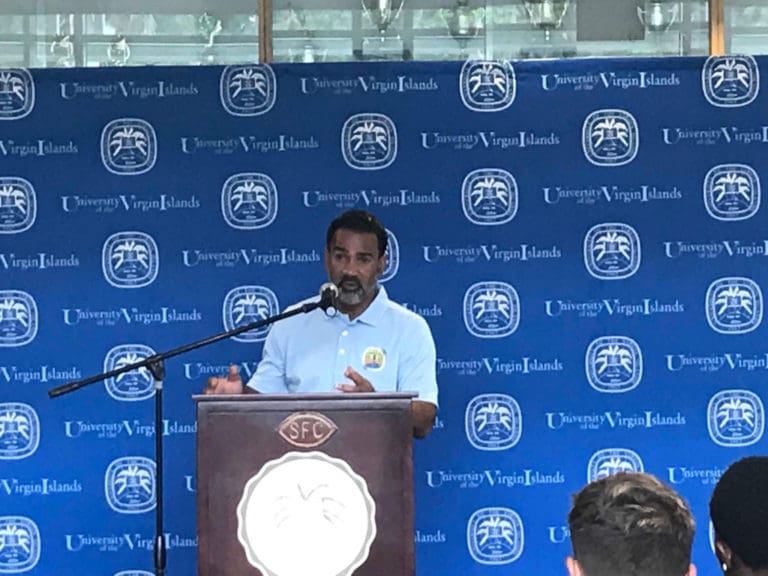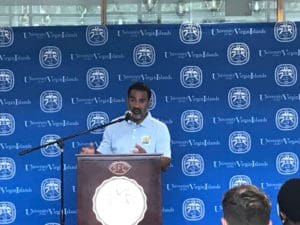 The University of the Virgin Islands hosted its first Media Day on Sept. 28 to introduce the public to the teams that were about to start competing and to bring together athletes from the two campuses.
Athletic Director Wilberto Ramos emphasized that the "reason we are here today is an appreciation of you guys as student athletes."
"Having all our athletes in the same room is a joy to see," said University Provost Camille McKayle. She asked the community to support for the athletes, saying, "Make sure everyone you know is here [for home games]."
The first coach introduced was the men's soccer coach, Eduardo Collado, who is in his first season at the university. Since his arrival at UVI he has brought in players from South America and Jamaica to mix with players already at UVI.
This year the men's soccer squad is smaller than the average NAIA team, only filling out 14 of the 24 available roster spots. It also will play half the number of games as most NAIA teams.
Collado will be busy recruiting after this season to make sure that the men's team will have at least 24 players by the start of next season, along with trying to get enough players to start a women's program at UVI.
The next coach to speak was one of the assistant coaches of the men's basketball team, Nate Robinson, a former UVI player. Robinson said he has high expectations.
"We want to be the first team in UVI history to make the NAIA tournament and actually bring home the championship," he said.
He believes this team has "a chance to be special" and will "give the islands something to be proud of."
The men's team will open the season with two home games, the first on Oct. 18 at the Sports and Fitness Center against the University of Maine at Fort Kent at 7:30 p.m., followed by another on Oct. 19 by a game against Alice Lloyd College, from rural Kentucky.
The last coach to speak at the event was the women's basketball assistant coach Asia Vetter, another former player.
Vetter said her team is, "so talented, driven and passionate and I am so excited to be their coach."
She mentioned that the teams she has played on the last two years fell short, but said "Today starts a new year, and I'm excited to see where we go and look forward to being part of the winning team."
The women's team will tip off it's season with a pair of games against Cumberland University at 7 p.m. on Oct. 9 and 10 at the UVI Sports and Fitness Center.
The full press conference can be viewed online.