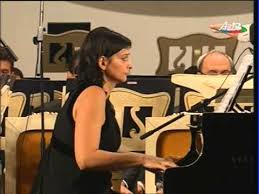 On Saturday, Oct. 19,The Forum, a nonprofit organization since 1996, will present the World Premier of The Baku Trio, a powerhouse under the direction of Nargiz Aliyarova on piano, with Byungchan Lee on violin and Cameron Crozman on cello.
"Powerful artistic spirit"
— The New York Concert Review
The Program
Joseph Haydn, Sergey Rachmaninoff, Ludwig van
Beethoven and Kara Karayev.
Joseph Haydn Piano trio in G Minor, Hob.XV:19
Sergey Rachmaninoff Trio Elegiaque N.1 in G Minor
Intermission
Ludwig van Beethoven Piano Trio N.3 in C Minor
Kara Karayev "The Most Beautiful Waltz"
Nargiz Aliyarova, a New York-based pianist from Azerbaijani, is known for her "powerful artistic spirit." She commands a broad repertoire, spanning from the Baroque to contemporary.
"Dr. Aliyarova … is clearly a dynamo who combines excellent pianistic skills and artistry with her role as presenter and educator" — New York
Concert Review
Aliyarova appears regularly in solo and chamber music recitals, and she has been featured in her performances with chamber and symphonic orchestras in 40 different cities across the globe. Aliyarova has taught as a professor of piano and chamber music at the Baku Music Academy in Azerbaijan for 25 years.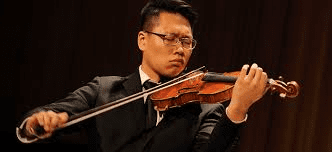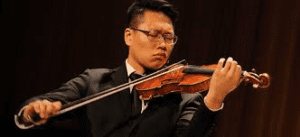 Born in Seoul, Korea, Byungchan Lee has garnered recognition as prizewinner of the Yuri Yankelevitch International Violin Competition. He has performed alongside Stevie Wonder in Montréal, as well as at the closing ceremony of the 2010 Vancouver Winter Olympics among other internationally significant performances. Lee received his master's degree from The Juilliard School, where he served as co-concertmaster of the orchestra. Byungchan plays on an 1869 J.B. Vuillaume violin and bow, which is on loan from the Canada Council for the Arts Musical Instrument Bank.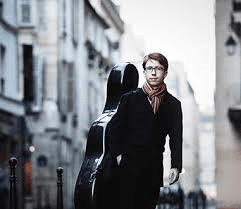 Named "Canada's next big cello star" by the Canadian Broadcasting Corporation as well as Radio-Canada's 2019-20 Classical Revelation artist, 24-year-old Cameron Crozman is making a name for himself both at home and internationally. An avid collaborator and chamber musician, he regularly shares the stage with world-class artists and appears at festivals around the world. Crozman currently plays the Spanish cello "El Tiburon," attributed to Juan Guillami of Barcelona circa 1769, on loan from the Canada Council for the Arts Instrument Bank.
Event details
7 – 8 p.m., Saturday, Oct. 19: The local saxophone quartet, OPUS 4, under the direction of Niels Gooding, will play in the Court Yard of the Prior-Jollek Hall, Antilles School Campus. The Court Yard will be open at 7 p.m. with small meals and desserts by Amalia Café. The Baku Trio will perform at 8 p.m. in the hall.
Tickets
Adults $25, teachers $10, students $5 and children under 10 years old are for free but need a ticket to secure a seat.
Online Tickets
Find tickets at instantseats.com or at the box office of the Prior-Jollek Hall the evening of the performance.
Ticket Sale Locations
Frenchtown Deli, The Medicine Shoppe, Antilles Administrative Building and Chelsea's Drugstore.
Community Outreach
The Baku Trio will give a workshop, open to the public, at the University of the Virgin Islands Music Building from 1-2:20 p.m., Friday, Oct. 18.
These events are made possible through the collaboration of the Forum, UVI, UJF and VIDE. They are "jointly supported by a grant from the Virgin Islands Council on the Arts and the National Endowment for the Arts in Washington D.C., a federal agency."