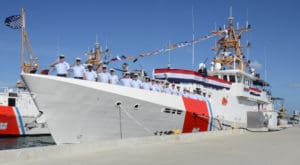 Centeno A. Hansel-Andres and Cristian Valencia-Mendoza have been charged with conspiracy to possess and possession of a controlled substance with intent to distribute on board a vessel subject to the jurisdiction of the United States, U.S. Attorney Gretchen Shappert announced in a news release issued Friday, Nov. 22.
The court filings allege the defendants were on board a go-fast style vessel that was intercepted by a U.S. Coast Guard cutter while on routine patrol. The USCG first sighted the go-fast vessel on Oct. 18, at approximately 45 nautical miles north of Malpelo Island, Columbia. The vessel did not have any display indicating its nationality. The USCG boarded the vessel and seized 21 bales of marijuana, consisting of approximately 1,355 pounds and arrested the two individuals on board.
This case is being investigated by the Coast Guard and Virgin Islands Drug Enforcement Agency. It is being prosecuted by Assistant U.S. Attorneys Adam Sleeper and Donna Rainwater.