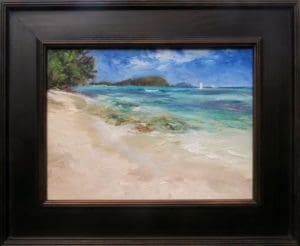 In light of the world's climate crisis, Kimberly Boulon Fine Art Gallery presents "RIDGE TO REEF, NORTH SHORE, ST. JOHN – PROTECTION AND PRESERVATION, Our National Park and Community's Gift to Our Planet. Revealing Understanding & Expressing Reverence."
The public is invited to join visual and performing artists for this free evening of entertainment, engagement and enlightenment. It will be held from 5-7:30 p.m., Friday, Jan. 17, at The Marketplace, 2nd floor, Cruz Bay, St. John. There will be appetizers by Queen of Tarts, wine and music by Eddie Bruce and Haile Israel at the reception.
In collaboration with St. John School of the Arts (SJSA), performers — directed by Jude Woodcock — will interpret the Protection and Preservation of the Natural and Cultural Resources in our National Park in a surprise performance.
Additionally, Gifft Hill School arts and science students will share their science discoveries and resulting artwork at the event.
Melissa Wilson, interim director of advancement, said, "At Gifft Hill School we believe that the environment is one of the best teachers and that children learn through experience. Our preschool/pre-K class took weekly field trips this fall to the national park and then explored coral, sand, leaves and bugs back in the classroom. They are working on paintings to express their experiences with Ms. Katia. Led by Ms. Coreen Samuel, our second-grade students are exploring nature, poetry and art through creating landscape-based poems and canvases. Meanwhile, Ms. Laura's 4th grade class has been monitoring sea turtle nests on the north shore beaches and is creating artwork based on that experience."
There will be raffle drawings of fine art; $10/ticket or six for $50; 100 percent of ticket sales will go to SJSA Youth Programs. The raffle drawing will happen at 7:15 p.m. Purchase tickets at the gallery between 10 a.m. and 4 p.m. on Tuesday, Thursday or Friday; through St. John School of the Arts (779-4322); or at the event.