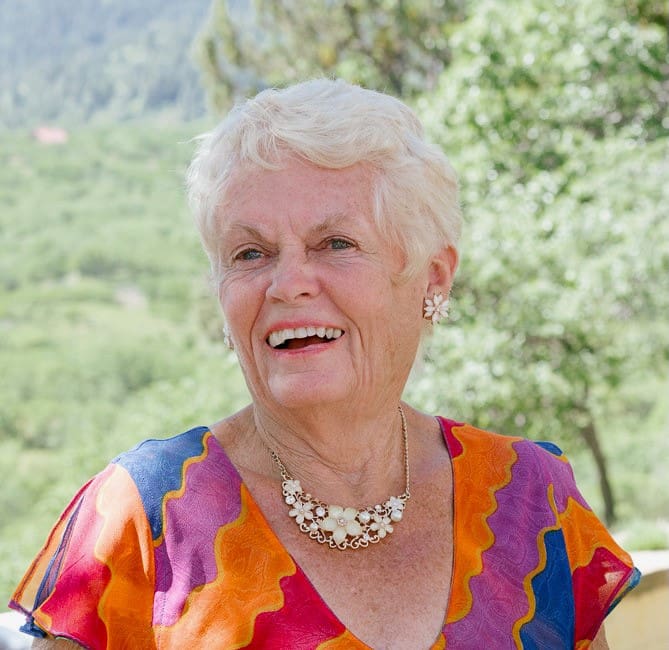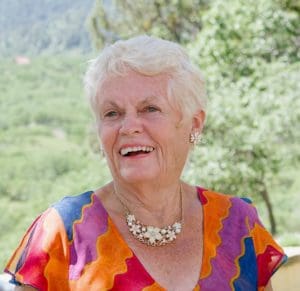 The St. John community recently lost a beloved member, Lee Morris, a thirty-year resident who passed away in October 2020 from complications of pulmonary fibrosis.
Born and raised in Cranston, R.I., Lee attended Cranston High School and then the University of Rhode Island where she met her future husband, Bill Morris. They were married in 1955, moved to Germany and then to England. Following their years abroad, Lee and Bill moved to southern California where they made their home and raised their family.
Lee began singing and playing piano at a young age and continued to follow her passion for music. She completed her AA degree in music at Cal State Dominguez Hills and became a talented, enthusiastic choir member as well as a sought-after pianist and organist.
Lee had a successful twenty-year career as an accomplished executive secretary at Hughes Aircraft company. Lee and Bill retired in 1990, moved to St. John, built a home together and spent the remainder of their lives on the island.
Lee and Bill were members of the St. John Yacht Club where Lee held office as commodore. She loved to play the piano and sing at the Episcopalian Church and the Unitarian Universalist Fellowship. She was a choir member with the St. John Singers and the Recovery Choir. She was an avid user of ham radio on St. John and made daily weather broadcasts on the net. Lee was employed at various retails stores on St. John and worked as a secretary at Islandia Real Estate and the Westin.
In later years, she volunteered at the Gifft Hill School and especially loved listening to the younger students as they read to her. Hoping to inspire younger readers and to share her love of the island, Lee wrote several children's books about St. John's enchanting animals and natural features.
Lee believed St. John to be the most beautiful place in the world. No natural disaster could keep her away from St. John even when Hurricane Irma destroyed her home. Lee passionately orchestrated the rebuilding of her beloved home which she described as a place with "the most beautiful views, a blue ocean, blue sky, gorgeous, different sunsets every day."
Lee is predeceased by her husband, Bill; and her daughter, Janet Lynn. She is survived by her son, Chris, and his wife, Heidi; son, Steve and his wife, Adrianne; grandchildren: Megan and Cade; and her sister, Diane.
Lee's Celebration of Life will be held at 10 a.m., Saturday, Dec. 26, at the Trunk Bay pavilions No. 1 and No. 2, and all are welcome. Social distancing, mask-wearing and other Covid-19 prevention protocols will be observed.
As a cancer survivor herself, Lee would want, in lieu of flowers, that any donations be made to the organization which has supported her son Steve: the Michael P. Nosco Foundation at https://mikenosco.com/donate/.