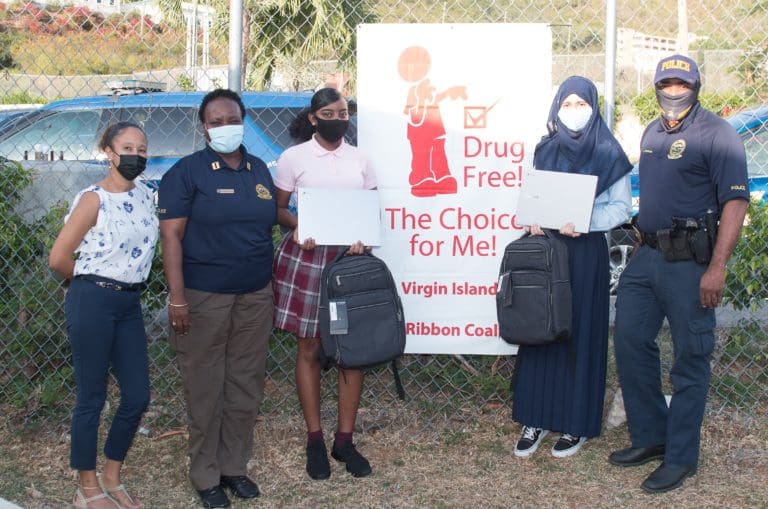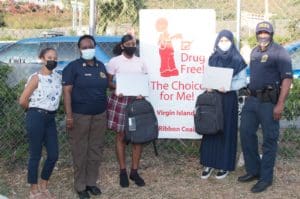 The Virgin Islands Police Department, in partnership with the Virgin Islands Department of Education, gave new Google Chromebook computers with carrying cases to winners of the 2020 Red Ribbon Week poster and essay contests.
The contests were held as part of the annual Red Ribbon Week activities during the last week of October. Students were challenged to create posters and essays showing or explaining how drug use and being brave enough to be drug-free could impact students' happiness and journey in life.
In the St. Thomas-St. John District, essay winners were Jehaida Williams, a senior at Ivanna Eudora Kean High School, with her essay titled, "Drug Free" and Waniya Baig, a sophomore at Charlotte Amalie High School, with her essay titled, "Be a Hero, Be Drug Free."
In the St. Croix District, essay winners were Sahara Bryan, a sixth-grader at Alfredo Andrews Elementary School, with her essay titled, "My Plans for the Future" and Ajahni Rosario, a junior at St. Croix Educational Complex High School, with his essay titled, "Being Drug Free: The Best Decision."
The territorial poster contest's top prize went to Conrad Phipps, a fourth-grade student at Ricardo Richards Elementary School, for the winning entry titled, "Rise Above Drugs."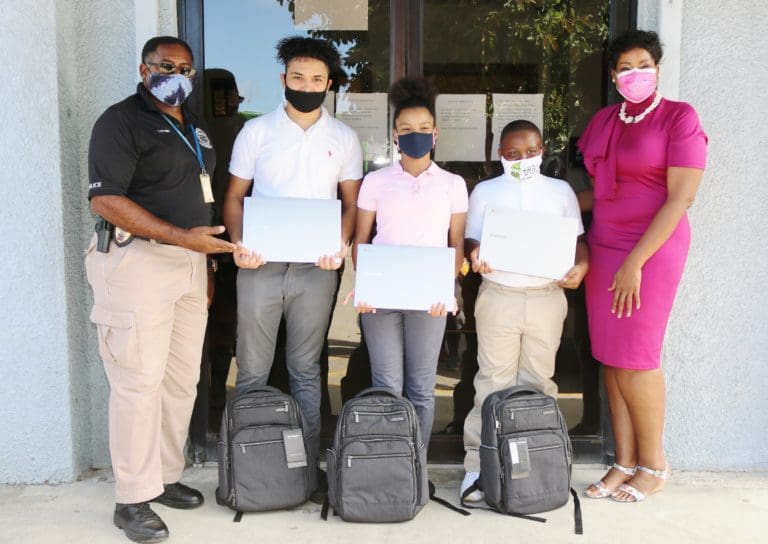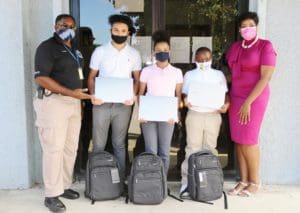 Police Captain Sandra Colbourne, officer-in-charge of the VIPD's Crime Prevention Bureau, commended all students who submitted entries in the contests and congratulated the winners. "The students met the challenge to live drug-free lifestyles and chose to tell their peers about it. They are making way for future generations of drug-free Virgin Islands students," Capt. Colbourne said.
Department of Education School and Community Relations Directors Karen Chancellor of the St. Croix District and Jerae Forde of the St. Thomas-St. John District praised students for their successful efforts.
"We are very proud of your accomplishments and for taking this brave step to write and draw about the dangers of drugs and the plans you have for your future," Chancellor said.
Forde said, "Continue working hard, remaining drug-free, and you will achieve all of the goals you have set for yourself. Congratulations!"
Google Chromebook prizes were not purchased with funds received from Congress' CARES Act; prizes were purchased through local and national funds appropriated to the Virgin Islands Police Department's Crime Prevention Bureau for Red Ribbon Week activities.