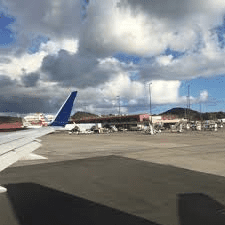 The Virgin Islands Port Authority is memorializing the anniversary of the birth of the second elected governor of the territory, the late Cyril Emanuel King and has placed a wreath in his honor at the airport named in his honor on St. Thomas.
Governor King served briefly as acting governor in 1969, following the resignation of Gov. Ralph M. Paiewonsky. He was the second elected governor of the United States Virgin Islands. He served from 1975 until Jan. 2, 1978, when he died while still in office.
King was instrumental during his term as governor in helping the territory obtain federal funding to build a new airport terminal on St. Thomas and to expand its short runway.  Construction of a new airport terminal on St. Thomas began two years after his death. The terminal was completed in 1990, and the airport's runway was extended from 4,200 feet to its present 7,000 feet length in 1992. On Oct. 3, 1984, the former Harry S. Truman Airport was renamed the Cyril E. King Airport in honor of the late governor's service to the people of the Virgin Islands via Act 4993.
The Port Authority recently started a massive upgrade of the 30-year-old CEKA Terminal.  VIPA Executive Director Carlton Dowe said that it is extremely fitting that the authority begin its Cyril E. King Airport Terminal Modernization and Expansion Project on the year of Governor King's 100th birth anniversary.
"Governor King was a leader who was known for his charismatic and caring personality, and his tenacity for stellar government service. Once our new terminal is completed it will be a facility that will provide all the modern amenities our residents and visitors deserve. The new airport will also be a facility that will effectually represent the late Governor King and his legacy."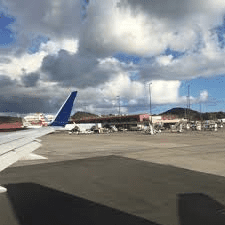 VIPA received a $20 million grant from the U.S. Department of Commerce-Economic Development Administration in 2019 to begin phase one the expansion and modernization of the Cyril E. King Airport Terminal. Phase one of the project entails the construction of a 600-parking space garage and transportation center with a dedicated location for ground transportation and car rental operations.
The $26.8 million facility is being built by AT Construction.  The project began in March, and an official groundbreaking ceremony will be hosted by the Port Authority this summer.  Future phases of the plan to expand the terminal include the redesign, expansion and modernization of the interior of the terminal to make the best use of the two floors of the terminal. The phases of construction will also include jet bridges; an additional lounge; concession spaces to provide more eateries, retail stores and contemporary traveler amenities; tropical landscaping; and improvements to the flow of vehicular traffic.