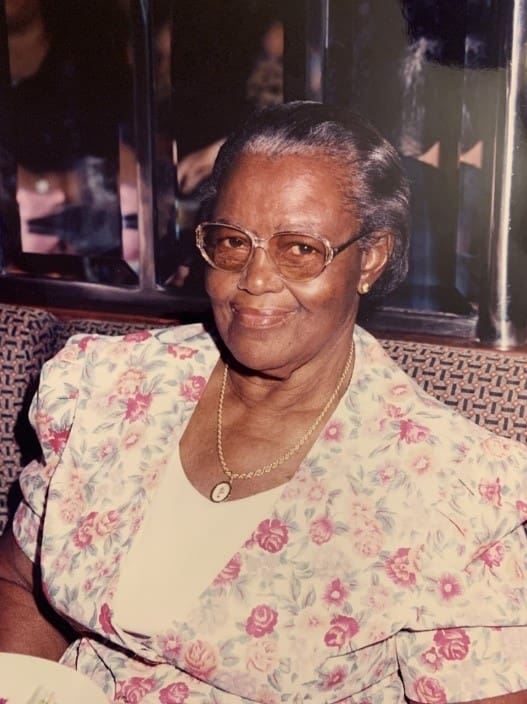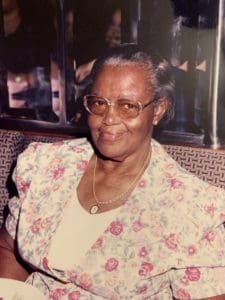 Fraline Genevieve Lenhardt, also known as "Jenny Lenhardt" or "Aunt Jenny," of Mon Bijou died on Monday, July 12. She was 96 years old.
She was preceded in death by her son, Lauritz Moorehead; and great-grandchild, Jenelle Moorehead.
She is survived by her daughters: Carmen Moorehead-Mills and Fraline "Josie" Moorehead; son, Hugo Moorehead Jr.; grandchildren:  Raymond Moorehead, Ronald Moorehead, Rodney Moorehead, Laurel Moorehead-Suarez, Patrice Moorehead-James, Owen Moorehead, Marjorie Moorehead, Charles Moorehead, Hugo Moorehead III, Letania Drummond, Michelle Grant and Terrance Christopher; great-grandchildren: Chinara Michelle Agathe, Terrance Christopher Jr., Journee Moorehead, Olivia Moorehead, Orianna Moorehead, Omari Suarez, Kheyanna Suarez, Amaya Suarez, Raymond Moorehead Jr., Laura-Ann Moorehead, Rodante Moorehead, Rodney Moorehead Jr., Ryan Moorehead, Tafari James, Uzziah James and Na'Zyia James; nieces: Gloria Lenhardt Brathwaite, Levonne Christian Turner, Eureka Lenhardt- Phillips, Ura Lenhardt Gosha, Antonette Lenhardt Richards, Joyce Lenhardt, Una Lenhardt, Angie George and Harriet Lenhardt-Clarke; great nieces: Denise Lenhardt, Tanyah Barrette, Lisa Lenhardt, Michelle James, Kedith Lenhardt-Harrigan, Merle Allick, Diane Allick, Janice Lenhardt, Lydia Lenhardt, Shareen Wilson, Afrilasia Phipps, Rosalind Turner, Sandra Turner, Levonne Hodge, Leanna Lenhardt, Deborah Smith, Dawn Samura, Avril Alford, Arlene Wagner and Juanita Wagner; nephews: Titus Lenhardt, Leon Lenhardt and Cecil Lenhardt; great nephews: Eigel Lenhardt, Shelly Gosha, Lamar Lenhardt, Miguel Lenhardt, Cecil Lenhardt III, Karami Lenhardt, Shawn Morris, Schuyler Connell, Amolay Christopher, Roy Christopher Jr., David Brathwaite Jr., Lowell Lenhardt, Cleon Lenhardt, Arvern Lenhardt, Jason Lenhardt, Lee Lenhardt and Henry Wagner; daughters-in-law: Marjorie Drummond-Moorehead and Mercedes McIntosh Moorehead; special friends: Ms. Marie Christian and family, Mrs. Mary Hendricks, Mr. and Mrs. Randolph Samuel and family, Mr. and Mrs. Lloyd Henry and family, Mr. and Mrs. Donald Liburd, Mrs. Gwendolyn Jacobs and family, Ms. Jane Bolling and family, Ms. Maxine Krigger and family, Mr. David Canton, Mr. Montgomery Jones, Mrs. Asta Lang and family, Ms. Patricia Tranberg, Mr. Henry (Hank) Armstrong, Ms. Joyce Bowry, Wilma Abramson, Loraine Gibbs, Ms. Vertiled Daniels, Dr. Roderick Moorehead and family, Jean Berkeley, Rudolph Meyers, Kent Moorehead and family, Marva O'Neale, Sister Claire Samuel, Sister Winifred Lawrence, Sister Doreen Gerard, Clifford Joseph, David Brathwaite, Ms. Nadia Dickenson and family, Mrs. Carolyn Marsh and family and Mrs. Yolande Francis and family; cousins and other relatives: Lloyd Henry, Lester Henry, Ingle-du Henry, Joan Henry, Helen Schjang, Medelien Christian, Morlene Lockhart, Grace Armstrong, Henry Armstrong, Melvin Armstrong, Karen Lenhardt, Marie Christian, Marcia Christian, John Christian, Beverly Plaskett, Charles Christian, Bradley Christian, Lenore Finch, Annette O'Neal, Vaughn Hendricks, Dr. Olaf Hendricks, Elaine Springer, Rita James Johnson, Patrick James, Gerard Luz James II, Barbara James Petersen, Emmeth James, Dr. Kelsley James, Marice James, Danielle James, Jana James, Dodson James, Raydell James, Lynn James, Rena James, Neville James, Marvin James, Ivorene David, Claudette Rawlins, Janet Mingo, Rudel Mingo, Pearl Miranda, Cheryl Ross, Winona Lester, Tyrone Seales, Theovald Seales, Rudy O'Reilly, Kay O'Reilly, Marsha Charles, Berton O'Reilly, Herman Heywood, Lorne Dawson, Joyce Francis Edwards and Tyrone Wilson; as well as other relatives and friends too numerous to mention.
A viewing will take place from 3-5 p.m., Thursday, July 29, at James Memorial Funeral Chapel.
A second viewing will take place at 9 a.m. followed by the funeral service at 10 a.m., Friday, July 30, at Friedensthal Moravian Church. Interment will be at Kingshill Cemetery.
Due to the COVID-19 pandemic and public health regulations, all attendees must wear a mask and adhere to social distancing.