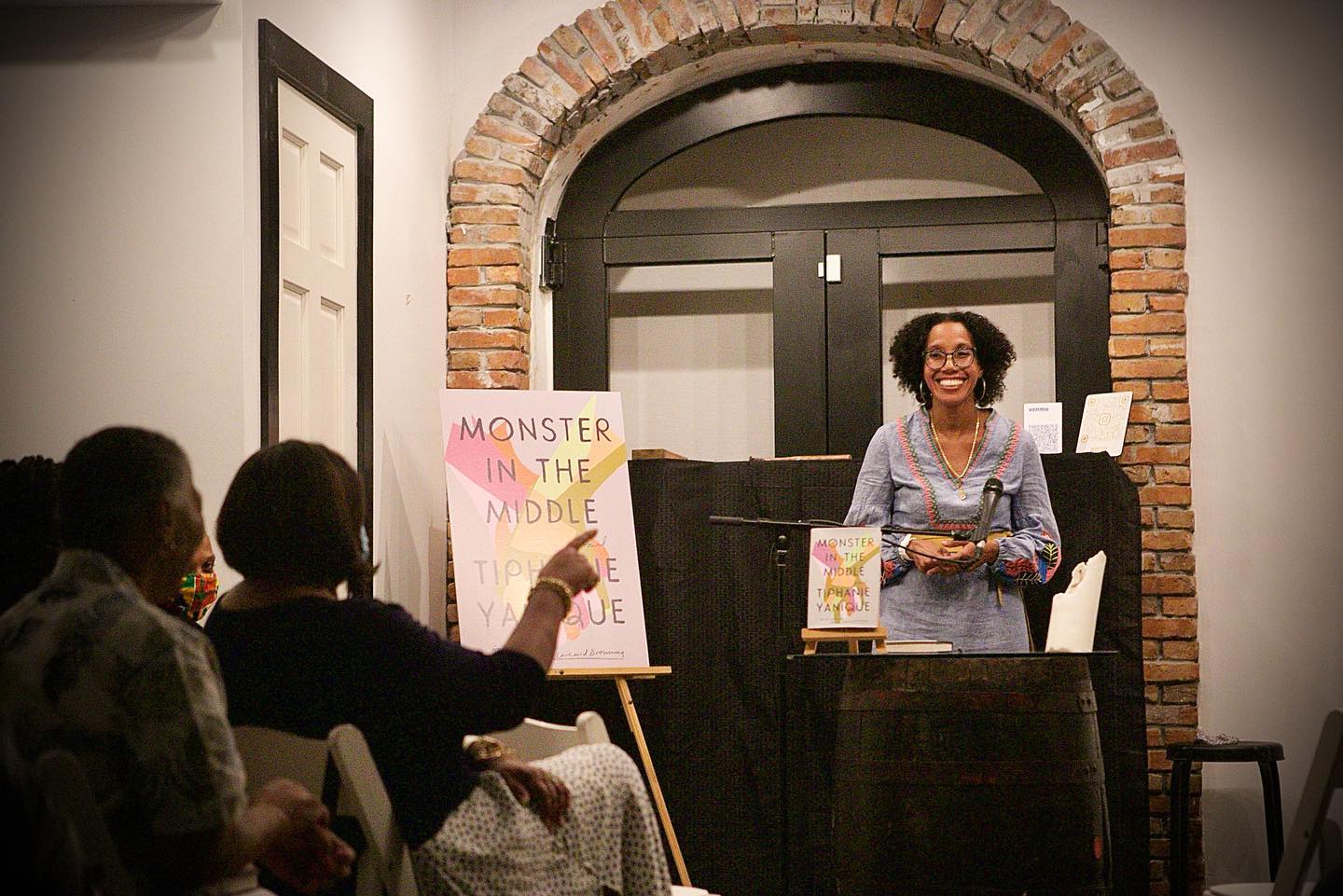 Native Virgin Islander Tiphanie Yanique, award-winning author and poet, is preparing for round two of her Virgin Islands book tour of Monster in the Middle, released in 2021. And as the old people say, "All good things come in threes."
The Department of Planning and Natural Resources Division of Libraries, Archives, and Museums is hosting a book reading and signing at Fort Christian on Friday, February 11, 2022, on St. Thomas from 5:30-8:00 p.m. and at the Fort Frederik Museum on Saturday, February 12, 2022, from 2:30-5:00 p.m. on St. Croix.
Yanique will make her way back to St. Thomas on Sunday, February 13, 2022, at 2:00 p.m. for a Valentines' themed event at 81C Art Gallery and event space, recently featured in the 20-page highlight of the Virgin Islands in Hemispheres Magazines, located on all United Airlines domestic and international flights in December 2021.
In a brief interview with Yanique, she indicated she's been doing many Zoom events across the United States and is looking forward to seeing Virgin Islanders in person. With her first Virgin Islands book tour in late 2021 with events in St. Thomas, St. John, and St. Croix, most attendees had not had the chance to read Monster in the Middle, with its launch date on October 19, 2021. With the book tour coming up this weekend, Yanique anticipates attendees will have had time to engage with her book and the questioning to be even deeper.
"I'm excited to have those difficult conversations with my fellow Virgin Islanders," said Yanique, winner of the O. Henry Prize for Short fiction.
Amongst her other accolades include being featured in the Best American Short Stories of 2021. She also penned the award-winning novel Land of Love and Drowning, the collection of short stories How to Escape from a Leper Colony, and the poetry collection Wife. Her writing has won the 2011 Bocas Award for Caribbean Fiction, Boston Review Prize in Fiction, a Rona Jaffe Foundation Writers Award, a Pushcart Prize, a Fulbright Scholarship, and an Academy of American Poet's Prize.
With much more autonomy with this book release through relentless convincing, she shared more on her insistence to include Virgin Islanders in her audiobook. Yanique even laughed at how she herself auditioned with her publisher to read Monster in the Middle. Others selected from the territory included George Silcott, Jr., affectionately known locally as "Culture Man," who will be reading alongside Yanique this weekend, and Oceana James, who can be heard reading within the audiobook.
Considering the last book signing was in Christiansted, this upcoming event in Frederiksted was seen as very important to Yanique. Yanique noted, "Frederiksted really has been a cultural touchstone in the Virgin Islands."
"Monster in the Middle is really arguing the case for romantic love and what we find when we face ourselves honestly. Seeing two Black people more than just making it work, but are truly happy," continued Yanique about the conversations to be held on Valentine's Day weekend. She added there is a lot of healing that has to happen as a people and as a culture to get to such a place of love, whether it be romantically or otherwise.
"The way we face racism on a daily basis, even in the Virgin Islands economically, the residue of colonialism, issues of mental illness, and how love can save us," stated Yanique, "are part of those difficult conversations."
Friday and Saturday book signing and reading events are free to the public via RSVP to amy.desorbo@dpnr.vi.gov with limited space and strict COVID-19 guidelines for an intimate gathering, and Sunday is a ticketed event, "Voices of Love" hosted by 81C at https://81cvi.com/voices-of-love-1, including a social mixer featuring champagne and island-sourced artisan bites by Chef Augustin Kelvin Holder.