St. Croix's south shore could soon be home to the Caribbean basin's largest shipyard, employing thousands of highly skilled Crucians, officials said Monday.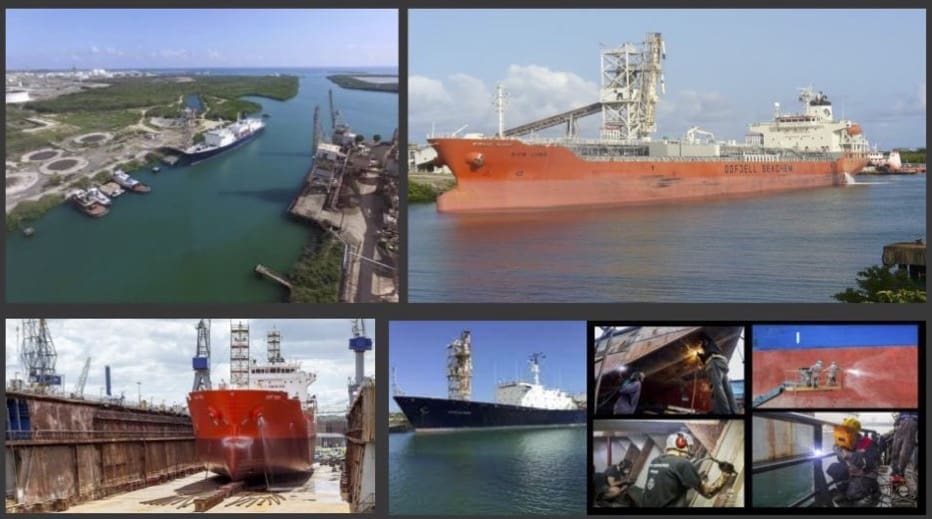 The Bryan administration and private partners plan to hire shipbuilding industry experts from around the globe to study the potential size of the project, said Anthony Weeks, managing director of the St. Croix Economic Development Initiative. Depending on the feasibility study's results, the shipyard would require a minimum of 550 workers to build and employ a permanent workforce of up to 2,000, he said.
The pandemic upended the world's shipyards, which normally run on very tight schedules for precision ship repairs. The backlogs are still being felt and have contributed to the ongoing global supply-chain issues, said Weeks, whom Gov. Albert Bryan Jr. appointed as a special economic envoy.
Commercial freighters, military vessels, and even smaller cruise ships in need of repair are all potential customers, he said.
"The military has over 335 ships that are backlogged that need to be repaired. And they don't have the infrastructure, and they don't have the manpower," Weeks said. "There are literally 14,000 vessels passing through this region on a yearly basis. And these ships need to be repaired and maintained."
Rather than a giant trench where ships are floated in and then the water removed, known as a graving dock, the St. Croix project would be a floating dry dock, Weeks said. The actual infrastructure would be at sea and submerged when a ship in need of repairs approached. When in position, the floating dry dock rises again with the ship now inside. Seawater is drained, exposing the entirety of the hull.
No specific area in St. Croix has been ruled out for the project location, but the refinery site on the south shore is ideal, Weeks said.
The refinery is capable of creating the low-sulfur fuel international maritime regulations have required large ships to use since 2020, he said. Being able to refuel and make light repairs in St. Croix could potentially expand cruise itineraries as well, making the south shore a strategic port of call.
The USVI government would likely be partnering with marine services specialists PetroMar International and Global Engagement Support Services, which provides freighting and storage services in Florida and industrial valve repair in St. Croix.
Weeks thought the feasibility study would be complete before winter.
The project could work in partnership with the Northeast Maritime Institute, a Massachusetts-based nautical college. Eric Dawicki, the school's president, said in February that he wanted to build a satellite school in Christiansted by 2024. In the meantime, he hoped to find scholarship money to send two Crucian students a year to his New England college.
Dawicki and other maritime experts signed a memorandum of agreement with Bryan in February to explore creating a USVI open registry with the goal of positioning the territory as a hub for regional shipping. This would mean foreign-owned commercial vessels could register in the USVI.
International law requires shipowners to register their vessels with a country known as the ship's flag state. The shipowners and operators must follow that country's laws in addition to other international maritime rules. Some countries require the ship to be built in one of their yards or to be owned and majority crewed by their citizens and residents. Countries that don't have these hurdles are called open-registry states. Most cruise ships, container vessels, and oil tankers adopt this so-called flag of convenience, registering in a country with minimal oversight, low-or-no income taxes, and loose environmental and labor laws.
Globally, 42 countries offer flags of convenience, according to the International Transport Workers' Federation. In our area, the list includes Antigua and Barbuda, Bahamas, Barbados, Belize, Bermuda, Cayman Islands, Curacao, Honduras, Panama, St. Kitts and Nevis, and St. Vincent.
Maritime labor groups decry open registries as a way for ship owners to save money by ignoring workers' rights. Advocates of the proposed USVI open registry insist the flag of convenience would demand adherence to U.S. laws.
The flag state is responsible for inspecting ships and working conditions aboard them to make sure they meet international safety regulations, like Safety Of Life At Sea, environmental rules over smoke and fluid emissions, and working conditions for seafarers. Ships must also meet the regulations of their classification society, non-governmental organizations that ensure ships are built and maintained properly. Failure for flag states to properly manage their ships, leaning on classification society inspections alone, can lead to disaster.