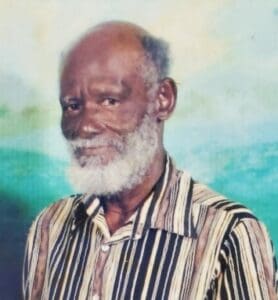 Rovercin Witfield Bryan, also known as "Castro," of Estate Upper Love transitioned into eternal peace on May 11. He was 87 years old.
He was preceded in death by his brothers: Victor, Richard ("Toly"), Wilfred and Alphonso Hodge, sisters: Emily Richardson, Beatrice Hodge, Geraldine ("Dudus") and Petronella Brooks, Stephen Bryan, Fredrika McIntosh and Margaret Matthew; nieces and nephews: Douglas Richardson, Ophelia Carty, Joseph "Joleen," Bernard ("Lil Wial"), Udine, Ralph and George ("Giggy") Brooks, Alford, Roosevelt and Renyx Hodge, Mulberry Gumbs and James Hodge.
He is survived by his wife, Elizabeth Bryan; sons: Calvert E. Bryan and Frederick Bryan Sr.; and grandchildren: Tessa M. Bryan, Raisa S. Bryan, Da'Juan Bryan, Frederick Bryan Jr., Kevin Bryan and Summah White; five great-grandchildren; and nieces: Murie Mulcare, Eldra Petty, Priscilla Carty, Maralyn Richardson, Iscilma, Janice, Leonie and Marslyn Brooks, Ruth Hodge, Zulma Vanhenigen, Alma Ruan, Eileen Hendrickson, Sherilyn Pemberton, Roxanne Hodge, Althea and Esmee Bryan and their families.
He is also survived by nephews: Canon Emerson Richardson, Right Rev. L. Errol, Adeziel and Carlwood Brooks, Campbell, Cecil, Ralph, Joseph, James, Aaron, Franklyn and Clyde Hodge, Curtley Pemberton, Leroy, Stevens, Nat, Clinton, Warren and Lanville ("Bongo") Bryan, Leonard Herbert and their families; and daughter-in-law, Beverly Bryan.
Other survivors include special friends: Pamella and Austin Rogers, Albert Rodgers and family; as well as other relatives and friends too numerous to mention on Anguilla, St. Kitts and in the UK and USA. He was also related to the Hodge, Bryan, Richardson and Carty families in the North Side, Stoney Ground and Little Dix Anguilla.
A viewing will take place at 9 a.m. followed by a funeral service at 10 a.m., Wednesday, June 8, at Midland Wesleyan Church. Interment will be at Kingshill Cemetery.