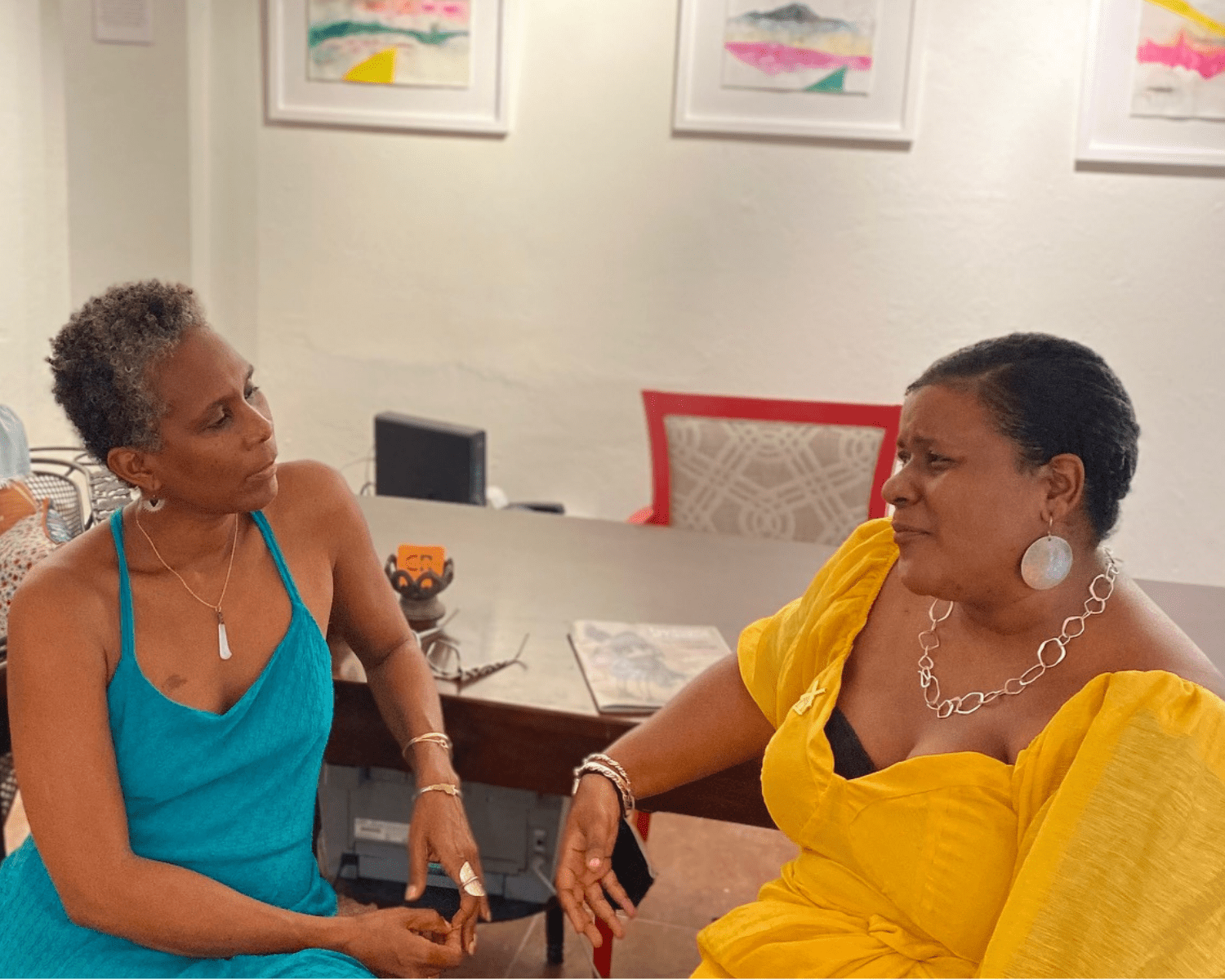 The walls were lined with red dots as a familiar crowd laughed, reminisced, and shared their final thoughts on the 13 artists who showcased their "Expressions of Freedom" at Cane Roots Art Gallery in Christiansted on Friday.
The celebration was summoned for the artists to share their visual expressions of freedom through acrylic, mixed media digital, portraits, fabric, photography, found material, and more.
La Vaughn Belle, visual artist, showcased several pieces of her work of landscapes in watercolor. She works in a variety of disciplines that include: video, performance, painting, installation, writing, and public intervention projects. Her work explores the material culture of coloniality, and her art presents counter-visualities and narratives.
Visiting artist from the sister island of St. Thomas, Augustin Kevin Holder, noted painting in layers allowing him to embrace a meditative state of painting, the freedom that is associated with the Abstract Expressionist Movement. Historically, the Abstract Expressionist Movement is monumental in scale and ambition, evoking the distinctly American spirit of precipitous individualism.
There is great value in the desire for freedom, spontaneity, and personal expression; the movement naturally produced a variety of technical and aesthetic innovations.
3Butterflies and Locusts by Stephanie Chalana Brown, a visual artist, often uses the mediums of photography and cinematography. In her work within the three-month exhibit, there was much of the present as well as an expression of the past from her experiences, experiences that have been shared with many Black and Brown mothers, and the inequality in the birthing industry. The disparity displayed in her piece speaks much of her work exploring coloniality.
A local favorite, Lucien Downes, who has participated in several exhibits at Cane Roots Art Gallery, noted his passion for connecting artists amongst all three islands within the Virgin Islands through his outreach efforts but expanding that bridge to much more of the Caribbean.
Being amongst the established art community in St. Croix has had great impact in strengthening the linkage with St. Thomas and St. John. Downes' work, composed of spiritual and worldly elements that function independently at times or merge to encompass a whole are often displayed with use of resin, acrylic, fibers, raw pigments, plexiglass, inks, dyes, and occasionally found objects.
The magic created by John Obafemi Jones featured on the front cover of St. Croix This Week's September 2022 issue was part of the Expressions of Freedom exhibit.
With a great understanding for the culture of Afro-Atlantic peoples, Jones frequently uses music and dance themes and icons. Jazz and Bamboula dance has often been front-and-center in his works as he sees them having emotional, intense, and precise qualities.
Cane Roots Art Gallery continues to be a mecca for Virgin Islanders and artists who have come to call the Virgin Islands "home" on St. Croix.
Owner Sonia Nahar Deane dreams of revitalizing the historic town of Christiansted as many strive to maintain the cultural vibrancy, historic relevance, and the shared stories that bind the African diaspora across the globe to freedom.