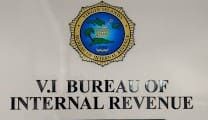 Lt. Gov. Tregenza A. Roach Esq. reminds the public that he has given full authority to the Office of the Tax Collector to implement a one-month waiver of all interest and penalties for all outstanding property tax bills. This waiver took effect on Sept. 1 and will end on Friday, Sept. 30.
Taxpayers are encouraged to take advantage of the waiver to bring current all their outstanding property taxes by Sept. 30 and to avoid final collection activity.
For additional information, contact the Office of the Tax Collector in the St. Croix District at 773-6449, located at the Leroy Quinn Finance Building at Sunny Isle or in St. Thomas/St. John District at 774-2991, located at the Nisky Center, lower-level parking lot.