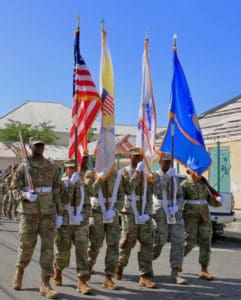 On Nov. 11, the U.S. Virgin Islands will host Veterans Day ceremonies following this year's theme, "Honor."
Three Virgin Islanders have been selected as honorees for their selfless service to the territory's veteran community: Capt. Noel Boynes Sr. on St. John; Warren "Cap" Hendrickson on St. Thomas; and Charles David on St. Croix.
Over the years, these veterans have continued to serve the community in which they live in different capacities, according to a press release announcing Friday's ceremonies. To show public appreciation for their selfless service, the Office of Veterans Affairs will honor them.
The ceremony scheduled for Nov. 6 on St. John was cancelled due to heavy rain. Ceremonies will take place Friday at 9 a.m. on Veterans Drive on St. Thomas and at 3 p.m. in Frederiksted on St. Croix.
Veterans can continue to get up-to-date information on the Office of Veterans Affairs website at www.veterans.vi.gov, by calling the office at 340-774-8387, or by texting the word VIVets (no spaces) to 888-652-8387.