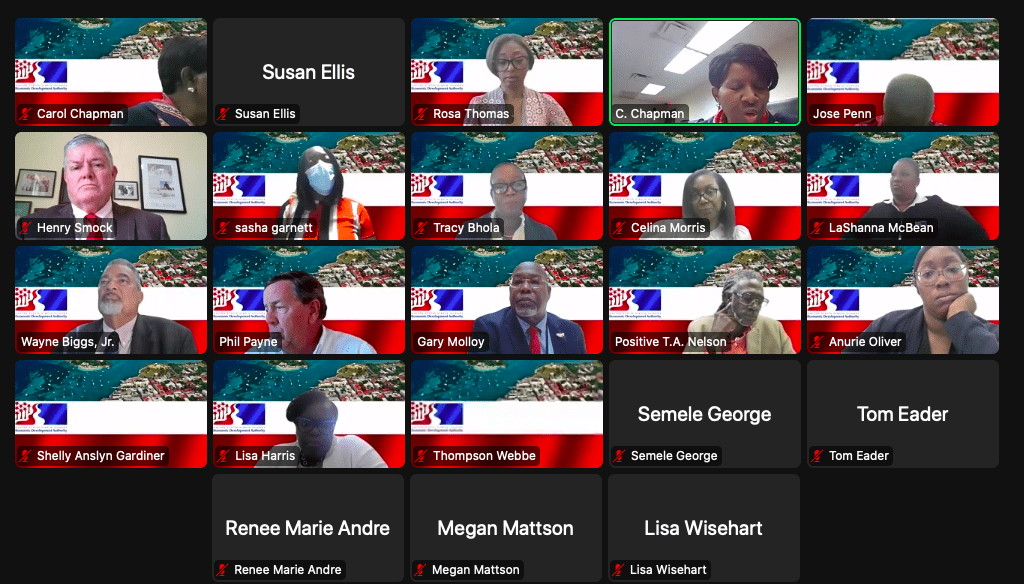 Four companies will receive substantial tax benefits after approval by the board of the V.I. Economic Development Commission at their meeting Thursday. Another applicant was granted an extension to begin benefits and requirements and a renewed rental contract was approved.
Tysam Tech, LLC, a St. Croix business operating since late 2017, was approved as a small business to receive 100 percent tax benefits for 15 years for work conducted in the territory. The company provides environmental and engineering services, and benefits will not extend for business conducted outside of the Virgin Islands. The company reported around 10 employees.
Maritain LLC, on St. Croix since March 2022, is a financial and investment management services company doing business outside of the territory. Under the name BaseLayer Marketing, Inc. it was granted 100 percent benefits for 20 years, excluding services in the Virgin Islands. They plan to employ five people.
Hibiscus Beach LLC, with new owners in 2018, is rebuilding, enlarging and reopening the iconic St. Croix hotel destroyed in the 2017 hurricanes. The company was approved for 100 percent EDC benefits for 30 years, except for retail sales and other products not owned by the hotel.
Spyglass Capital, a family office and investment management firm based in St. Thomas since October 2022, was approved for 100 percent tax benefits for 20 years. Business with U.S. Virgin Islands clients is excluded.
Cypress Mortgage Capital, Inc., a registered business on St. Croix since 2021 providing business and management consulting, applied for a one-year extension for tax benefits already approved by the EDC. The board approved the delay until January 2024.
Granting companies 100 percent tax benefits means: a 100 percent exemption on gross receipt, business property, and excise taxes and a 90 percent reduction in corporate and personal income taxes. The beneficiaries also receive a reduction in customs duty from six to one percent.
After the Commission's hearing, the VI Economic Development Authority commenced its board meeting, during which the directors approved the lease extension to St. Thomas Properties, LLC for office space at Niskey Center. The rent continues to be $212,180 a year to start, with increases in the second and fourth years.
At the end of the meeting, Executive Director Wayne Biggs presented the State of the Agency Report for 2021-2022, commenting he was "proud" of the work – business was good despite the COVID pandemic.
Attending the meetings were Chairman Kevin Rodriguez, Commissioners Gary Molloy and Positive T.A. Nelson, Jose Penn and Phil Payne. Also present were staff members Rosa Thomas, Carol Chapman, Yolanda Bryan, Lisa Harris and others.