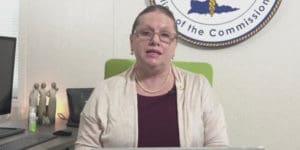 During the Government House weekly briefing, which resumed on Monday, Jan. 30, Health Commissioner Justa Encarnacion warned residents that the new variant of COVID-19 still poses a threat to Virgin Islanders and urged all persons to get the most recent booster shot of the bivalent vaccine.
Governor Albert Bryan Jr. also urged residents to exercise caution and observe safe healthy practices in situations such as the upcoming Agricultural Festival and other public events.
"I want to remind the community that COVID is still very much out there," the governor said. "And I say that as a victim of it myself within the last couple weeks; you never know who you're going to meet.
"Especially our seniors out there with their masks, continue to do that," Gov. Bryan said. "While this thing is now an endemic, we still need to keep up the common sense practices to protect yourselves and your loved ones, especially if your loved ones are elderly or immuno-compromised."
So, I'm asking you all to stay vigilant.
According to Commissioner Encarnacion, there are currently 184 cases of COVID-19 in the territory: 146 on St. Croix, 37 on St. Thomas and one on St. John. One patient is hospitalized with COVID at Schneider Regional Medical Center on St. Thomas, and three patients are hospitalized at Juan Luis Hospital on St. Croix.
"The active case numbers are decreasing following our recent surge," Commissioner Encarnacion said, adding that the surge in cases on St. Croix followed the Christmas holidays.
"We want to encourage the balance of emotional, social and physical health, so we will continue to send out press releases reminding each of you to practice good hand hygiene, and mask-wearing at appropriate times, like traveling on a plane and separating yourself when not feeling well," the commissioner said.
She also addressed the fact that the Health Department is aware that the number of cases it tracks does not represent all cases in the territory, primarily because a number of residents take home tests to check for COVID and those numbers would not be included in the Health Department reports that are distributed.
Encarnacion said the epidemiological tracking is not intended to report on every case but instead is used for watching trends in the spread of the virus.
Charles Harwood Demolition:
Commissioner Encarnacion also announced that physical demolition of the Charles Harwood Complex on St. Croix is set to begin on Feb. 15.
The project includes the complete demolition of the main building and the annex and other permanent structures on the site. The demolition will be followed by the construction of a four-story replacement building about 200,000 square feet in size.
" The new facility will promote health and wellness and house a range of clinical services, such as community health, behavioral health and family planning, as well as other public health services, including environmental health, epidemiology and vital statistics," she said.