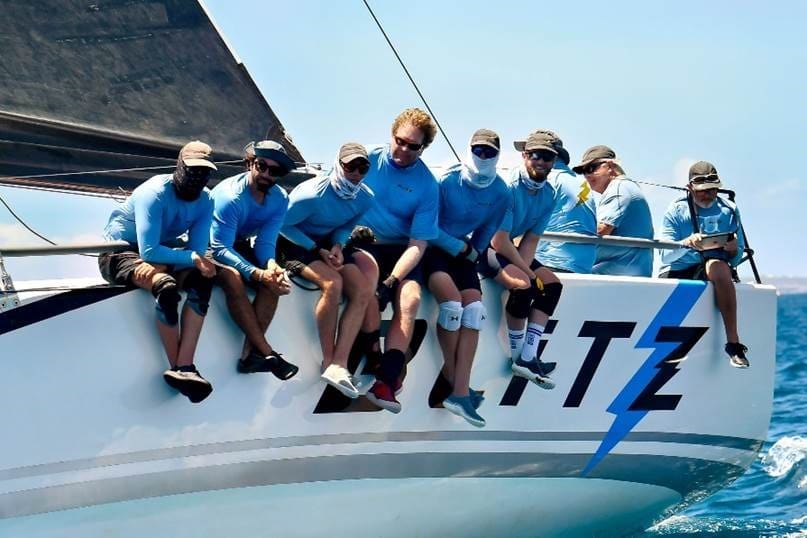 Like the cork popping on a bottle of champagne, nearly 50 hot racing yachts shot over the start line this morning on the first day of racing in the 49th St. Thomas International Regatta. Courses set along the islands, rocks and cays off St. Thomas's south side proved competitive in winds blowing an idyllic 13 to 15 knots from the east-northeast, albeit increasingly shifty in the afternoon. The fleet, racing in CSA handicap and one-design classes, spanned from 24- to 70-foot vessels with skippers and crews hailing from the Caribbean, USA, Europe and Australia. As the sea spray settled at the close of competition, early class leaders emerged and set themselves as the boats to beat during the next two days of racing.
Class Recap
The team aboard Stark Raving Mad IX, the USA's Jim Madden's Carkeek 47, concluded the three-race day happily in the lead of the two-boat Spinnaker Racing 0 class.
"Many of the events we do are windward-leeward courses around the buoys. It's like NASCAR, all left turns, and it can be boring. Round the islands racing is much more fun," said Anthony Kotoun, tactician aboard Stark Raving Mad IX.
In Spinnaker Racing 1, St. Thomas' Peter Corr's Summit 40, Blitz, ended the day with three first-place finishes in as many races.
"The first race today was the best, most steady wind we had. It was a nice and clean race. Race two, another short one, went well too, but the wind started to get shifty. The third race was a long one, up off the south side of St. John and ultimately around Moravian Point. That's a natural mark and as in past years, there was no wind. Plus the seas were really choppy, but once we rounded that point, the wind filled in right to the finish," said Peter Corr.
Flying Jenny, the USA's Sandra Askew's Cape 31, which won its class in Thursday's Round the Rocks Race, held true to top the Spinnaker Racing 2 class today. The real story of the day was how the lone Melges 32, Puerto Rico's Jaime Torres' Smile & Wave, landed in second in this four-boat fleet with three Cape 31s.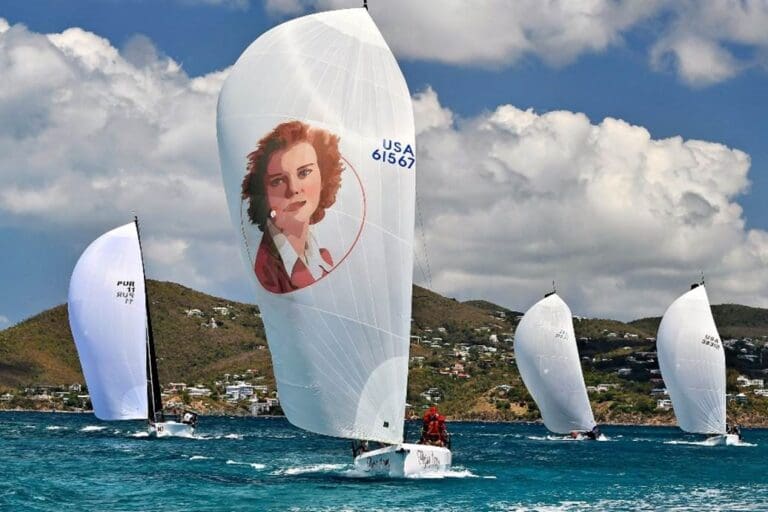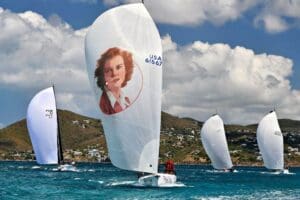 "We had our first taste of racing against a Cape 31 last year in the BVI Spring Regatta," said Torres. "What I think was incredible about today is that we beat Flying Jenny in the second race by less than a minute on corrected time. It was that tight. What that means for us now is that we know we can beat them, so the pressure is on us to do that. It's really all about sailing at the very top of your game in a class like this."
In Racer-Cruiser CSA 3, it was the Dominican Republic's Joan Rodriguez' Beneteau First 40.7, Lady M, that topped the scoreboard in this 12-boat class. Rodriguez last sailed this event two decades ago. Finishing mid-fleet in 6th in this sizable class was Puerto Rico's Fernando Montilla, who has raced in this regatta for over 30 years.
"The main strategy was to stay away from land and out further in the ocean where the wind was stronger," said Montilla, who skippered his Tartan 10, Timon II. "But the thing we liked best was the start. We had so many boats on the start line and there was so much energy."
Finally, racing was razor sharp in the one-design IC24 class with St. Thomas' Cy Thompson and his Bill T team posting four first-place bullets in five races. While not first, St. Maarten's Frits Bus is glad to be back after last sailing STIR in 2017.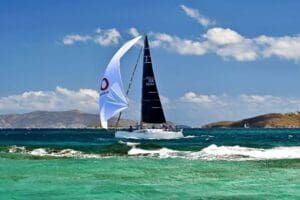 "The wind was up and down, especially in the last race. It provided something for everyone. In a class like this, one wrong move or getting caught in no wind means several boats can pass it. It's that close," said Bus, who helmed Island Water World/Desperado
Schedule of Events
Racing continues Saturday and Sunday with the first starts at 11 a.m. Racecourses will be set off the southeast, northeast and east of St. Thomas and in Pillsbury Sound between St. Thomas and St. John, with specific courses for each class designated daily by the Race Committee based on weather.
To follow the action and see photos from the day's racing, check out STIR on Facebook www.facebook.com/stirvi or Twitter @stirvi and Instagram #STIRVI.
Real-time results for STIR are located at https://yachtscoring.com/emenu.cfm?eID=15496