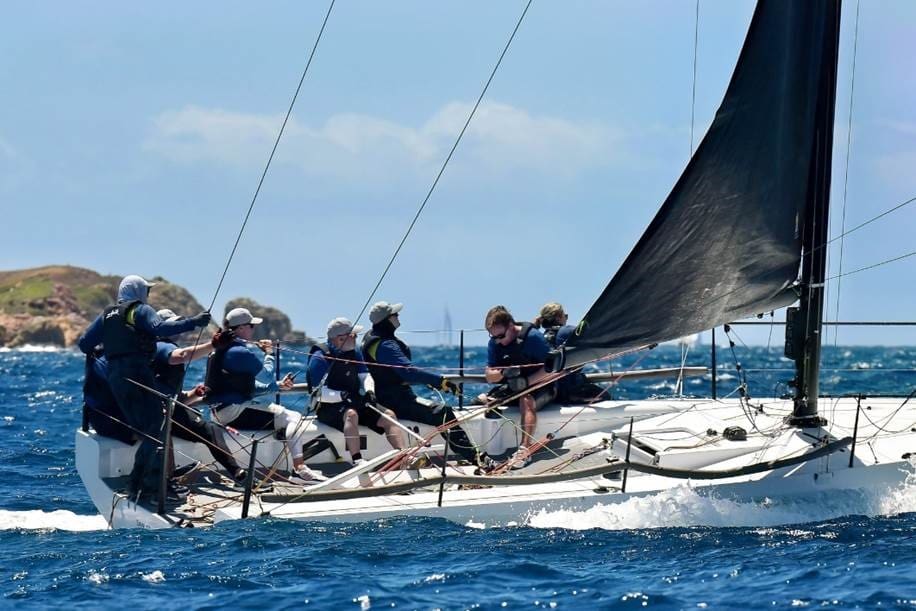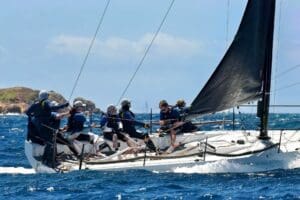 Leads taken, leads lessened and leads lengthened summed up the second day of racing in the 49th St. Thomas International Regatta. Nearly 50 yachts, racing in CSA handicap and one-design classes, spanning from 24- to 70-foot vessels, and with skippers and crews hailing from the Caribbean, USA, Europe and Australia, raced around the natural markers of islands, cays and rocks in 14 to 16 knots of east-northeast breeze. Add the post-race rum, fun, and music ashore, and it was a bucket-list day of quintessential Caribbean yacht racing.
Class Recap
Lead taken is what happened today in the Spinnaker Racing 0. The USA's Ron O'Hanley's Cookson 50, Privateer, finished the final race of the day in first, thus winning a tie-breaker with the USA's Jim Madden's Carkeek 47, Stark Raving Mad IX. Both boats go into Sunday's final day of competition with 10 points.
"Back to basics, focusing on the job at hand, and sailing well in outstanding conditions is what made for a good day," says O'Hanley, from Boston, Mass. "The racecourses around natural marks shook things up a bit and made it exciting. Tomorrow, it will be all about sailing well with no mistakes."
In Spinnaker Racing 1, it was a lead lessened by 1 point, but still a lead by 3 points for St. Thomas, USVI's Peter Corr's Summit 40, Blitz. The team, hailing from both the USVI and Australia, took two second-place finishes today to the class runner-up, the USA's Jon Desmond's Mills 41, Final Final.
A lead well lengthened is what the USA's Sandra Askew and her team on the Cape 31, Flying Jenny, did in this highly competitive class. Yet, the USA's Marc McMorris moved up to second on his Cape 31, M2.
"I raced here last year on another boat and it was a great event. I remembered the winds and knew it would be perfect conditions for the Cape 31. Today, we were able to sail to our target numbers, especially with good calls from our tactician. There are now 20 Cape 31s in the UK, where we'll all race this summer. Hopefully, more will come to the Caribbean next year," said McMorris, who lives in San Francisco, Calif.
In Racer Cruiser 3, the Dominican Republic's Joan Rodriguez's Beneteau First 40.7, Lady M, stretched its lead with another day of flawless first-place finishes. There's a depth of talent in this 12-boat class, and the USA's David McDonough, sailing his J/42, Trinity IV, for the first time at STIR, was happy to have a lock on 8th place.
"I guess you could say we were consistent," said McDonough, from Washington, D.C. "But if you look at the big picture, there were blue skies, perfect courses, great conditions. It didn't matter our place on the scoreboard because we were in heaven."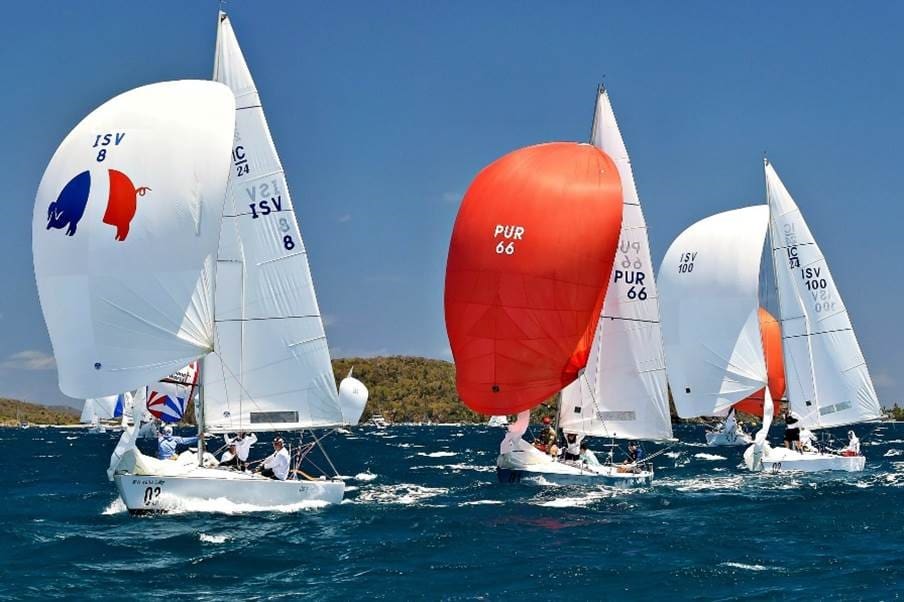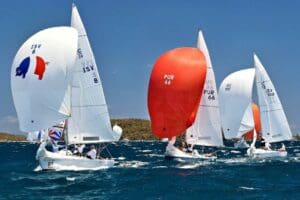 In likely a first in the two-decade-plus history of the One-Design IC24 Class at STIR, St. Thomas' USVI two-time Olympic Laser sailor Cy Thompson on Bill T, posted a double-digit 18-point lead going into the last day. Last year, Thompson won the class, but that prize was hard fought and didn't come until the last race on the last day. Still, the only team that has beaten Bill T, and only once in two days. That was St. Croix, USVI's Scott Stanton's Big Island, which moved up to the runner-up spot today.
"Yesterday, the winds started to drop at the end of the day. In the last race, we caught a couple of good shifts on the first leg, got ahead of them (Bill T), and held it to the end. Today, we moved up from third to second. This class is so competitive, and boat speeds are so close, that anything can happen. That's why we had an IC24 converted, and we hope we'll have another on St. Croix by next year," said Stanton, who will also race Big Island in the St. Croix Yacht Club's 30th St. Croix International Regatta, April 14-16.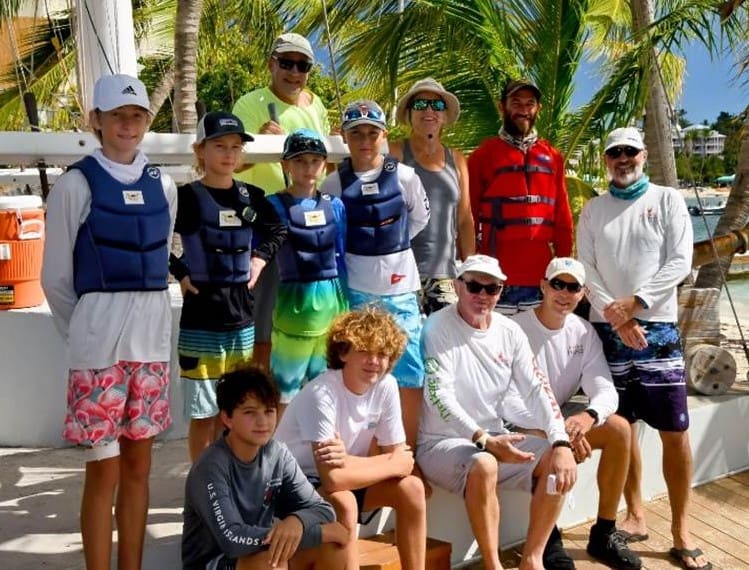 "The wind picked up this afternoon, which made it pretty exciting out there," said Bartlett. "What's nice about this class is that it's one-design, so all the boats are equal, and there's no boom, so it's safe. Even better is that it's an easy class to get into. We have adults single-handing and two and three children on a boat sailing. It makes a great entry to encourage greater participation in the class and easy entry to be able to race in STIR."
True to Bartlett's words, today's fifth-place finisher was a trio of St. Thomas boys: 11-year-old Howard Zimmerman, 10-year-old Finn Hodgins and 9-year-old Kip Hodgins.
Schedule of Events
Racing continues on Sunday with the first starts at 11 a.m. Racecourses will be set off the southeast, northeast, and east of St. Thomas and in Pillsbury Sound between St. Thomas and St. John, with specific courses for each class designated daily by the Race Committee based on weather. An Awards Ceremony follows at 5 p.m. at the St. Thomas Yacht Club.
To follow the action and see photos from the day's racing, check out STIR on Facebook www.facebook.com/stirvi , Twitter @stirvi, and Instagram #STIRVI.
Real-time results for STIR are located at https://yachtscoring.com/emenu.cfm?eID=15496