March 28, 3:10 p.m.
Adonis Ventura, who was wanted for attempted murder, turned himself into police, the V.i. Police Department reported Tuesday.
On Sunday, police were requested at the Juan Luis Hospital emergency room in reference to a gunshot wound victim, where they found out Ventura had fired several shots at the victim while in the vicinity of Estate Glynn, hitting the victim once in his elbow area, according to the police report.
Ventura turned himself into the Wilbur H. Francis Command after police announced he was wanted for attempted murder. Ventura was arrested without incident; he was booked and unable to post bail, which was set at $100,000. Ventura was charged with attempted murder in the first degree and possession of a firearm during the commission of a crime. He was transported to the John Bell Correctional Facility, where he was remanded pending his advice of rights hearing set for Wednesday at the Superior Court.
March 27, 9:08 p.m.
A St. Croix man is wanted for attempted murder, the V.I. Police Department reported Monday.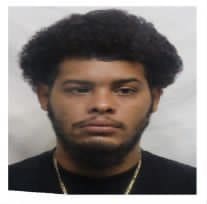 Police are looking for 25-year-old Adonis Ventura, who is known to frequent Glynn, Sion Farm and Old Fredensborg on St. Croix, according to the police report.
Ventura is a Hispanic male, 5'9 and 201 lbs. He has brown hair and brown eyes, one of which is a lazy eye. He works as a pool man, the report stated.
If located, call 911 or make contact with Det. Teaclla Buckley at the Wilbur
Francis Command (340)712-6035. If you know the whereabouts, you can contact Crime Stoppers at 1-800-222-TIPS (8477).