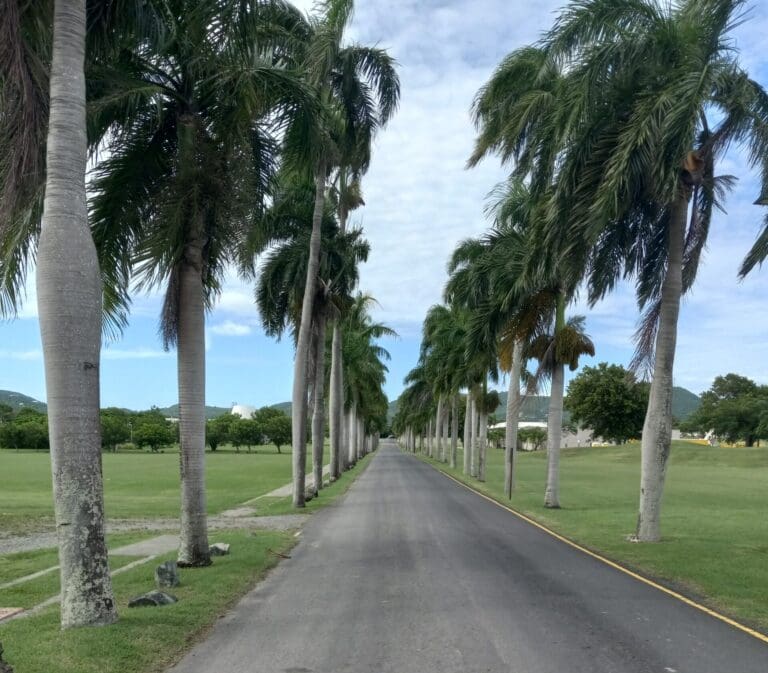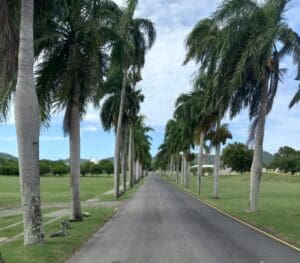 The 6th Annual St. Thomas Great Mangrove Clean Up is Scheduled for April 1 The University of the Virgin Islands Center for Marine Environmental Science (CMES) invites the public to join the 6th annual St. Thomas Great Mangrove Clean Up scheduled from 9 a.m. to noon on Saturday, April 1, 2023. The team plan on getting the trash out of the Vessup Bay mangroves along the National Park Road in Red Hook.
Since 2018, these events have removed 10 tons of marine debris from mangrove shorelines across the territory.
Please share this opportunity with your students, friends, and families. Community service hours are offered to our students.
To register and get more information, visit www.viepscor.org.
Nationally Acclaimed Artist in Residence Eboné C. Amos visits AAS Campus on St. Croix The College of Liberal Arts and Social Sciences Communications and Performing Arts Department will be hosting Artist in Residence, Eboné C. Amos MFA from Memphis, Tennessee, during the week of April 3.
The events scheduled this week will continue to build awareness of the newly implemented BFA dance program at the University and foster a multicultural environment for the UVI governing body and the outside community.
All performance workshops will be held in the UVI dance studio, free of charge, and all age groups are welcome to participate.
There will be performance workshops:
Monday, April 3, Modern Dance, 5 p.m. – 6 p.m.
Tuesday, April 4, Jazz Funk, 5:30 p.m. – 6:45 p.m.
Wednesday, April 5, Panelist Discussion, 7:30 p.m. – 8:30 p.m. in The Great Hall on UVI Campus
Thursday, April 6, 5:30 p.m. – 6:45 p.m. Afro Contemporary
For additional information, contact Elle Nielsen, instructor of Dance at 692-4137 or email elle.nielsen@uvi.edu
UVI Closed for Good Friday on April 7 The University of the Virgin Islands will be closed in commemoration of the Good Friday Holiday on Friday, April 7.
Classes and Administrative offices will resume on April 10, at their normal, regular scheduled times.
Registration is now Open for Ocean Explorers Summer Programs Registration for the Ocean Explorers Summer Programs is now open until May 1st. Students interested in learning about marine science and STEM are encouraged to apply.
Applicants in grades 3-6 would be eligible for the Junior Ocean Explorers Summer Program which operates presently, only in St. Thomas. In this program, applicants will learn the basics of swimming, snorkeling, water safety, and marine animal identification.
Applicants in grades 7-12 would be eligible for the Youth Ocean Explorers Summer Program which operates on both St. Thomas and St. Croix. In this program, applicants will learn snorkeling, scuba diving, marine plant and animal identification, career development, and ecology/oceanography.
Visit https://www.uvi.edu/community/virgin-islands-marine-advisory-service/index.html
For more information about each respective program contact Howard Forbes Jr. at 693-1672 or email howard.forbes@uvi.edu at the Center for Marine and Environmental Studies.
Save the Date – UVI to Celebrate Its  Commencement Ceremonies on May 11 and 12 The University of the Virgin Islands will celebrate its 59th commencement ceremonies on Thursday, May 11, on the grounds of the Albert A. Sheen Campus on St. Croix and Friday, May 12, in the Elridge W. Blake Sports and Fitness Center on the Orville E. Kean Campus on St. Thomas. The ceremonies will be at 1 p.m. on both dates.
Graduating seniors are reminded of the deadlines to apply for graduation and to contact the bookstores on both campuses for measuring for their caps and gown. Faculty members are reminded that they will need to be measured for their regalia through the bookstore.
Please be reminded that the earlier you submit your application and visit the bookstores will prevent you from paying late fees for the services afforded to seniors and faculty members.
For more information, please contact your student representatives and the office of the Registrar for up-to-date information.
Visit https://commencement.uvi.edu for more information.