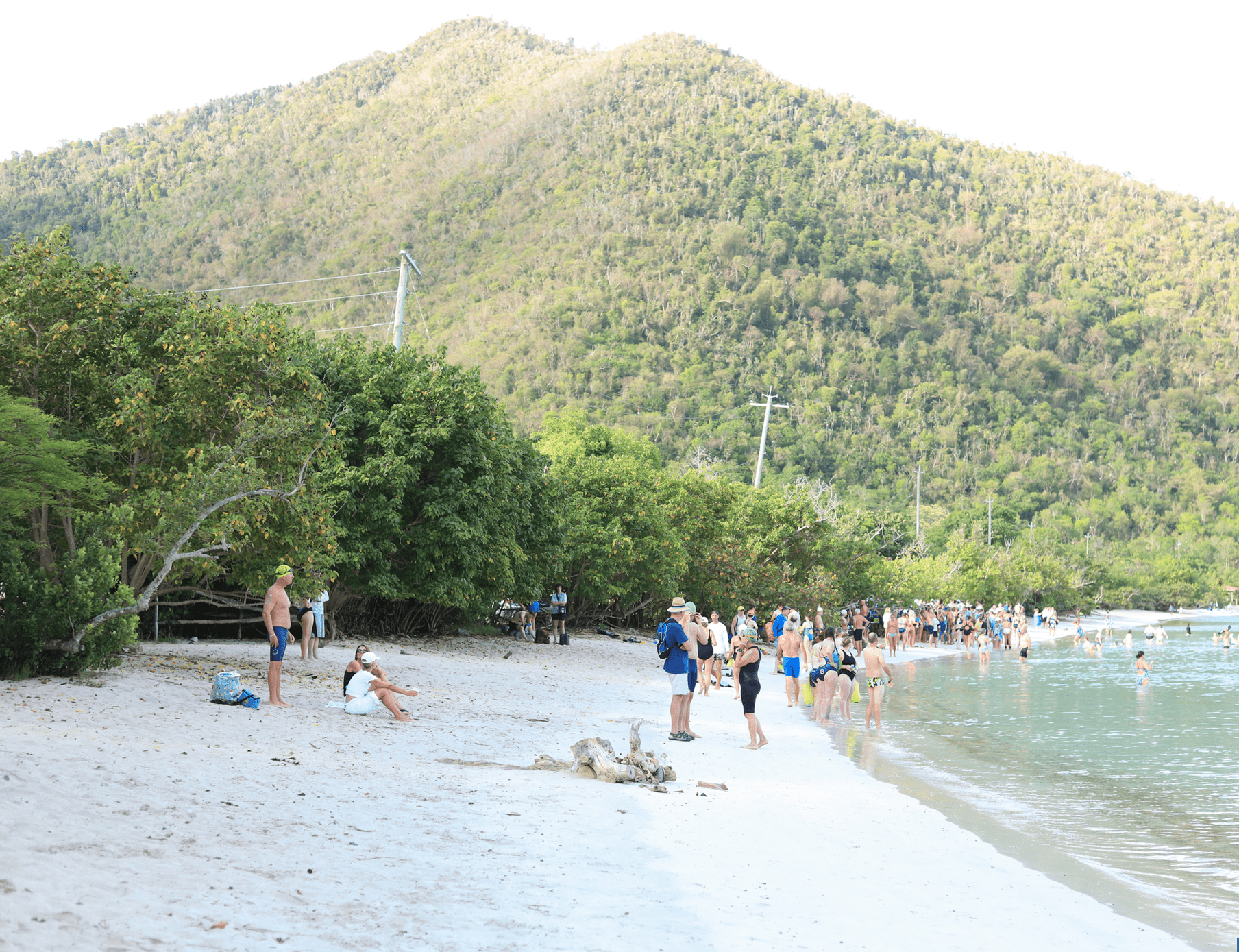 Teens won the top spots for both males and females in the unassisted 3.5-mile "long course" during the Beach to Beach Power Swim held Sunday on the north shore of St. John.
But the next two spots for both males and females were claimed by swimmers ranging in age from 40 to 65 years old.
Edward Soltis, an 18-year-old from Maryland, finished first — just as he did last year, completing the long course in 1:25.15 — although this year, his time was slower by nearly 12 minutes compared to last year.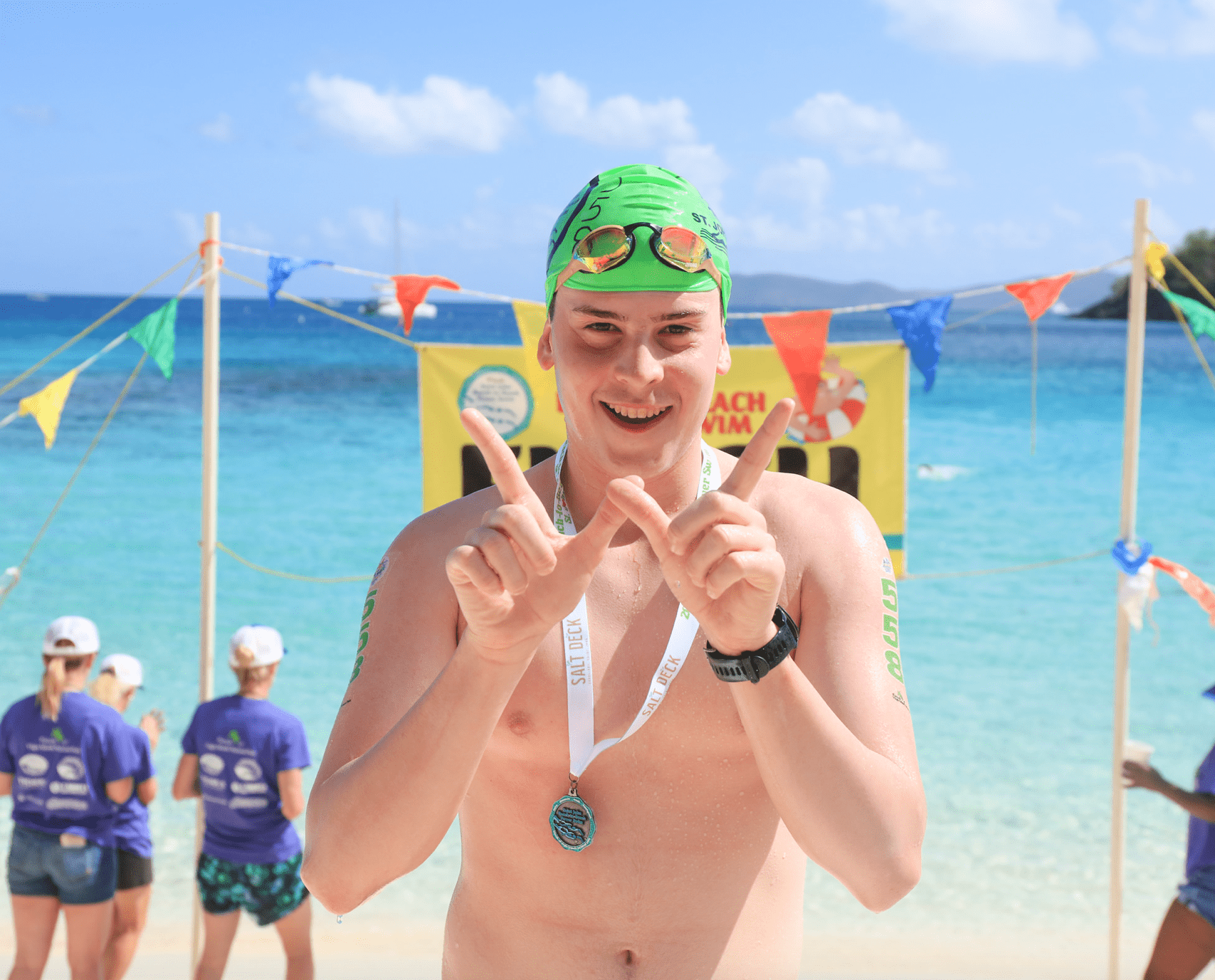 Meanwhile, 18-year-old Lindsay Barr from St. Thomas, who came in second place in 2022, was the top female finisher this year in the unassisted long swim category, completing the course in 1:25:55, less than a minute behind Soltis.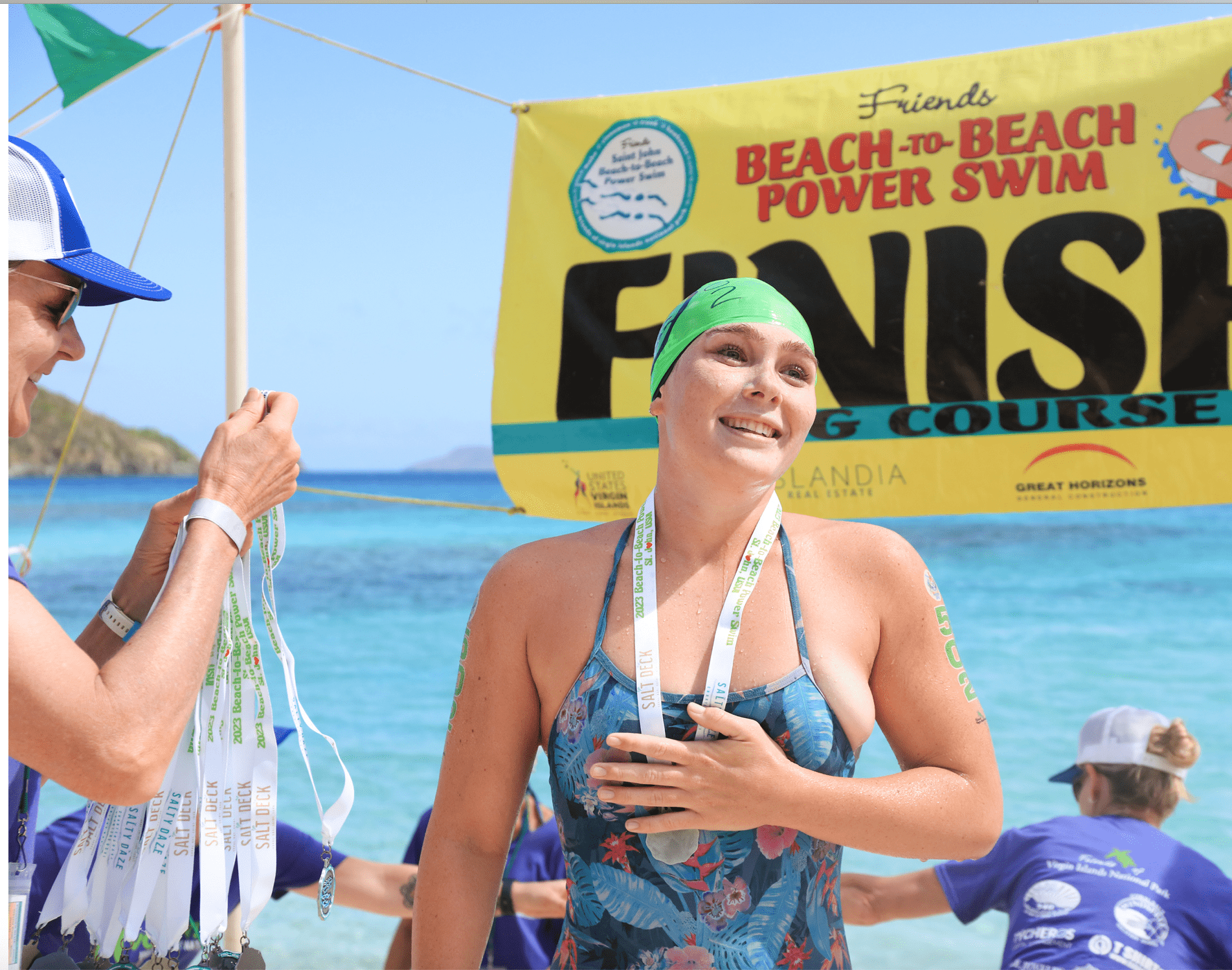 Timers for the Friends of the Virgin Islands National Park's annual event had their work cut out for them as the next set of swimmers arrived only moments behind.
Luis Santiago, 56, from Puerto Rico, was the second-place male finisher, and Nathan Goldstein, 49, from Virginia, was third, both arriving within a minute of Soltis.
Erin Mackay, 40, from Virginia, was the second-place female finisher, and Barbara Crowder, 65, from St. John, was third, both arriving within six minutes of Barr.
(More results follow at the end of this article.)
Swimmers and safety volunteers in kayaks and paddleboards all agreed that conditions were excellent this year, with mild winds, calm seas, sunny skies and clear water.
Of the 370 registered swimmers, 332 showed up for the event, which began at Maho Bay. They had the choice of enrolling in the 1-mile "short course" to Cinnamon Bay, the 2 ¼-mile "intermediate course" to Trunk Bay, or the 3.5-mile "long course" to Hawksnest Bay. Swimmers could also choose to participate as part of a relay team.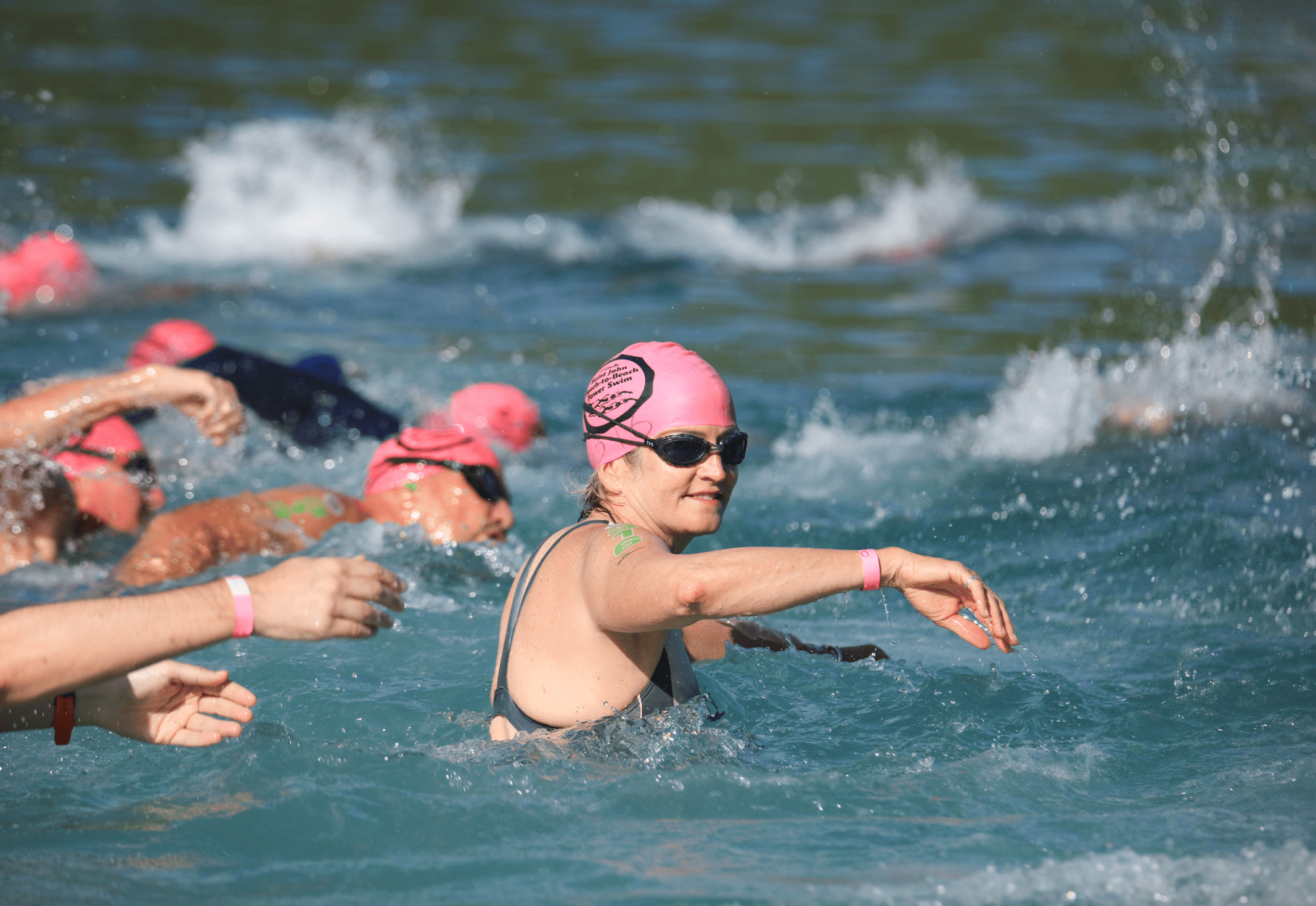 Swimmers in the unassisted category were allowed to wear only a swimsuit, goggles and a swim cap, whereas assisted swimmers could use a mask, snorkel, fins, and even webbed gloves if they chose.
The event, now in its 20th year, is known as a "power swim" rather than a "race" because so many of its participants just want to be out in the water, passing over deep reefs and seagrass beds where they can view tarpon, turtles, squid and rays, among other creatures.
It's also called a "swim" to encourage swimmers of a wide range of abilities, fitness, and ages.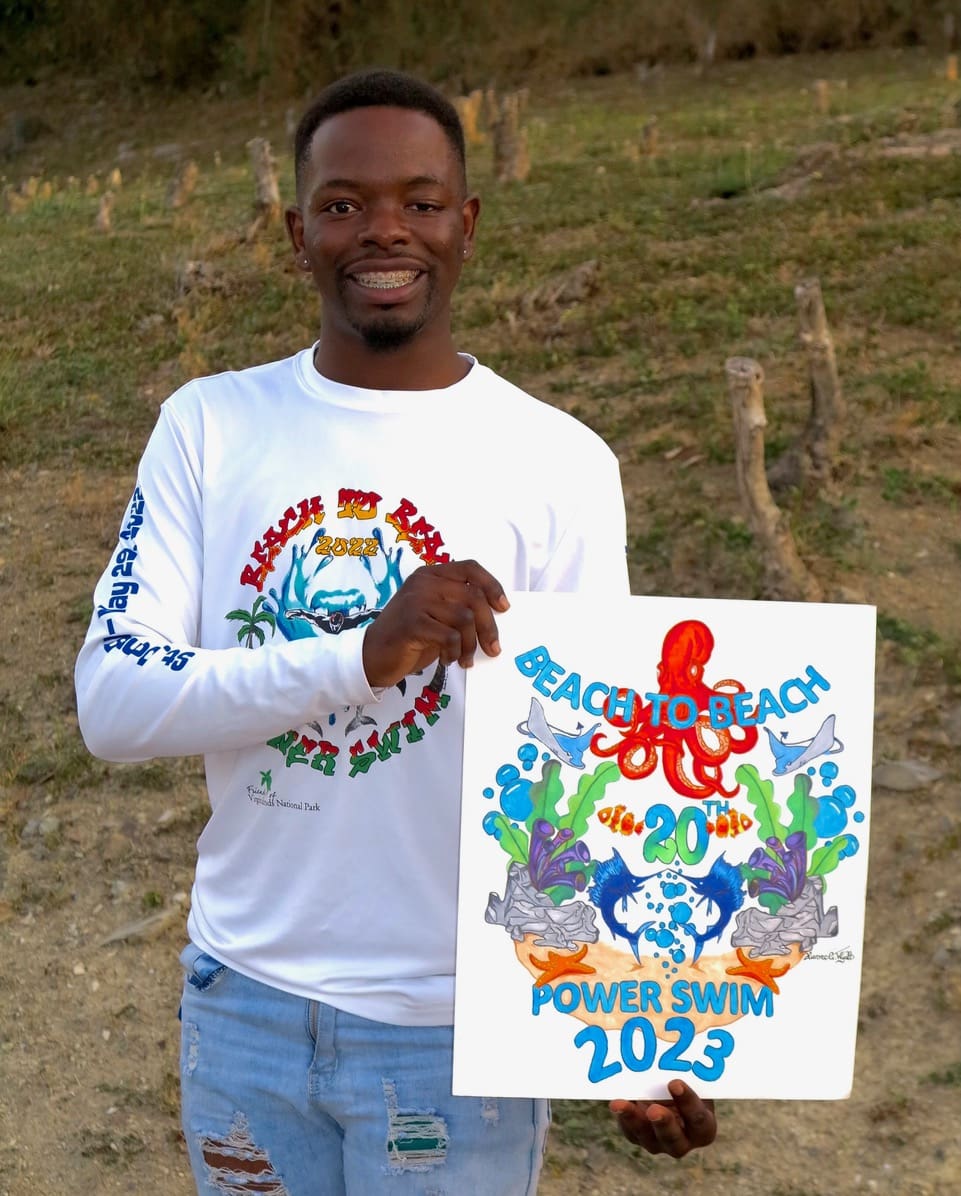 The youngest swimmer was Azalea Nesbitt, 5, who swam with big sister Magnolia, 8, and her mom Kate, a former Olympic synchronized swimmer.
The oldest swimmer was Jim Weller, 80, a long-term resident of St. John.
Among the participants and volunteers were members of Team River Runner, an organization that sponsors outdoor adventures for wounded veterans.
At the awards ceremony held at Trunk Bay, four familiar faces, photographed and transferred to life-sized portraits, were posted above samples of T-shirts distributed during the annual Memorial Day weekend event.
The faces belong to four "20-year veteran swimmers."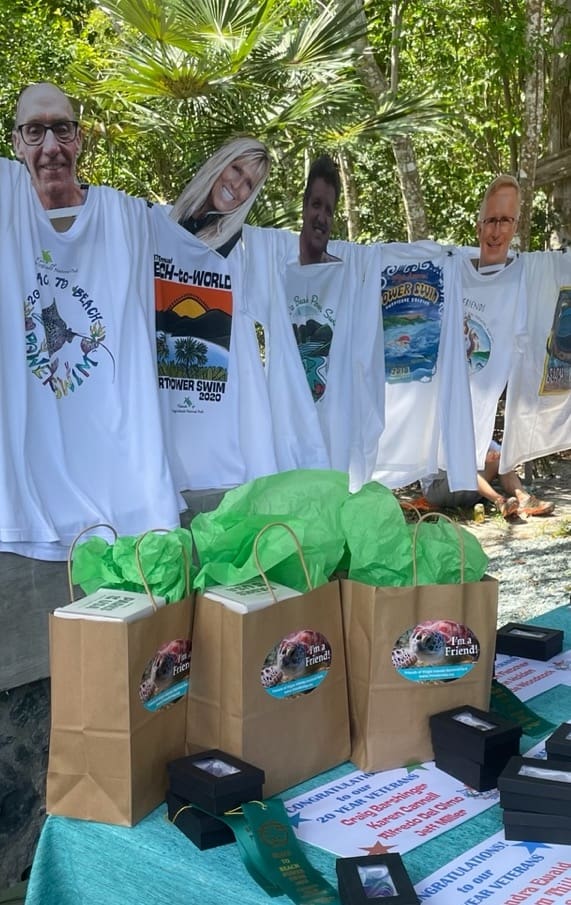 Retired Virgin Islands National Park fisheries biologist Jeff Miller, who remembers planning the initial swim along with 8 Tuff Mile road racers Louise Wearmouth, Peter Alter, Jude Woodcock, and former FriendsVINP president Joe Kessler as a way of celebrating the beauty of the sea in addition to land.
(Last week, Miller also completed a fundraising 16.2-mile swim down the Drake Channel from Virgin Gorda to St. John.)
Alfredo Del Olmo, another of the 20-year participants, is a long-term St. John resident who's known for owning a successful landscaping business as well as being a tennis whiz.
Craig Barshinger, who still owns property on St. John, faithfully returns from Colorado, now his home base, to participate in the event every year. Barshinger represented St. John as senator-at-large for three terms in the V.I. Legislature.
Finally, traveling from Rockport, Massachusetts every year, 20-year veteran Karen Cannell recalls signing up for the first race because she was offered a 10-percent lodging discount at Maho Bay Campground which meant she could extend her stay by a day. "Who knew how much the Power Swim would grow, how much St John would change, how many friends I would make through the years?" she said.
"Participating in the swim is one tiny way of giving back to help protect this environment and support the park that gives me so much peace," she added.
The Beach to Beach Power Swim is a fundraiser for the FriendsVINP Learn to Swim program, now held throughout the year for children and adults. Free classes are held on the first and third Saturdays at Cinnamon Bay. The FriendsVINP is also sponsoring programs to certify lifeguards and train swim instructors.
This year, the Friends raised an additional $8,500 through a raffle offering a package of prizes worth $5,000. The winner will be announced shortly.
Of course, the entire event could not function without the guidance of the FriendsVINP staff, including Jennifer Stone, membership and events coordinator for FriendsVINP; the assistance of 140 volunteers who make everything run so smoothly; and 69 sponsors, including St. John Brewers, who donate services, prizes, food and drink for the hungry swimmers.
Note: All swimmers' individual times will be posted as soon as the information is processed. Photos are also posted on the Friends' website.
LONG TO HAWKSNEST
Long Unassisted Female
First place
Lindsay Barr
Age 18, from St Thomas VI
Time 1:25:55
2nd place
Erin Mackey
Age 40 from Swedesboro, NJ
Time 1:30:59
3rd place
Barbara Crowder
Time 1:31:47
Age 65 from St. John
LONG UNASSISTED MALE
1ST PLACE
Edward Soltis
Time 1:25:15
Age 16
From Millersville, MD
2nd place
Luis Santiago
Time 1:26:01
Age 56 from Trujillo Alto, PR
3rd place
Nathan Goldstein
Time 1:26:12
Age 49 from Arlington, VA
LONG ASSISTED FEMALE
1st place
Christine Sheehan
Time 1:29:02
Age 50 from St. Thomas
2nd place
Korena Calder
Time 1:32:50
Age 35 from St. John
3rd place
Casey Johannsen
Time 1:33:31
Age 33 from St. John VI
LONG ASSISTED MALE
1st place
Bradley Flowers
Time 1:27:51
Age 41 from St Thomas
2nd place
Tony Pearsall
Time 1:29:06
Age 39 from St Thomas
3rd place
Jareth Moore
Time 1:32:28
Age 30 from St. John VI
RELAY ASSISTED
Only 1 team
1st place
from St. Thomas
All girls
Time 1:42:55
Tricia Gundersen
Alex Mueller
Grace – HER LAST NAME WAS NOT LISTED
RELAY UNASSISTED
1st place
Rainer Girls
Time 1:28:09
Leighton, Virginia and Suzanne Rainer
From Fairhope, AL
2nd place
KNT Team Name
Time 1:50
From Ocala, FL
Two person team only
Kathie Laseter and Robert Laseter
Robert swam two legs
3rd place
Shark Snacks
Time 2:11
From Erie, CO
Jennifer Linkengauer,
Stephanie Perkins-Rackham
Jon Rackham
INTERMEDIATE TO TRUNK
INTERM FEMALE UNASSISTED
1st place
Katie Papa
Time 51:01
Age 29 from New York, NY
2nd place
Ginny Jordan
Time 53:31
Age 30 from Tampa FL
3rd place
Linda Irish Bostic
Time 54:36
Age 59 from Jupiter, FL
INTERM FEMALE ASSISTED
1st place
Asya Simons
Time 54:27
Age 31 from St. John VI
2nd place
Ella Barr
Time 57:03
Age 21 from St. Thomas, VI
3rd place
Susan Smith
Time 57:19
Age 59 from Jupiter, FL
INTERM MALE UNASSISTED
1st place
Nebiyou Kalonji Von Schilling Royer
Time 46:53
Age 14 from Kingshill, VI
2nd place
Jonathan Jordan
Time 51:44
Age 33 from Tampa FL
3rd place
Bryan Mason
Time 52:07
Age 48 from St. Thomas, VI
INTERM MALE ASSISTED
1st place
Ryan Flegal
Time 57:21
Age 49 from Frederiksted, VI
2nd place
Jan Tawakol
Time 57:55
Age 52 from Christiansted, VI
3rd place
Jay Singh
Time 1:06:53
Age 58 from Atlanta, GA
SHORT TO CINNAMON
Short Female Unassisted
1st place
Reagan Uszenski
Time 24:06
Age 11 from St. Thomas, VI
2nd place
Anabela Shearer
Time 25:28
Age 19 from Weston, FL
3rd place
Autumn Bussiere
Time 26:27
Age 24 from St. Thomas VI
SHORT FEMALE ASSISTED
1st place
Kristin Ewen
Time 27:46
Age 28 from Christiansted, VI
2nd place
Christiane Fleurent
Time 30:09
Age 56 from Clarksville, MD
3rd place
Eliza Kuchuk
Time 31:26
Age 32 from St. John VI
SHORT MALE UNASSISTED
1st place
Max Fermayer
Time 21:24
Age 19 from Weston, FL
2nd place
John Flowers
Time 23:25
Age 51 from Hingham, MA
3rd place
David Rainer
Time 24:48
Age 13 from Fairhope, AL
SHORT MALE ASSISTED
1st place
Samuael Evans
Time 27:45
Age 31 from Christiansted, VI
2nd place
Paul O'Meara
Time 29:09
Age 75 from Boston, MA
3rd place
Mauricio Fermayer
Time 32:12
Age 19 from Weston, FL