"Keep Left," say the road signs in the Virgin Islands, reminding motorists which side of the road to drive on.  
It was also what Jeff Miller's support team kept shouting to him as he swam from Virgin Gorda to St. John on Thursday. Wind and waves from the southeast often pushed him towards Tortola on his right as he completed his 16.2-mile swim down the Sir Francis Drake Channel.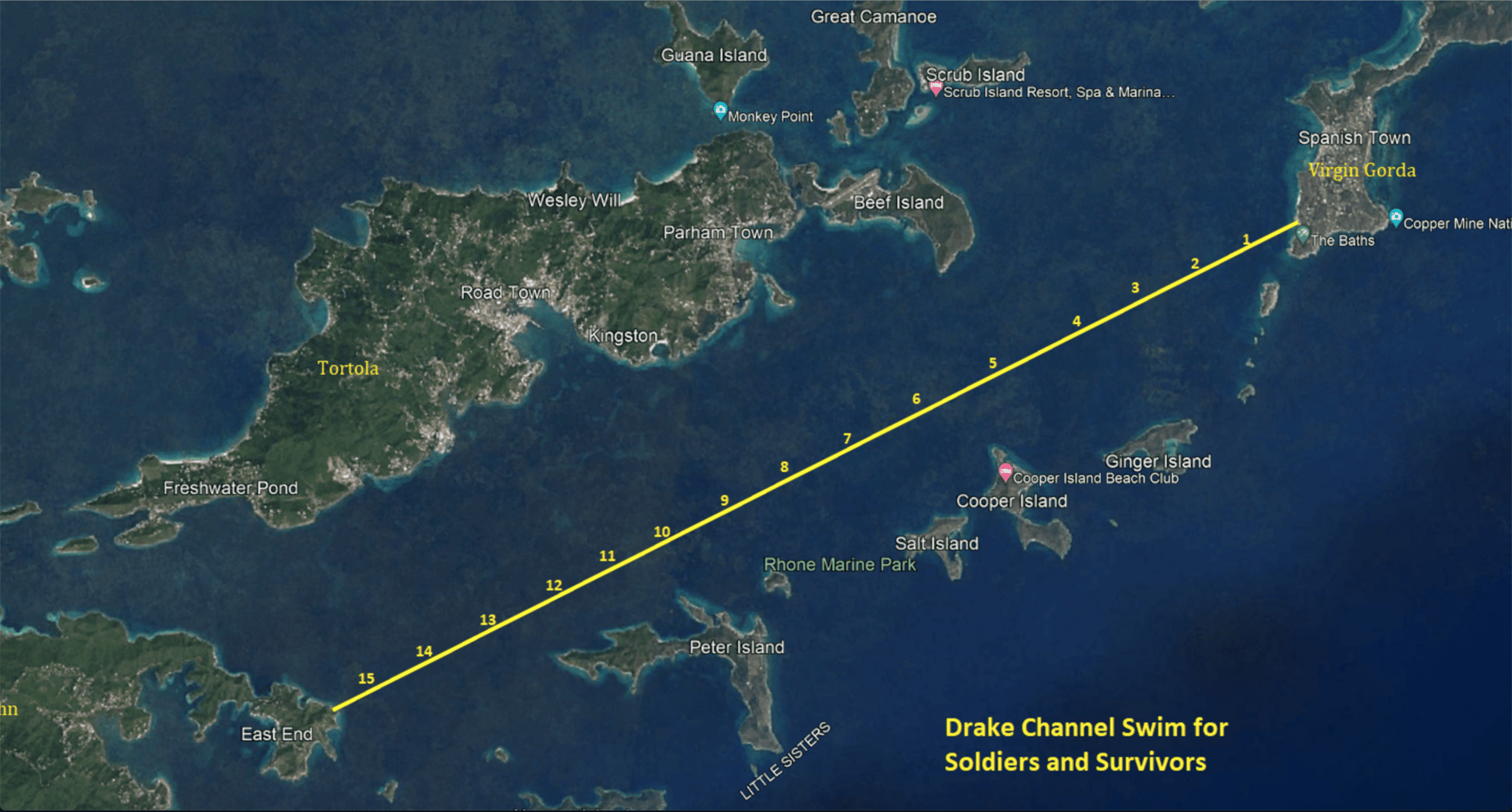 Hoping to avoid the most extreme currents, Miller began the Drake Channel Swim for Soldiers and Survivors at 10 a.m. after an official greeting from Hon. Vincent Wheatley, the BVI's minister of health who also represents Virgin Gorda and Anegada.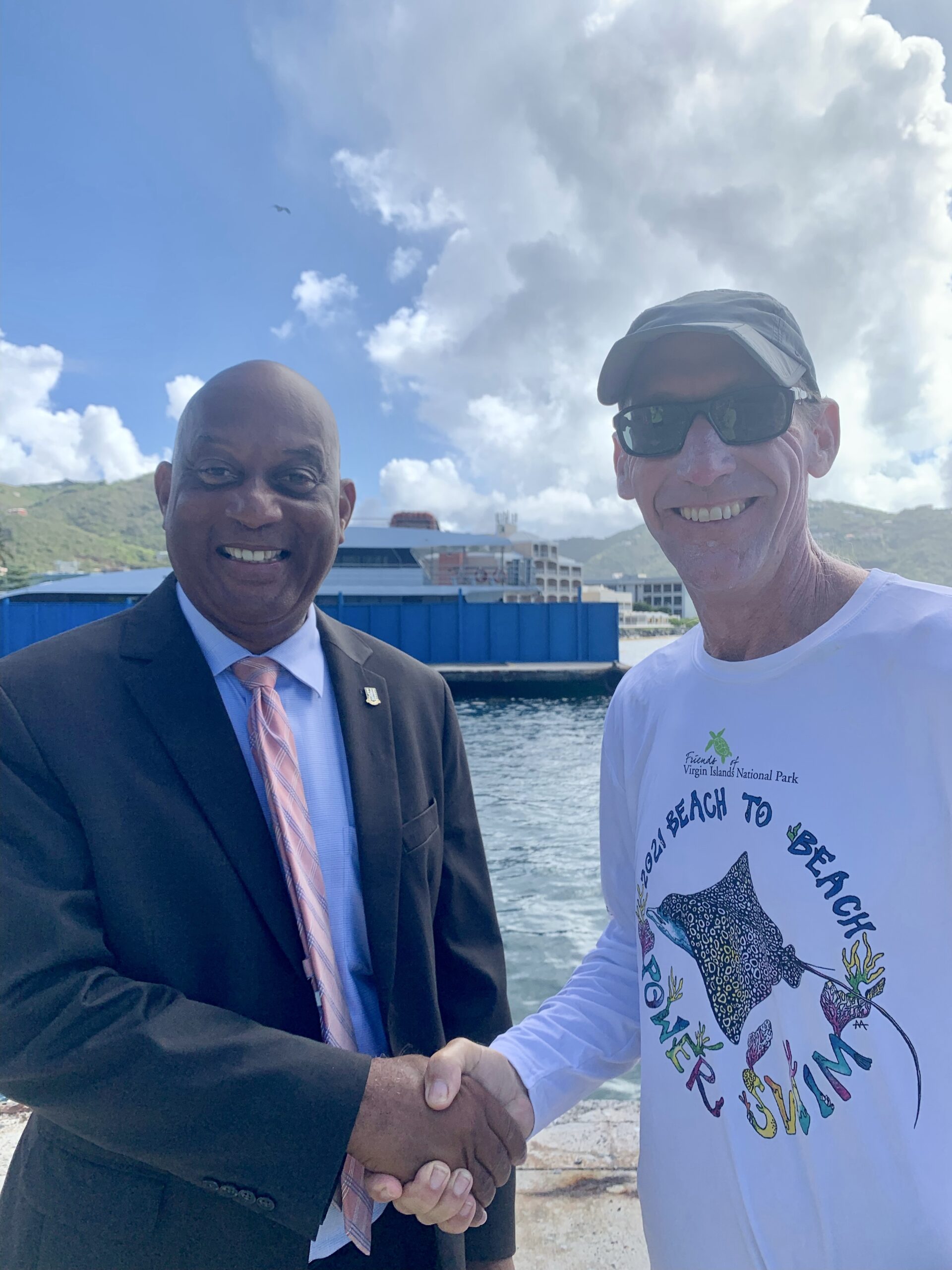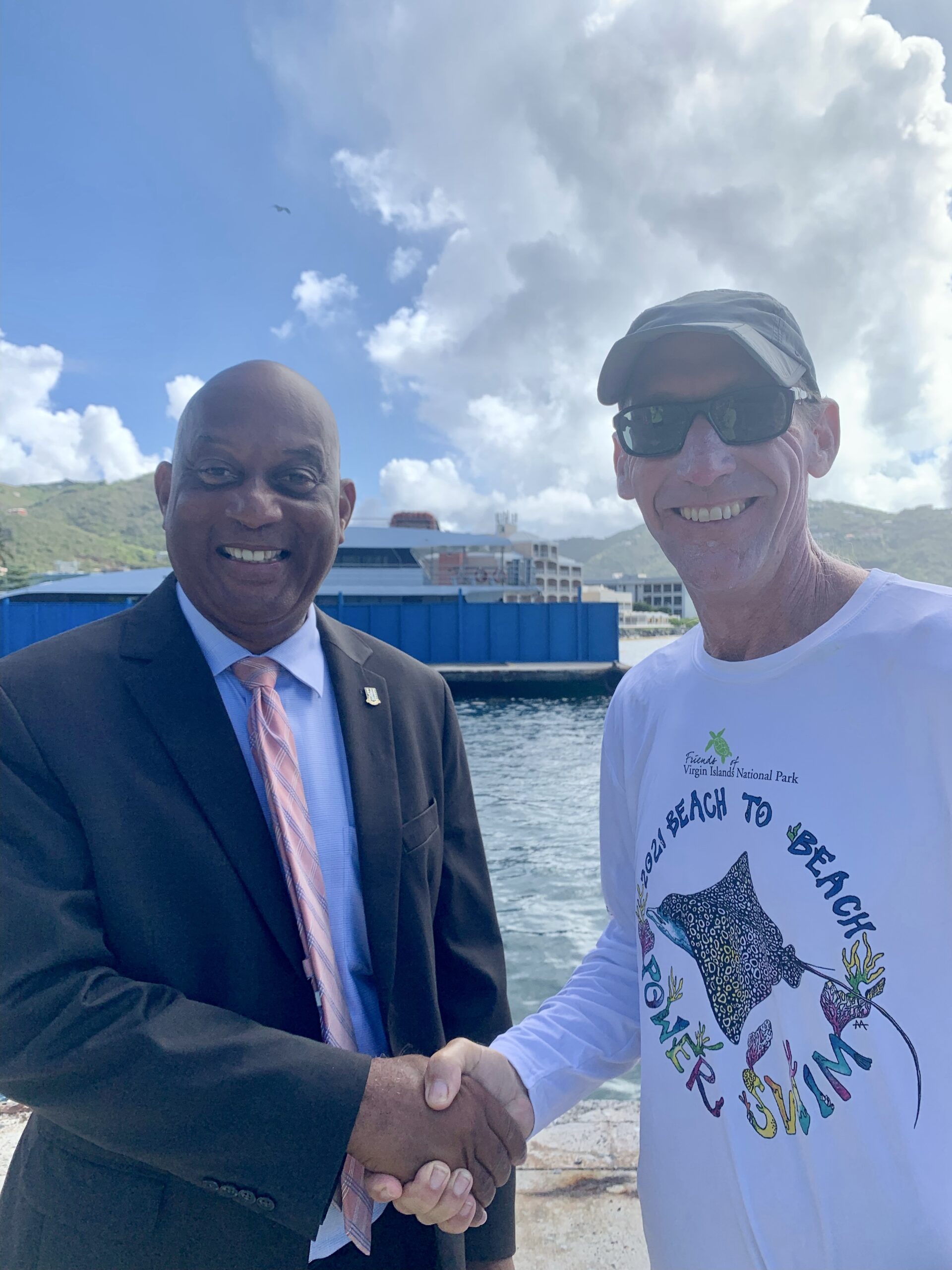 When Miller set out from Devil's Bay near the Baths – a legendary snorkel spot – he said he had only a few moments to contemplate its beauty because the water deepened quickly; there was little to see other than his shadow moving among the rays of light in the water for the next eight hours.
For the last hour and a half, Miller swam in the dark, reaching land near a residence at the northeastern-most tip of St. John at 7:20 p.m.  He came to a shoreline dotted with spikey sea urchins on a dark, rubble beach.  As he staggered over the rocks, trying to find safe footing, he said, "I looked like the Creature from the Black Lagoon."
With an overall time of 9:22:18, Miller ticked off miles that ranged from 31 minutes to 40 minutes, depending on the force of the currents that sometimes took him off course. As far as he knows, he's the first to complete the Drake Channel Swim.
This was not the first time the 62-year-old, long-term resident of St. John has set a record. In 2016, he became the first person to swim non-stop around St. John, a distance of 23 miles. 
Miller conceived of the Drake Channel Swim for Soldiers and Survivors several years ago as a way to challenge himself and raise funds for two vital organizations – the St. John Cancer Fund and Team River Runner, an outdoor adventure organization for wounded veterans.
He planned the event for the end of May when he knew members of Team River Runner would be on St. John for the Beach-to-Beach Power Swim held annually on the Sunday before Memorial Day.
"It was an honor for me not only to raise funds for Team River Runner but also to involve them," Miller said. His support team included three members of Team River Runner – Lauren Byrd, Marilyn Woods, and Shelton Gore. They were among the dedicated volunteers who guided him by kayak.  Others were Adam Thill, Eric Bauman, and Miller's wife Jude Woodcock.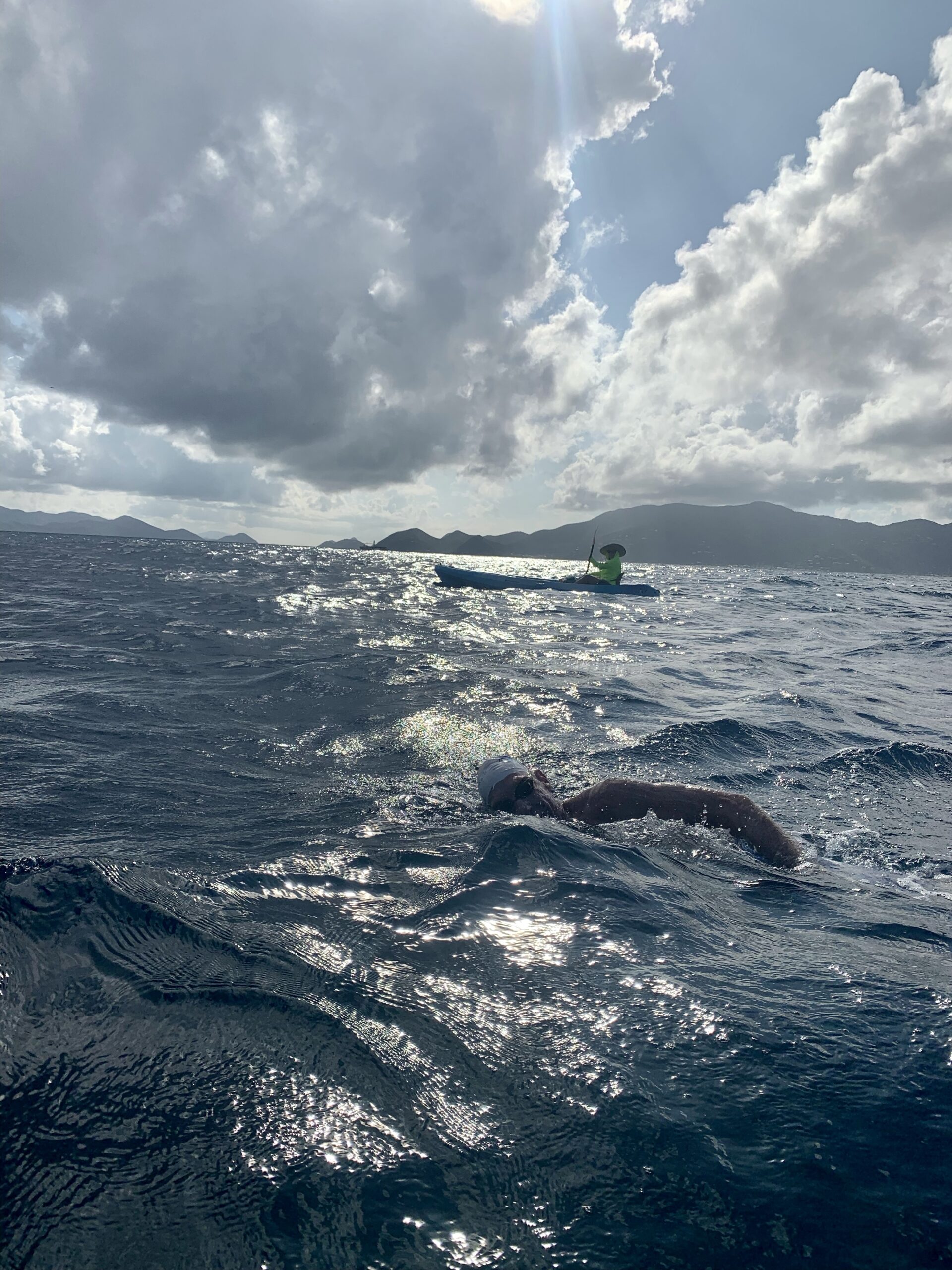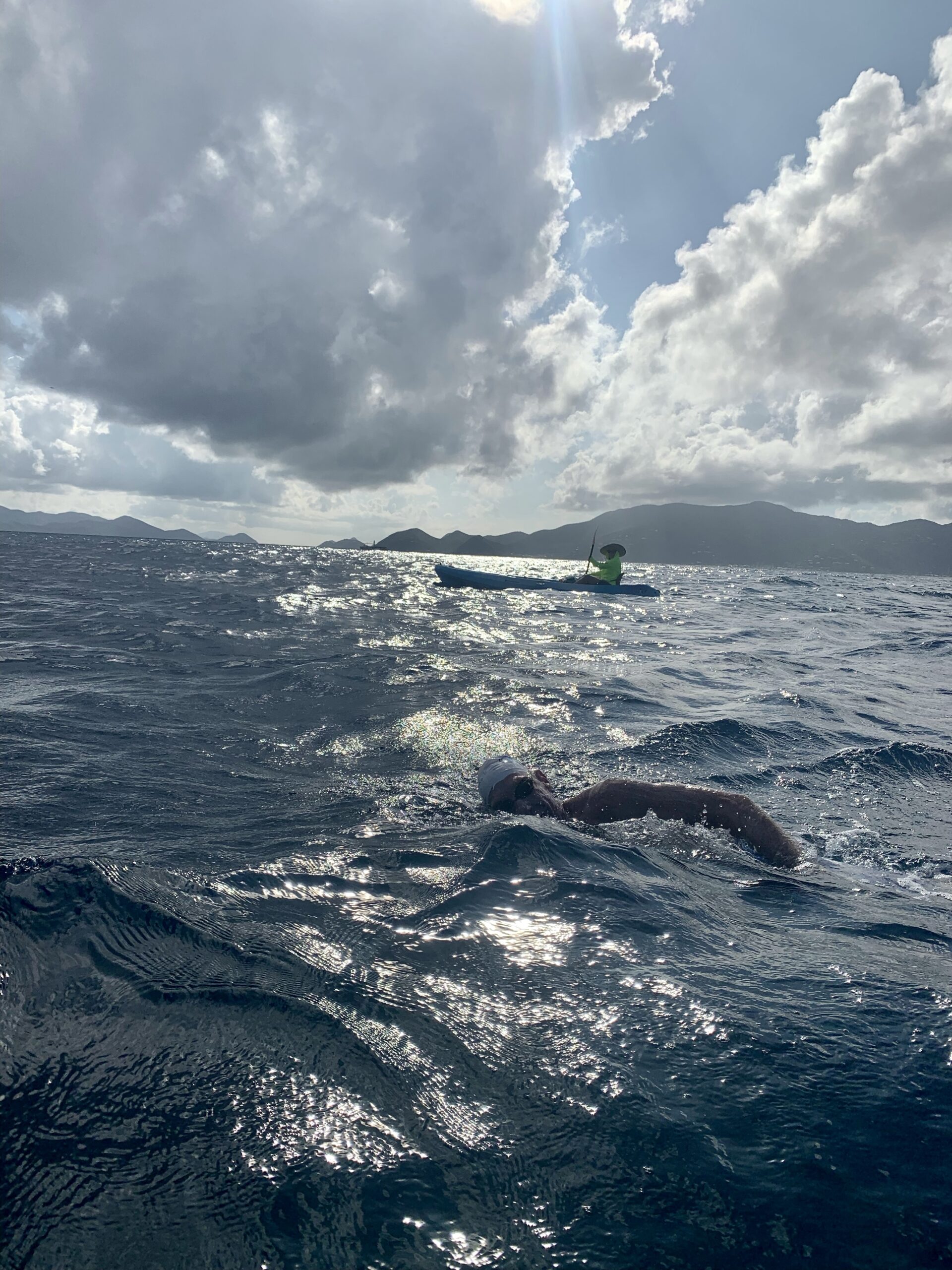 Capt. Justin Nesbitt, a veteran, volunteered his boat Salt Shaker to lead the way and provide visibility for the cruise ship, pleasure boaters, and ferries that plied the busy waters in the channel while Miller swam.
Miller followed the regulations of the Marathon Swimmers Federation, which meant he couldn't wear anything but a swimsuit, cap, and goggles, and he wasn't allowed to hold onto a boat or touch anybody until he landed. 
He stopped every half hour to drink 12 oz. of an endurance sports drink thrown to him in a bottle attached by a rope. From his viewpoint in the water, he couldn't really tell where he was, so he focused on his stroke and was grateful to his support team who assured him that he was, in fact, making progress.   
On Friday, the day after the event, Miller said he felt pretty "banged up by the sun, but more than that I'm thrilled.  I thought a lot about the community around me who have been so supportive."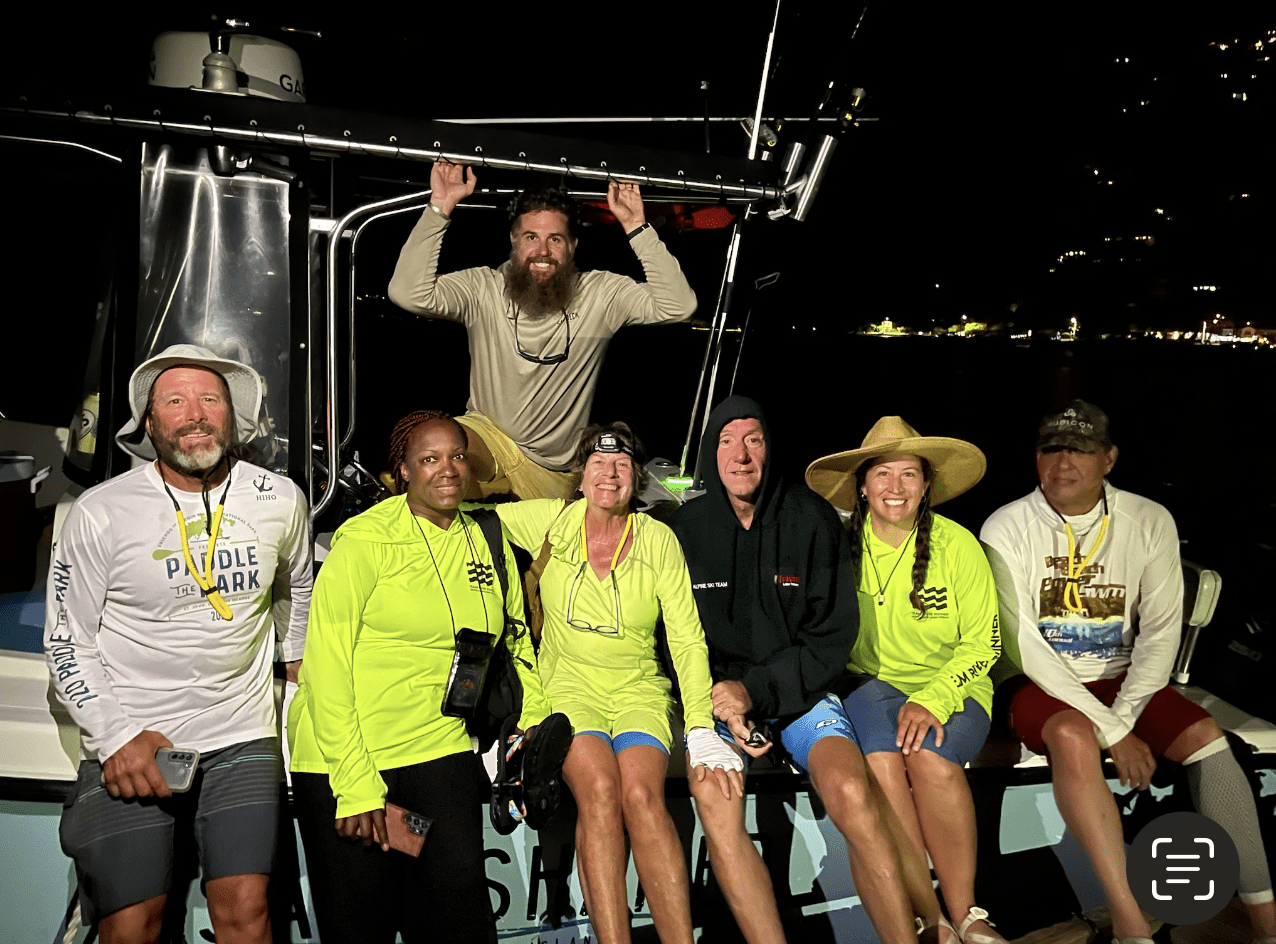 He's especially grateful to the many people who have contributed to his fundraising campaign which is still accepting donations.
After swimming more than 16 miles on Thursday, Miller said he's looking forward to the relative ease of participating in the 3.5-mile Beach-to-Beach Power Swim on Sunday in the Virgin Islands National Park.
And since that event is the water equivalent of a walk-in-the-park for Miller, this summer he's planning to take a 9-day cycling trip in France which includes some classic climbs from the Tour de France.
To those who say, "I could never do that," Miller urges, "Just try to do something that challenges you, something that makes you feel just a little bit uncomfortable."